Convertible Clutches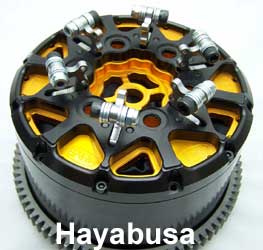 Introducing the all NEW Pro Street Series Convertible Clutch. Built from Hays' original Convertible Clutch Technology that allows you to use the clutch as a:
Single Stage engine driven lockup
Multi Stage engine driven lockup
Triple Stage engine driven lockup
Single Stage Slider
Multi Stage Slider
The new T6 series clutch incorporates additional lockup arms over their previous model and provides more tuning parameters than ever before. The new T6 series Convertible Clutch can be used in 3 arm configuration, 4 arm configuration or 6 arm configuration to provide precisely the amount of lockup for your application.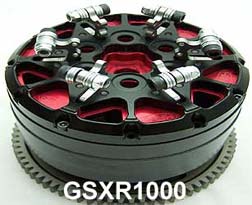 All in one revolutionary package BUT WAIT, there is more in slider mode! You retain the use of the clutch lever so you can disengage the clutch in the event you need to abort a run without damaging an automatic transmission,or to minimize damage when you have a part failure. You can also use this as a clutch lever override and launch the bike with the lever in slider mode and ride back up the return road at a safe speed.

T6 Lockup Arms and Pressure Plate Buttons are made from 01 Tool Steel and heat treated to 45 RC and Micropolished for reduced friction and long lasting toughness.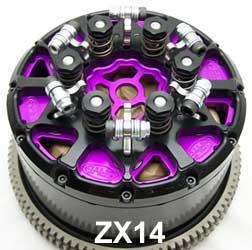 The T6 Clutch Assembly is Hard Coat Anodized using a proprietary process that provides an 80RC hardness for long lasting protection and a beautiful appearance.

Coupled with the NEW Pro Street Series Clutch Basket with the new Surface Area Reduction Technology, they have reduced the surface area in which the clutch tabs ride in the basket and eliminated the corners of the tab from contacting the basket for a smoother engagement and disengagement which has shown very positive results in testing. This OEM replacement basket is much stronger than the factory casting and already has provisions for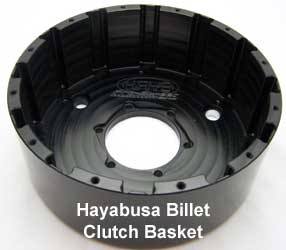 mounting our Convertible Clutch system when you're ready to upgrade making this basket a solid investment in your program.


Hays clutch baskets are rated for 1000 Horse Power and come Hard Coat Anodized in our proprietary anodizing process for long lasting wear and protection.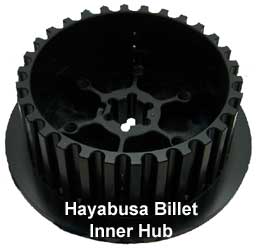 Hays Machine Works offers the all new redesigned OEM Billet inner hub for the Hayabusa application. This lightweight one piece inner hub replaces the OEM version that consists of 2 separate pieces, They have also integrated their Surface Area Reduction Technology into this version to minimize friction from the steel plates while the clutch is engaging and disengaging. This Billet inner hub can be used with the factory pressure plate, as well as all aftermarket lockup kits on the market
All clutch kits require an outer basket ,inner hub and a back torque limiter (if the model is equipped) sent in as a core for modification. Inner hub and back torque limiter cores not needed if using billet inner hub.
| Part Number | Description | Racer Price | |
| --- | --- | --- | --- |
| 85-HMW1-03-01-01 | Hays Pro Street Series Convertible Clutch Hayabusa | $1,999.00 | |
| 85-HMW1-03-01-01-B | Hays Pro Street Series Convertible Clutch Hayabusa w/ Billet Inner Hub | $2,299.00 | |
| 85-HMW1-03-01-02 | Hays Pro Series Billet Clutch Basket Hayabusa | $500.00 | |
| 85-HMW1-03-01-17 | Hays Pro Series Billet Inner Hub Hayabusa | $480.00 | |
| 85-HMW1-02-01-01 | Hays Pro Street Series Convertible Clutch Gsxr1000 | $1,999.00 | |
| 85-HMW2-04-01-01 | Hays Super-Lite Series Convertible Clutch Zx14 | $1,999.00 | |
| 85-HMW2-03-01-01 | Hays Super-Lite Series Convertible Clutch Zx10 (requires cover spacer)* | $2,499.00 | |
| 85-HMW2-03-01-0306 | Hays Clutch Cover Spacer 1.5 | $275.00 | |
*ZX10 convertible clutches must run the hydraulic conversion kit (included in the price).