MPS Hayabusa MC-4 Ignition Kit

The kit comes complete with Billet Ignition Housing, Billet Rotor, Dyna Pro Trigger, MSD MC-4 Ignition, MSD Coils, MSD 8.5mm Plug Wire, and Wire Harness. You'll be able to program the MC-4 at the track, on the dyno, wherever - with or without a computer! It's what you've been waiting for - the ability to program ignition timing curves to suit your engine's needs with the supplied Pro-Data Plus software. This ignition has every imaginable feature. You can configure the MC-4 for a 4, 5 or 6 speed transmission with a kill in all gears, a 1-2 auto, a 1-2-3 auto, or a full automatic no kill transmission. The kill time itself is adjustable from 20 to 99 milliseconds in 1 millisecond increments. The MC-4 can be programmed to either automatically shift or control a shift light for manual shifting. Shift points can be programmed separate for each gear. The MC-4 has three rev limiters. One engine protection over rev limiter, one launch rev limiter and one burnout rev limiter. You turbo guys will love the boost curve features of the MC-4. Retard features are many, like a launch retard ramp by time. Start out retarded from 1-15 degrees with the launch rev limiter on progressing to normal timing after 0-2.5 seconds. Three separate externally controlled retards, one is progressive to retard the timing on a ramp to coincide with a progressive nitrous controller. The MC-4 also features individual gear retards starting in 3rd gear from 0-15 degrees. An RPM window switch is also included to turn on and off any 12 VDC device at pre set rpms. The MC-4 is easy to wire and program with either a laptop or the optional hand held programmer. An optional shift light with remote launch rpm set module and gear indicator is also available.
For use with single or dual spark plugs per cylinder
1,2, or 4 cylinder selectable
Computer interface for easy programming
Optional hand held programmer for quick changes
Optional handle bar mounted launch RPM Selector
Optional tester will test all options
0-25 degree start retard
Mappable run timing curve
Launch Ramp Delay by time 0 - 2.5 seconds
Three step retards by RPM or switch 0 - 2.50 Second step retard off delay for precise nitrous control
Progressive timing retard by time for progressive NOS
Launch Timing Curve to prevent tire slippage
Individual cylinder timing when optional cam sync sensor is used
Gear Retard - Retard a different amount for each gear
Shift Kill feature with programmable delays 20-99 milliseconds
Shift Kill Modes for Manual, Auto 1, 2 and Auto 1, 2, 3
Optional Boost Retard curve when used with an external MAP sensor for turbo applications (2 - 45 psi)
Built in RPM Activated Window Switch - Turn any device up to 3 amps on at any rpm then back off at a different RPM
Sequential Shift Light - Turn on an optional shift light at a different rpm for each gear
Sequential Shifter - turns any air shifter into a fully automatic shifter (3 amps max)
Tach Output wire for tachometers or data recorders
Monitor Mode for easy set up of three step switches

MC4 Digital Ignition Specifications
Voltage input - 11 - 18 Volts
Current draw - 8 amps @ 10,000 RPM
Trigger - Points or Hall effect
Maximum RPM - 15,000
Spark duration - 20 Degrees (Multi-Spark to 3,300 rpm)
Single Spark output - 190 Millijoules
Multi Spark output - 2280 Millijoules
Primary voltage to coils 490-505 volts
Reverse polarity protection - Yes
Over-voltage protection - Yes
Shift light/shifter output - 3 amps continuous
RPM window switch - 3 amps continuous
Cylinder Select - 1,2 & 4
Supplied with the MC4 Digital Ignition will be the Pro-Data Plus Software. Once you've installed the software on your computer you'll be able to program the MC4. The software allows you to map all the ignition's features like you've never been able to do before! Some of the features you'll have control over include: the timing curve, start retard, launch ramp delay, step retard off delay for nitrous applications, gear retard, shift kill delay, boost retard curve, and RPM activated window switch. As improvements and new features are made to the MC4, you'll be able to download the software from Factory Direct Performance over the internet. Below are four of the screens showing the adjustability of the Pro-Data Plus Software.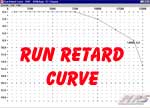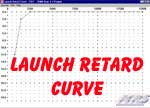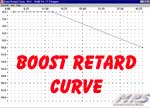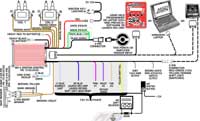 | Part Number | Description | Racer Price | |
| --- | --- | --- | --- |
| 1-0357 | MPS Hayabusa MC-4 Ignition Kit | $1,595.00 | |
| 17-hay-ign | FBG Hayabusa Ignition Housing & Pickup | $539.00 | |
| 2-4224 | MSD MC-4 Ignition (MC-4 & Harness) | $1,006.69 | |
| 2-8204 | MSD Blaster Coil (currently out of stock) | $128.13 | |
| 2-31449 | MSD 4 Cylinder Plug Wire Kit | $75.63 | |