RaceAir™Remote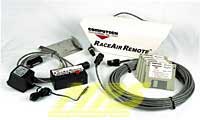 Computech's new trailer mounted weather station, RaceAir™ Remote gives you the ability to log and graph weather data in real time. Performs multiple calculations automatically, collected data can be saved to a file for review later, weather data and calculations are displayed in graph mode, logged data can be printed in log or graph form and much more.
RaceAir™Remote with Pager Competition Weather Station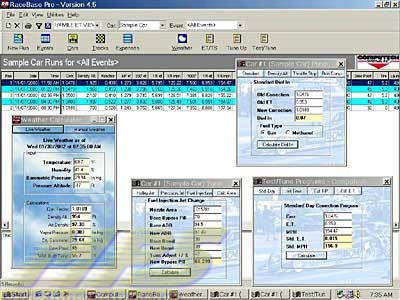 Includes everything in the #29-3100 plus our #29-7510 RaceBase Pro Log Book with E.T. and throttle stop prediction plus the pager for weather and E.T. information.
System Capabilities:
Computech's RaceAir™ Remote Competition Weather Station with the Data Pager System includes a RaceAir™ Remote Sensor Assembly, a Computer Interface Unit with a radio frequency transmitter, a Data Pager, Computech's Weather Pro software, and Computech's RaceBase Pro software. The user must supply an IBM compatible personal computer (PC) using Windows 95 or newer operating system. The computer must have a 9 pin serial port available to connect to the RaceAir™ Remote Computer Interface.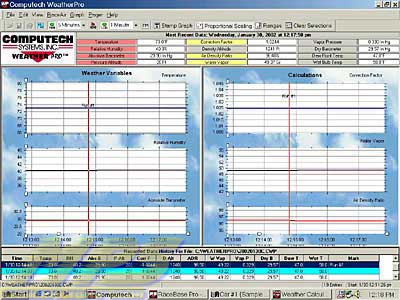 The system will automatically sample the current weather conditions and record that information plus calculated weather values on the Weather Pro software. The RaceBase Pro software will then transmit user selected data to the Data Pager throughout the local area. Changing weather conditions, tuning data, and dial in information are continuously available.
Features:
The RaceAir™ Remote Sensor Assembly senses the ambient temperature, absolute barometric pressure, and relative humidity
The weather station system computes the Horsepower Correction Factor, Dry Barometric Pressure (In Hg), Pressure Altitude (feet), Density Altitude (feet), Dew Point (°F), Air Density Ratio (%), Wet Bulb Temperature (°F), Vapor Pressure (In Hg), and Water Vapor (Grains)
The RaceAir™ Remote Sensor Assembly is heat and moisture resistant and fan cooled for prolonged sampling
The Weather Pro software logs and graphs weather data in real time
The software package can perform multiple calculations automatically
Weather data can be saved to a file for future reference
Graph ranges, scales, and variables are customizable
High and low values for collected and calculated data are displayed
Logged data can be printed in log or graph form
Graphs can be electronically "stamped" with text to mark events
All the sensed and calculated weather information is available on the Data Pager
Dial in and throttle stop information can be sent to the Data Pager
Tune up information can be sent to the Data Pager
The system is capable of tracking multiple cars
Discrete messages can be sent from the PC to the Data Pager
| Part Number | Description | Racer Price | |
| --- | --- | --- | --- |
| 29-3100 | COMPUTECH RACEAIR REMOTE TRAILER MOUNTED WEATHER S | $879.95 | |
| 29-3200 | COMPUTECH RACEAIR REMOTE TRAILER MTD. WTHR STATION | $1,499.95 | |
| 29-3205 | COMPUTECH RACEAIR CLOUD PAGER | $269.95 | |