Cush Drive Replacement Set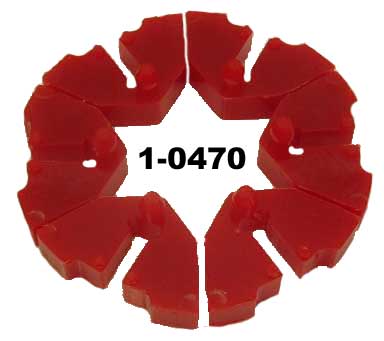 These special racing cush drive dampers provide improved performance, better reaction time at the drag strip, and 4 times the durability of the stock OEM rubber. This rubber compound will hold its shape over time and resist the abuse of modern day motorcycles. Whether you are drag racing, cruising the street or use your bike as a daily driver, you will benefit from these cush drive dampers. Made in the USA!
Improved Performance
Great Durability
Better Reaction Time
Holds It's Shape Over Time
*NOTE - FOR STOCK WHEELS ONLY. NOT FOR ANY AFTERMARKET WHEEL!
1-0470 fits:
Suzuki Hayabusa GSX1300R Gen I
Suzuki Katana GSX1100F 88-93
Suzuki Savage LS650 86-05
Suzuki GSXR1100 89-92
Suzuki GSXR750 88-92
Replaces OEM 64651-31001
1-0505 fits:
Suzuki Hayabusa GSX1300R Gen II
Suzuki GSXR1000 05-08
Suzuki B-King 2008+
Replaces OEM 64651-35F20
| Part Number | Description | Racer Price | |
| --- | --- | --- | --- |
| 1-0470 | Sensei Performance Cush Drive Replacement Set | $55.00 | |
| 1-0505 | Sensei Cush Drive Set 08-09 Busa, 05-09 1000 | $55.00 | |