MPS Quick Shifter
Shift At Full Throttle With An MPS Quick Shifter
Electronic Engine Kill
Lifetime Warranty
50-100 Millisecond Kill Time
Outside Access To Adjustments
Small Size 3.3" x 1.4" x 2.35"
Our Quick Shifter gives you perfect shifts at full throttle by just pulling the shifter. You still manually shift with your foot but you won't need to let off the throttle or pull in the clutch to perform lightning fast up shifts. You set up the switch to activate the Sport Bike Electronic Engine Kill just as there is a load on the shifter. The kill unloads the trans allowing the shift just like an air shifter. The Quick Shifter includes all components and instructions necessary for a basic installation, however you will need to fabricate your own switch bracketry. The Electronic Engine Kill features easy kill time adjustment. We invented the Electronic Engine Kill back in 1988 so we can offer our exclusive, no hassle, free repair or replacement lifetime warranty. Be sure to ask about that when buying a brand x copycat shifter.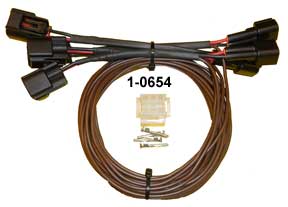 MPS Coil Harness for Ignition Kill
Tired of having to splice and solder into your stock wiring harness in order to wire up an engine kill box? So are we! Now you don't have to with the MPS Coil Harness. This Kit uses stock OEM connectors for a quick, clean installation on nearly all stock coils. Everything is included for coil wiring!
| Part Number | Description | Racer Price | |
| --- | --- | --- | --- |
| 1-0311 | MPS Quick Shifter | $179.00 | |
| 1-0263 | MPS Sport Bike Electronic Engine Kill (4 coil) | $169.00 | |
| 1-0653 | MPS Coil Harness Suzuki - Ignition Kill | $49.00 | |
| 1-0654 | MPS Coil Harness Kawasaki - Ignition Kill | $49.00 | |
| 34-sch3013 | Schnitz Kawasaki Harness for MPS Sport Bike Engine Kill | $49.95 | |
| 1-0345 | MPS Sport Bike Engine Kill or Auto Shift Replacement Harness | $11.00 | |
| 1-0265 | MPS Quick Shifter Switch | $16.50 | |