Fuel Pumps & Regulators

A High Flow, High Pressure Pump in the popular "044 Style" Dimension

The AEM 100gph (380lph) high flow, high pressure fuel pump is perfect for high performance naturally aspirated and forced induction EFI vehicles. The high flow, high pressure fuel pump can be installed externally or in-tank using optional hardware that is sold separately. It utilizes the industry standard "044 Style" envelope and -10 AN female inlet and -6 AN female outlet connections for easy installation on new applications and for quick replacement of existing competitor fuel pumps. The 89-50-1005 fuel pump delivers incredible performance and value.
A male -6 to -8 AN discharge fitting with integral high pressure check valve, terminal nuts, terminal boots and installation instructions are included. Optional accessories that are sold separately include a -10 ORB fitting inlet pre-filter (for use with in-tank installations), and both -8 and -6 discharge adapters without integral check valves. Accessory fittings are hard anodized.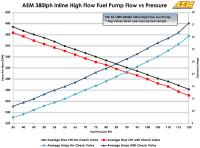 Designed for high output naturally aspirated and forced induction EFI vehicles
Popular "044 Style" physical configuration but with AN inlet & discharge port connections
Maintains very high flow even at boosted fuel pressures; 340 l/h @ 73 psi (30 psi boost)
Installs externally or in-tank
Capable of supporting over 1,200 HP normally aspirated and a whopping 860 HP at 30 psi boost!*
Each pump individually tested to flow minimum of:
For gasoline vehicles (pump life will be diminished when used with alcohol fuels)
Kit includes fuel pump, -6 to -8 male AN discharge fitting with check valve, terminal nuts & boots, instructions
Optional -10 ORB fitting pre-filter, -6 and -8 discharge adapters without the integral check valves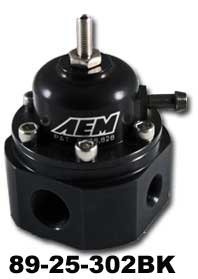 AEM's Universal Adjustable Fuel Pressure Regulator is capable of supporting enough fuel flow for engines up to 1000 horsepower. Patented interchangeable discharge ports enable the regulator's output to match the output of any fuel pump. This universal FPR is tapped to accept a -6 AN, or 9/16"x18 fittings and includes a 1/8 NPT port for a fuel pressure gauge or pressure sensor pick up.
•Universal fuel pressure regulator adapts to virtually any vehicle
•Interchangeable discharge ports match regulator output to output of any fuel pump
•Adjustable from 20 psi to maximum fuel pump capacity
•Supports fuel flow in racing applications up to 1,000 horsepower
•CNC-machined from 6061-T6 billet aluminum
•Manufactured and assembled in the USA
•Patent # 6,298,828
| Part Number | Description | Racer Price | |
| --- | --- | --- | --- |
| 89-50-1005 | AEM Fuel Pump 044 Style 380 l/h | $159.00 | |
| 1-0741 | MPS AEM Fuel Pump Fitting Kit | $24.00 | |
| 89-25-302BK | AEM Fuel Pressure Regulator Adjustable | $129.00 | |

T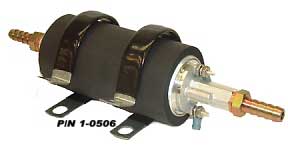 hese MPS high pressure inline fuel pumps have a lightweight compact design that fits most EFI applications including turbo and supercharged. They're ideal as a universal fuel pump for replacement, racing, or for performance purposes where higher pressure fuel is necessary. These fuel pumps are capable of supporting up to 600+ horsepower normally aspirated. Boosted applications that see higher fuel pressures can still make 500+ hp with this pump. These external inline pumps have inlet and outlet thread size of female 10mm x 1.0 and come with hose barbs for 5/16" ID fuel line. Flows 67.36 gallons per hour.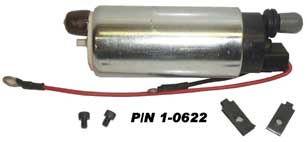 The MPS In Tank Fuel Pumps flow enough to support 650 horsepower and are a direct replacement to the factory fuel pump. The kit comes with all necessary hardware and instructions for an easy installation. Made in USA for long reliable service.
This is the popular Bosch Motorsports "044" fuel pump, as used by many racers. It is quite possibly, the most

popular aftermarket fuel pump. It is capable of providing 300 LPH free flow and 200 LPH at 5 bar (or 72.5 psi) for up to 685 BHP. These are inline external fuel pumps. These may be installed in the fuel tank, but some custom fabrication will be required.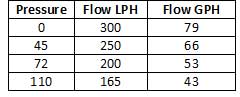 In addition, feeding these inline pumps with another pump (in series), will boost the output of the Bosch 044 fuel pump even higher.
Inlet is M18 x 1.5mm female, outlet is M12 x 1.5mm female. Positive terminal is M6 stud, ground terminal is M5 stud. We try to include the hardware for these (nuts and lock washers) when we can since Bosch decided not to do so.
MPS Featherweight Fuel Pump Brackets


These ABS Plastic brackets will mount a MPS, Walbro, or equivalent fuel pump. There are three different brackets available. P/N 1-0730 fits around the square tubing of a stock Hayabusa sub frame. P/N 1-0731 fits subframes made with 1" round tubing. P/N 1-0732 mounts to a flat plate like a standard bottle bracket. The brackets are available in Black, Blue, Red, Green, White, Yellow, Purple, and Orange. Black are in stock, while colors may take an extra day.
| Part Number | Description | Racer Price | |
| --- | --- | --- | --- |
| 1-0506 | MPS Fuel Pump EFI 400#/hr | $218.90 | |
| 1-0622 | MPS Fuel Pump In Tank 400#/hr | $218.90 | |
| 41-0580254044 | Bosch Fuel Pump EFI | $259.00 | |
| 1-0584 | MPS Bosch Fuel Pump Fitting Kit | $16.49 | |
| 1-0730 | MPS Bracket Fuel Pump Walbro Square Subframe | $29.00 | |
| 1-0731 | MPS Bracket Fuel Pump Walbro Round Subframe | $29.00 | |
| 1-0732 | MPS Bracket Fuel Pump Walbro Plate Mount | $29.00 | |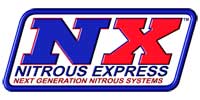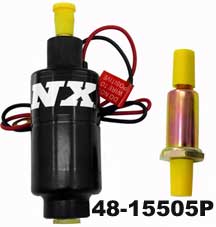 This is the standard fuel pump NX includes in all their wet kits
Draws a maximum of 2 amps
Solid state electronics
Works with gasoline or methanol
6 psi 35 GPH
Good for up to at least 150 hp.
| Part Number | Description | Racer Price | |
| --- | --- | --- | --- |
| 48-15005P | Motorcycle Fuel Pump | $117.45 | |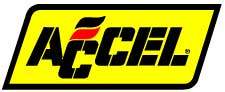 | Part Number | Description | Racer Price | |
| --- | --- | --- | --- |
| 59-74701 | Accel Fuel Pump, 200#/hr @ 45 psi - 400 hp Ext | $250.78 | |
| 59-75701 | Accel Electric Fuel Pump, 300#/hr @ 45 psi - 600 hp Ext | $365.06 | |
| 59-75702 | Accel Electric Fuel Pump, 400#/hr @ 45 psi - 800 hp Ext | $453.95 | |

Pro Tuner Series Fuel Pump:
1,000+ HP, 20-120psi, 10A @ 45psi @ 12.5V*
#8 in and out (P/N 72-MP-3013 or 72-MP-3022 not included)
7"L x 3"Dia, 4.5 lbs
Quiet operation
Self priming
Continuous duty
No pump shaft seals, no leaks
Pump body CNC machined aircraft aluminum
High-torque custom motor with very low current draw. Never requires step-down
More efficient than other motors
Double support bearings
Rebuildable to as-new condition
Compact design fits in smaller spaces
Smaller than competitive pumps, lower current draw, more powerful
Hard anodized, long lasting finish
Mounting bracket included
Vertical or horizontal mount
Polymer wear plates for smooth, quiet operation
Outlaw Series Fuel Pump:
Tighter tolerances for easy priming, quick and reliable starts
Flow rate is 5 gpm @ 4,000 RPM*
Compact, ultra light design
Standard 3/8" Hex drive for use with existing devices (belt or cam)
High-performance gear pump is more durable and requires less maintenance than other designs
CNC machined body, with hard-anodized finish is compatible with gas, methanol and ethanol
Double-support bearings, ground steel shafts, precision lapped
Polymer wear plates provide tighter tolerances and last longer than other surfaces
Field serviceable with available rebuild kits
Absolutely eliminates fuel starvation
Increases fuel volume delivery as engine RPM increases
Each pump is flow tested to ensure optimum performance and shipped ready-to-run
Requires bypassing regulator for EFI applications
#10 in and out (P/N 72-MP-3017 or 72-MP-3021 not included)
Bracket and cog pulley not included
Quick Star Series EFI Regulators:
Unique guided-metering valve assembly provides accurate metering of fuel flow
700 HP, 35-85psi*
Ports: 2 x #8 , 1 x #6 return (Fitting Kit 72-MP-3626 required, not included)
MagnaFuel EFI regulators provide the most stable platform for fuel delivery in the performance industry
Maintains steady fuel fuel flow during times of sudden changes in fuel demands, such as initial launch, gear change and nitrous oxide application
Designed for use with the MagnaFuel EFI gear pumps
Regulators available in two different body sizes and different spring combinations to suit your fuel flow at pressure specifications
Each Regulator has 1/8" NPT gauge port, standard filtered vent fitting or boost reference fitting (1:1 compensation ratio)
Special fittings and adapters available for most applications
All MagnaFuel regulators are hand assembled to the highest quality
MagnaFuel regulators are compatible with racing gasoline and alcohol fuels
Billet body precision CNC-machined from aircraft-quality aluminum and hard anodized for extra long service life
Completely user-serviceable, with ready to order replacements parts
| Part Number | Description | Racer Price | |
| --- | --- | --- | --- |
| 72-MP-4302 | MagnaFuel Pro Tuner EFI Fuel Pump Fixed Head 1000 HP | $460.00 | |
| 72-MP-4202 | MagnaFuel Outlaw Mechanical Fuel Pump | $490.00 | |
| 72-MP-9925 | MagnaFuel Quick Star EFI Pressure Regulator | $139.00 | |
| 72-mp-9925-b | MagnaFuel Quick Star EFI Pressure Regulator Boost Referenced | $139.00 | |
| 72-MP-3013 | MagnaFuel Fitting -8 in x -8 out | $9.00 | |
| 72-MP-3022 | MagnaFuel Fitting -8 in x -6 out | $9.00 | |
| 72-MP-3017 | MagnaFuel Fitting -10 in x -8 out | $12.00 | |
| 72-MP-3021 | MagnaFuel Fitting -10 in x -6 out | $13.00 | |
| 72-MP-3626 | MagnaFuel Regulator Fitting Kit -6 in x -6 out | $23.00 | |

Low Pressure Fuel Pump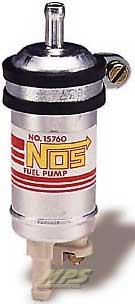 This is the same pump used in our motorcycle and other "Power Sports" kits. It is a high flowing, low pressure pump that will support up to 200 horsepower. It has a 5/16" inlet/outlet, 12 volt/5 amp rated. Flow rate: 18 gph at 4.0 psi, 5.5 psi maximum.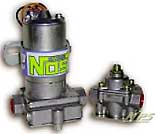 High Pressure Fuel Pump

Electric Fuel Pump, High Volume w/Foam Rubber Isolator – The same pump is used in many NOS Nitrous kits. This pump can be used for engines producing up to 700 horsepower at 4 psi. Features 3/8" inlet and 3/8" outlet, 12 volt/6 amp draw. Flow rate: 67 gph at 45 psi with a 100 PSI maximum. Electric Fuel Pump, High Volume w/Foam Rubber Isolator
| Part Number | Description | Racer Price | |
| --- | --- | --- | --- |
| 3-15760NOS | NOS Small Displacement Fuel Pump | $163.23 | |
| 3-15770NOS | NOS Billet Aluminum Bracket for Pump #3-15760 | $83.66 | |
| 44-12-802-1 | Holley 110 Gph ''Blue'' Electric Fuel Pump w/ Regulator | $152.95 | |
| 3-15763NOS | NOS Electric Fuel Pump | $474.64 | |