Batteries, Chargers & Accessories
Ballistic Evo2 12 Cell
Features: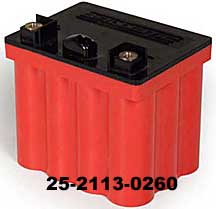 Only 2.6 lbs
Dimensions: 4.5"L x 3.5"W x 4.25"H
360 burst cranking amps
6.9 amp hours
6mm x 1mm brass terminals
Service life of over twice a lead acid in similar conditions
Industry leading 3 year warranty
Designed, developed, and assembled in the USA
Completely "dry" technology so batteries can be mounted in any direction
Non-toxic, recyclable, and can be air shipped
Tested extensively by professional race teams
Impact and water resistant
Works with the original equipment charging system
No trickle charger required, loses only 10% of charge over a year of static use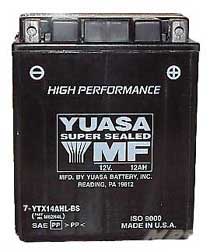 Yuasa HP Maintenance Free Battery
Features:
Dimensions: 5 5/16" x 3 1/2" x 6 9/16"
210 Cold Cranking Amps
12 Volt 12 Amp Hour
Sealed Construction
Comes with EZ Fill Acid in Pack
Fast By Gast Pro Hayabusa Battery
Features:
Power: 70 AMPS
380 Cold Cranking Amps
Dimensions: 5.88" x 3.44" x 5.70" (LxWxH)
Weight: Only 10 lbs.
Dry Cell Battery
No Acids / No Vents
May be mounted in any direction
Fits Stock Busa Battery Box (must trim seat)
MPS Battery Charge Harness

Tiger 24volt Charge/Start System Auto Harness
This new harness has most everything you could want in a harness. Once installed, just push the start button and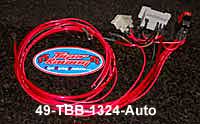 the harness connects both batteries to supply 24volts to the starter. When the starter button is released, the batteries are now both being charged by the bikes own charging system. When the bike is turned off, both batteries are disconnected from each other so as not to drain one battery into the other. This is a problem sometimes with dissimilar sized batteries. If the second battery should become low or discharged and you can't start your bike, just flip the supplied Emergency switch and you are now back on the main battery so you can start it.
Tiger Racing Hayabusa Battery Box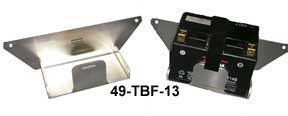 New Battery Box for the Hayabusa. Mounts behind the headlight
This Front Mount Battery Box is designed to bolt onto the stock faring stay and provide a convenient location to mount your battery. Great for those with cut frame rails or anyone looking to add some weight to the front of the bike.
Note - Stock headlight will need to removed or highly modified to fit
| Part Number | Description | Racer Price | |
| --- | --- | --- | --- |
| 25-2113-0260 | Ballistic Evo2 12 Cell Lithium Ferrous Battery | $229.95 | |
| 7-YTX14AHL-BS | Yuasa H P Maintenance Free Battery | $119.00 | |
| 7-YT12A-BS | Yuasa Battery Hayabusa 99-07 | $110.00 | |
| 17-PB2 | FBG Pro Hayabusa Battery | $129.00 | |
| 17-PC1 | FBG 6 AMP Pro Battery Charger | $89.99 | |
| 49-TBF-13 | Tiger Racing Battery Box - Hayabusa | $69.95 | |
| 49-TBB-1324-AUTO | Tiger 24 Volt Start System Harness Auto | $129.95 | |
| 1-0157 | MPS Battery Charge Harness | $20.90 | |