Sidewinder Exhausts

Hayabusa Grudge Sidewinder Pipe

The Murray Hayabusa Grudge Sidewinder is a step type system featuring 1 3/4" pipe from the head flowing into big 1 7/8" head pipes. The 4 head pipes are slip fit into a 2 1/2" diameter collector and are retained by springs. The megaphone is 24" long. This pipe comes black and ready to mount!
The top left picture is a Murray Grudge Sidewinder that has head pipes welded to the collector and an O2 bung welded in place. The top right picture is of an extended, welded and plated Murray Grudge Sidewinder pipe. These services are available upon request.

Hayabusa Sidewinder Kit Pipe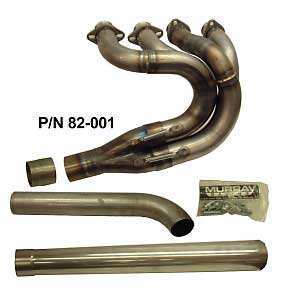 This big tube step pipe was designed for all out competition use on an aftermarket chassis. The head pipes come ready to install in the collector. It requires cutting and welding to fit the turn pipe to the collector for that perfect fit. This pipe is used by the quickest Hayabusa powered drag bikes in the world.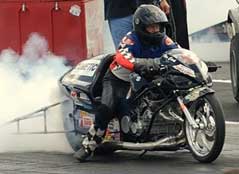 Sidewinder Exhaust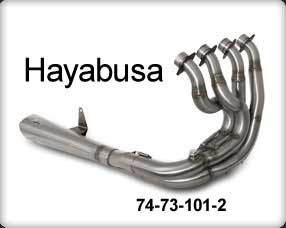 "The Indy Series Exhaust"
FOR RACING USE ONLY
Designed exclusively for drag race applications, this 4:2:1 exhaust is the ultimate design for peak power on stock, heavily modified and nitrous engines
Quality, lightweight stainless steel construction
Tapered head pipes and full merge collectors for maximum performance
Slip fit collector joints with "dual swivel end retention springs"
Tuned length megaphone with optional baffle O2 sensor bung in rear collector for stock
O2 sensor or wideband air/fuel ratio monitoring
Significantly lighter than stock exhausts

Weighs only 10 pounds - over 38 pounds lighter than the stock Hayabusa exhaust

Includes oil cooler bypass kit and spring puller tool
Fuel maps available for many combinations
Lower fairing modification required (adhesive cut-out template supplied
Suggested Accessory: Oil Filter Relocator
| Part Number | Description | Racer Price | |
| --- | --- | --- | --- |
| 82-004 | Murray Hayabusa Sidewinder Grudge Pipe | $1,100.00 | |
| 82-001 | Murray Hayabusa Sidewinder Kit Pipe | $1,000.00 | |
| 74-73-101-2 | Vance and Hines Hayabusa Sidewinder Exhaust | $1,185.00 | |
| 74-7-60018 | Vance and Hines Sidewinder Exhaust Baffle | $102.50 | |
| 1-0738 | MPS Clamp T-Bolt Exhaust 2.44''- 2.75'' | $19.00 | |