July Specials

MPS Holley Terminated Harnesses 10% Off!


The MPS Terminated Holley EFI Harness (p/n 1-0782) simplifies the installation of your Holley EFI on a Suzuki Hayabusa or similar (GSXR1000, ZX14, ZX10) motorcycle. The harness is heat shrink covered and terminates all the connections of critical components of the EFI system. Using this terminated harness will greatly reduce the chance of problems when installing your Holley EFI system. If you are not comfortable or do not have the tools to crimp all the styles of connectors this harness is for you. It will plug into your injectors (customer specified type), igniter (MPS p/n 1-0783), coils (stock or aftermarket stick type), air temperature sensor (MPS p/n 1-0727), coolant temperature sensor (MPS p/n 1-0708), O2 Sensor (Bosch or NTK), 3 bar MAP sensor (MPS p/n 1-0764), fuel pressure (MPS p/n 1-0597), and oil pressure (MPS p/n 1-0598). A MAP sensor is not required for normally aspirated or nitrous applications. Both fuel pressure and oil pressure are optional sensors. The throttle position sensor (TPS) is a direct plug in with a Gen 1, Gen 2 Hayabusa, and GSXR 1000. Be sure to specify. The ZX14 and ZX14 will need to use the connector from the stock harness. We recommend using a hall effect cam sensor (MPS p/n 1-0649) on the Gen 1 Hayabusa. The harness will plug directly into this cam sensor and the factory Gen 2 cam sensor. For the stock crank sensor, you will need to cut the stock connector off and terminate the sensor wires with the male pin 3 conductor connector to match the MPS Holley EFI harness.
You must order by 07/31/18 at 11:59 PM mention this special to get this deal!


ManCup FBG Nationals!
July 14-15!
5 Second Top Fuel Motorcycles are back in Ohio!
Dragway 42 is located in West Salem, Ohio and has been around for over 60 years originally opening in 1957. It has undergone a complete ground-up renovation and reopened in spring 2017. Dragway 42 is a multi-purpose facility that is host to Drag Racing, Autocross Racing, Tractor & Truck Pulling and Concerts/Music Festivals as well as many other special events.

Buy some extras for only $10.00 each or the best deal, 3 for $20.00!
Sizes Small and Medium Available Only.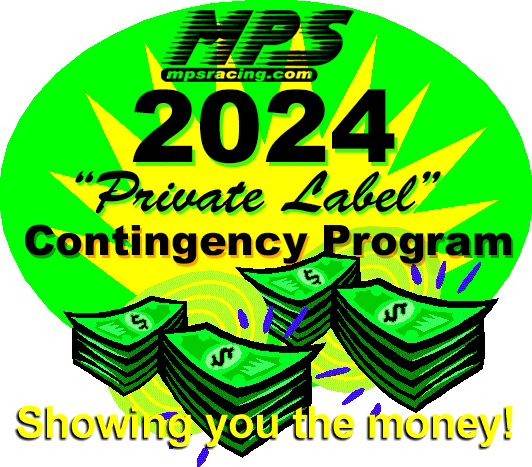 MPS 2018 "Private Label" Contingency Program
We are very pleased to announce our 2018 MPS "Private Label" contingency program. We will pay contingency for all events of:
Southern Dragbike Racing Series
Bikes in the Valley
The "Private Label" contingency program pays 10% of your year to date purchases from MPS. Purchases made from 11/1/2017 to the date of the event you win will be counted toward your 10%. All purchases must be made with a single customer number directly from MPS at racer net pricing. When you win an event, simply fill out a winners claim form. When we receive the winners claim form we will search that customer number in our database for qualifying purchases to determine your payment amount. We will pay a maximum of $200 per class, per event. All participants in the MPS "Private Label" contingency program must register online at our web site before winning an event. When you register online you will be sent a winners claim form and decals for your bike in the mail. The MPS "Private Label" contingency program requires you to run decals on both sides of your bike for the entire event. Note: The MPS "Private Label" contingency program is not part of any of the listed organizations official contingency programs.

Just in case you were dying to know who won the $50 Store Credit Contest for May, it was: Matthew Howton of Mountain Top, PA. Congratulations Matthew! Click on the logo to enter this month!