MPS November Special
MPS Air Shifter w/ RSR Air Shift Module
Standard or Autoshift - Kill Times Per Gear - Shift RPM Per Gear

Introductory priced this month at only $499!
This new MPS Air Shifter Kit has it all! DOT Air Bottle, Stainless Steel Shift Cylinder, Electric Air Valve, Push In Fittings, Air Pressure Gauge, Air Line, and the new RSR Air Shift Module. The RSR Air Shift Module allows the user to choose between ignition or fuel kill. Engine kill times are adjustable per gear shift. This is great for those with 1-2, 1-2-3, or 1-2-3-4 auto transmissions. The adjustable solenoid advance time setting allows the solenoid to apply pressure to the shift linkage before the engine kill sequence begins for no wasted kill time. Auto Shifting is built into the controller and can shift each gear at a different rpm. Can be wired to ground or +12v shift buttons for manual shifting. Works on most motorcycle applications.

You must order by 11/30/17 at 11:59 PM mention this special to get this deal!

Buy some extras for only $10.00 each or the best deal, 3 for $20.00!
Sizes Small and Medium Available Only.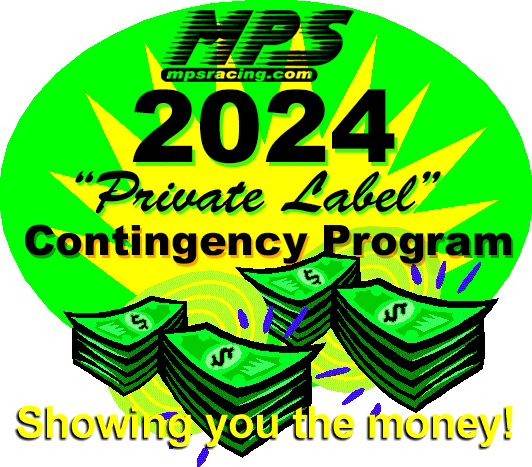 MPS 2017 "Private Label" Contingency Program
We are very pleased to announce our 2017 MPS "Private Label" contingency program. We will pay contingency for all events of:
Southern Dragbike Racing Series
Bikes in the Valley
The "Private Label" contingency program pays 10% of your year to date purchases from MPS. Purchases made from 11/1/2016 to the date of the event you win will be counted toward your 10%. All purchases must be made with a single customer number directly from MPS at racer net pricing. When you win an event, simply fill out a winners claim form. When we receive the winners claim form we will search that customer number in our database for qualifying purchases to determine your payment amount. We will pay a maximum of $200 per class, per event. All participants in the MPS "Private Label" contingency program must register online at our web site before winning an event. When you register online you will be sent a winners claim form and decals for your bike in the mail. The MPS "Private Label" contingency program requires you to run decals on both sides of your bike for the entire event. Note: The MPS "Private Label" contingency program is not part of any of the listed organizations official contingency programs.

Just in case you were dying to know who won the $50 Store Credit Contest for October, it was: Gary Wilson of San Jose, CA. Congratulations Gary! Click on the logo to enter this month!