Buy KPMI valves & springs for 20% off retail and get a free set of valve seals!


Hayabusa - GSXR1000 - ZX14
All KPMI® Black Diamond™ Stainless steel valves are impregnated by a special German process to a depth of .002, with a surface build up of .0002. This Black Diamond process improves wear properties, reduces friction, and provides resistance to corrosion and wear that is superior to chrome and nickel electrolysis plating. Each valve is designed using Finite Element Analysis software, and profiles are tested on our computerized flow bench. Black Diamond Valves are lightweight, strong, one piece forgings with profiles that provide excellent flow characteristics.
KPMI® uses U.S. mill certified titanium bar for our retainers. KPMI® Titanium Retainers are engineered using advanced Finite Element Analysis (FEA) software. FEA stress analysis allows our engineers to lighten the retainer without sacrificing strength. All KPMI® retainers are inspected to insure correct fitment on the valve and on the spring. Correct fitment promotes longer component life and optimizes the Performance of the entire valvetrain
You must order by 07/31/17 at 11:59 PM mention this special to get this deal!

Buy some extras for only $10.00 each or the best deal, 3 for $20.00!
Sizes Small and Medium Available Only.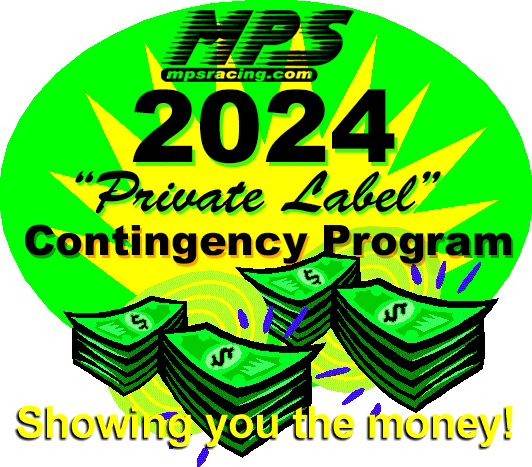 MPS 2017 "Private Label" Contingency Program
We are very pleased to announce our 2017 MPS "Private Label" contingency program. We will pay contingency for all events of:
Southern Dragbike Racing Series
Bikes in the Valley
The "Private Label" contingency program pays 10% of your year to date purchases from MPS. Purchases made from 11/1/2016 to the date of the event you win will be counted toward your 10%. All purchases must be made with a single customer number directly from MPS at racer net pricing. When you win an event, simply fill out a winners claim form. When we receive the winners claim form we will search that customer number in our database for qualifying purchases to determine your payment amount. We will pay a maximum of $200 per class, per event. All participants in the MPS "Private Label" contingency program must register online at our web site before winning an event. When you register online you will be sent a winners claim form and decals for your bike in the mail. The MPS "Private Label" contingency program requires you to run decals on both sides of your bike for the entire event. Note: The MPS "Private Label" contingency program is not part of any of the listed organizations official contingency programs.

Just in case you were dying to know who won the $50 Store Credit Contest for April, it was: Randy Benham of Boca Raton, FL. Congratulations Randy! Click on the logo to enter this month!