September Special
MPS Showerhead Nitrour Solenoids

10% off Retail
The MPS Showerhead Solenoids were designed to shorten the solenoid and shower head assembly's overall length. They are available in both .063" orifice and .093" orifice and use a Teflon plunger seal. The Showerhead Solenoids feature an inlet port, 4 outlet ports, a purge port, and a jet pressure port. The inlet port and the purge port are interchangeable. The jet pressure port is used to monitor the pressure between the jet and the solenoid. By monitoring the jet pressure you can see the true progression of your nitrous system. All ports are 1/8" NPT. They come with two 1/8" NPT plugs to block any unused ports. Two 8-32 x ˝" mounting screws are also included to mount the solenoid. All plugs and mounting screws are loose. Tighten all fittings and mounts before use. We recommend no sealant on the jet pressure port or the four outlet ports. Use Loctite 545 thread sealant on the purge and inlet ports only.
You must order by 09/30/18 at 11:59 PM mention this special to get this deal!

Buy some extras for only $10.00 each or the best deal, 3 for $20.00!
Sizes Small and Medium Available Only.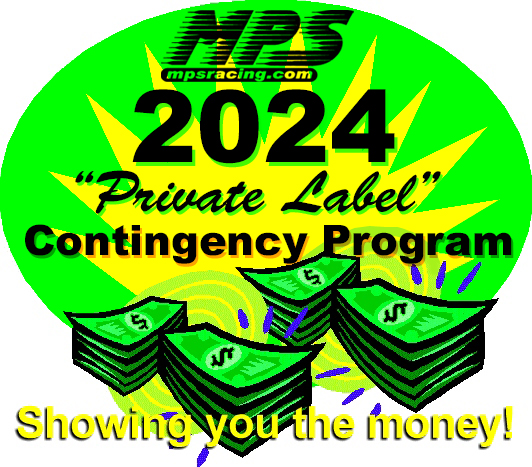 MPS 2018 "Private Label" Contingency Program
We are very pleased to announce our 2018 MPS "Private Label" contingency program. We will pay contingency for all events of:
The "Private Label" contingency program pays 10% of your year to date purchases from MPS. Purchases made from 11/1/2017 to the date of the event you win will be counted toward your 10%. All purchases must be made with a single customer number directly from MPS at racer net pricing. When you win an event, simply fill out a winners claim form. When we receive the winners claim form we will search that customer number in our database for qualifying purchases to determine your payment amount. We will pay a maximum of $200 per class, per event. All participants in the MPS "Private Label" contingency program must register online at our web site before winning an event. When you register online you will be sent a winners claim form and decals for your bike in the mail. The MPS "Private Label" contingency program requires you to run decals on both sides of your bike for the entire event. Note: The MPS "Private Label" contingency program is not part of any of the listed organizations official contingency programs.

Just in case you were dying to know who won the $50 Store Credit Contest for August, it was: Kourtney Lopez of Lake Whales, FL . Congratulations Kourtney! Click on the logo to enter this month!