Happy Holidays Racers
14th Annual Holiday Leathers Sale!


Only $299
It's the Holiday season once more and everyone is already busy preparing for next race season......errr......the Holidays. You can actually do both with the gift of leathers. What better way to say you care? We are going to make it easy for you with our 14th Annual Holiday Leathers Sale! I'll let you in on a little secret. I have to keep coming up with these internet specials every month and I get a little lazy at the end of the year. As a result we have re-run the same leathers special for the last 13 years. So in honor of the 14th year of holiday laziness here is our Holiday Leathers Sale. They really are a great gift for under the tree! And for only $299.00, their a no brainer! That's $84.90 off! Our Bracket Racer Leathers are available in solid black, red/white/black, and blue/white/black. These 2 piece suits zip together at the waist and are fully lined. They also include zippers at the ends of the arms and legs. I don't think you will find a better value in race leathers! They are sized for pretty much height and weight proportionate people. The pants have no inseam measurement, but come in a pretty standard length for the waist size. If they don't fit when you get them they can be returned for a different size without incurring any restock charge.
You must order by 12/31/18 at 11:59 PM mention this special to get this deal!

Buy some extras for only $10.00 each or the best deal, 3 for $20.00!
Sizes Small and Medium Available Only.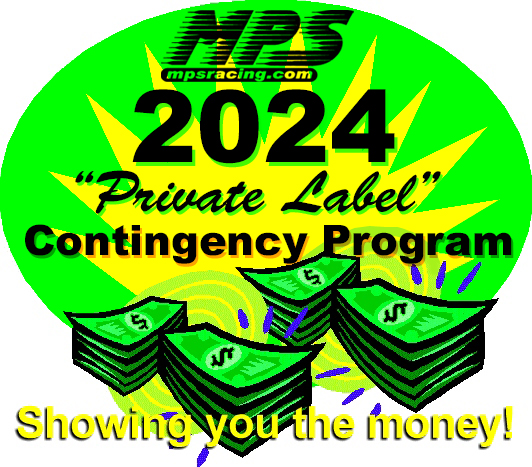 MPS 2019 "Private Label" Contingency Program
We are very pleased to announce our 2019 MPS "Private Label" contingency program. We will pay contingency for all events of:
The "Private Label" contingency program pays 10% of your year to date purchases from MPS. Purchases made from 10/1/2018 to the date of the event you win will be counted toward your 10%. All purchases must be made with a single customer number directly from MPS at racer net pricing. When you win an event, simply fill out a winners claim form. When we receive the winners claim form we will search that customer number in our database for qualifying purchases to determine your payment amount. We will pay a maximum of $200 per class, per event. All participants in the MPS "Private Label" contingency program must register online at our web site before winning an event. When you register online you will be sent a winners claim form and decals for your bike in the mail. The MPS "Private Label" contingency program requires you to run decals on both sides of your bike for the entire event. Note: The MPS "Private Label" contingency program is not part of any of the listed organizations official contingency programs.

Just in case you were dying to know who won the $50 Store Credit Contest for November, it was: Austin Davis of Troy, NC. Congratulations Austin! Click on the logo to enter this month!