Cylinder Studs
Heat treated 180,000 PSI aircraft alloy steel
Centerless ground to remove material imperfections
Rolled threads for the strongest threads period
Black oxide treated for enhanced corrosion resistance
Heavy duty 12pt nuts
5mm Allen Hex to ease installation and removal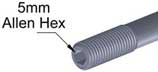 KPMI® Cylinder Studs are made from 180,000 psi yield strength, fine grain, heat treated, aircraft grade alloy steel. When you want a stud that meets proof-stress and maximizes clamping force, look no further. KPMI® "rolls" the threads, heat treats and then centerless grinds the entire body of the stud. Rolling the threads creates the toughest and strongest thread possible and centerless grinding removes notch sensitivity. The final process for all KPMI® Studs is to encase the entire stud with premium corrosion resistant treatment of Black Oxide. Congratulations on your choice to purchase a stud that meets and exceeds your stock-replacement of high-performance needs!

Heavy Duty Studs & Nuts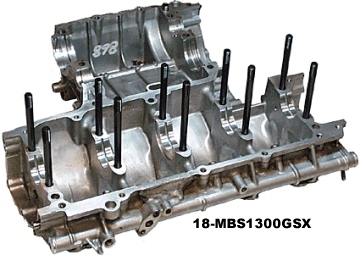 Main Bearing Studs
These are heat treated chrome moly main bearing studs. These studs feature rolled threads, centerless ground surfaces, and come with competition style twelve point flange nuts. As racing's leading supplier of heavy duty engine stud kits, APE already has their very popular top end cylinder studs for the big Suzuki, and now turned their attention to the bottom end. By replacing the bottom end bolts with heavy duty studs, it helps minimize the chances of high output engines trying to separate the engine cases at the crank center line resulting in oil pressure loss and possible engine bearing failure.
Cylinder Studs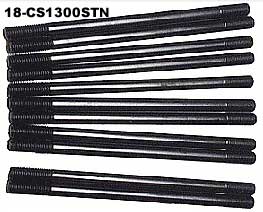 The Hayabusa engine uses head bolts instead of the preferred stud arrangement. When engines are subjected to bigger bores, higher compression ratios, nitrous oxide, turbo, etc. the stock head bolts are not up to the task. Blown head gaskets are the result.
APE is the leading manufacturer of heavy duty cylinder studs for motorcycles. The Hayabusa studs are made from ultra high heat treated premium 8740 steel and feature rolled threads for maximum strength. Torque to 60 lbs. APE head nuts are machined from billet stock and heat treated to prevent threads from stretching. This set up is a must for all serious go fast motors. Extra thread on the nut end allows them to also be used with no plate when using APE 18-CHN10125-10 cylinder head nuts.
Please note that the cylinder head can not be removed with engine bolted in place when using studs.
On the gen 2 busa, 2008 and later, the head bolt washers do not come off the bolts. When using APE stud kits with a gen 2, it is necessary or order Gen 1 Hayabusa head bolt washers (p/n 65-09160-10082). On gen 1 busas, use your stock head bolt washers.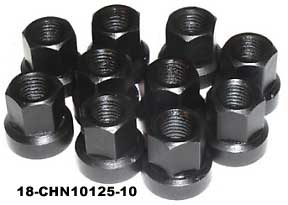 Cylinder Head Nuts
Super heat treated cylinder head nuts are a must for high output engines. Help prevent blown and leaking head gaskets caused by the threads in the soft stock nuts stretching. APE nuts are machined from alloy steel and fully heat treated for maximum strength. Nuts are .150" taller than stock to prevent the nut from bottoming out on the stud when the head has been milled. P/N 18-CHN10125-10 are 10 mm x 1.25 with 3/4" base dia. For use with any application requiring the smaller 3/4" base diameter - 18-CS1300STN & 18-CS1000GSX. Set of 10.
Countershaft Stud Kit
APEhas developed a stud kit that holds the cases together behind the countershaft. The advantage of the stud over the oem bolt is that a bolt can not use all of the thread in the case or it bottoms out. APE studs go in all the way to the bottom using all of the case thread. Also, studs are not removed evertime the cases come apart. The stud is manufactured the same way we do our world famous cylinder studs. Same heat treat and threads rolled after heat treat. Comes with a special APE nut. The high tensile strength does not loosen and allow the case to flex. Why take the chance. The cases can not be repaired when they break here.
| Part Number | Description | Racer Price | |
| --- | --- | --- | --- |
| 71-60-60815 | KPM Cylinder Stud Kit Hayabusa | $209.91 | |
| 71-60-60825 | KPM Cylinder Studs Hayabusa | $140.93 | |
| 71-60-60820 | KPM Cylinder Head Nuts Hayabusa | $76.22 | |
| 18-CS1300STN | APE Cylinder Studs Hayabusa | $104.66 | |
| 65-09160-10082 | Suzuki Cylinder Head Stud Washer Hayabusa Gen I | $1.69 | |
| 18-CS1300-1/2 | APE Hayabusa 1/2'' Cylinder Studs & Nuts | $195.00 | |
| 25-271-4701 | ARP Cylinder Studs and Nuts Hayabusa | $229.00 | |
| 71-60-61300 | KPM Cylinder Stud Kit GSXR 1000 01-16 | $209.91 | |
| 18-CS1000GSX | APE Cylinder Studs GSXR 1000 01-16 | $104.66 | |
| 18-CS1000GSX-17 | APE Cylinder Studs GSXR 1000 17-23 | $104.66 | |
| 18-CHN10125-10 | APE Cylinder Head Nuts Hayabusa and GSXR1000 | $62.84 | |
| 18-OPSSBUSA | APE Hayabusa Countershaft Stud Kit | $19.95 | |
| 18-CSZX14 | APE Cylinder Studs with Nuts ZX14 | $149.30 | |
| 25-271-5401 | ARP Main Bearing Studs and Nuts Hayabusa | $239.22 | |
| 18-MBS1300GSX | APE Main Bearing Studs and Nuts Hayabusa | $99.50 | |
| 18-MBS1000GSX | A P E Main Bearing Studs Gsxr 1000 | $99.50 | |