Sensors & Accessories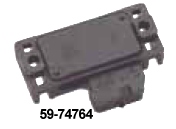 Manifold Absolute Pressure Sensor (MAP)
This sensor monitors manifold vacuum, varying output voltage to the ECU as a function of load placed on the engine, providing necessary data to control fuel enrichment.

Coolant Temperature Sensor (ECT)
ACCELL/DFI's Coolant Temperature Sensor employs a thermistor to obtain accurate measurement of engine temperature. As the engine warms, thermistor resistance decreases, letting the ECU know that it can reduce fuel enrichment.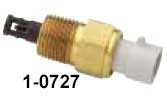 Air Temperature Sensor (IAT)
ACCEL/DFI electronic fuel injection systems monitor inlet air temperature to provide the ECU with more accurate status of engine operating conditions. This Air temperature Sensor is a replacement for the unit supplied with ACCEL Super-Ram EFI Systems. It helps determine the proper amount of fuel to inject.
| Part Number | Description | Racer Price | |
| --- | --- | --- | --- |
| 59-77061 | Accel Bosch Wide band O2 Sensor | $193.63 | |
| 59-74764 | Accel NA Map Sensor (1 Bar) | $96.81 | |
| 1-0722 | MPS Connector MAP Sensor | $10.49 | |
| 59-74765 | Accel Coolant Temp Sensor | $15.86 | |
| 1-0719 | MPS Connector Coolant Temp Sensor GM Style | $10.49 | |
| 59-74773 | Accel Air Temp Sensor | $15.86 | |
| 1-0720 | MPS Connector Air Temp Sensor | $10.49 | |
| 59-74781 | Accel TPS Harley | $85.04 | |