Dyna 2000 Digital Performance Ignition System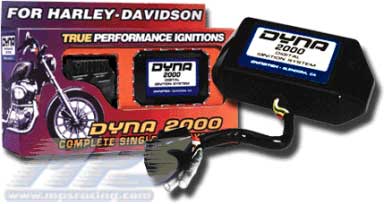 The Dyna 2000 Digital Ignition System for Harley-Davidson Motorcycles, which has become the standard for performance and versatility in the Harley aftermarket, has been enhanced to include even more features. These new modules include expanded advance curve functionality with the option to use vacuum advance compensation via a V.O.E.S. switch. The new modules also include a special Retard Mode for use with turbocharged and nitrous bikes.
The Dyna 2000 allows selection between four different advance curves. The new modules offer a quick curve which simulates a mechanical advancer for hot rod motors. There are also four independent rev limiter settings from 6000 to 7500 rpm. The new Retard Mode allows selection of ignition retard of 5, 7, or 10 degrees upon activation of retard input.
Dyna 2000 ignition modules use the stock factory pick-up and simply plug into the existing factory wiring harness on 1991 and later bikes. An extension harness is available for installing the Dyna 2000 on 1990 and earlier bikes.
The Dyna Twin Fire ignition coil has all the features people have come to expect from a Dyna coil; high voltage (greater than 30,000 volts) with fast rise times, and high energy. The Dyna Twin Fire coil is the new standard for performance and packaging efficiency for single fire ignition installations on Harley-Davidson Motorcycles. The Twin Fire coil incorporates two individual performance ignition coils into one easy to mount package. This solves the problem of trying to mount two ignition coils on Harleys when installing single fire ignition systems. The Twin Fire coil is only slightly larger than the stock Harley coil and uses the stock mounting bracket.
Dyna 2000 Kits
| Part Number | Description | Racer Price | |
| --- | --- | --- | --- |
| 5-SFK-1 | DYNA DIGITAL 2000 IGNITION & TWIN FIRE COIL KIT SPSTR, FLH TO 93, FXR TO 95 | $447.99 | |
| 5-SFK-3 | DYNA DIGITAL 2000 IGNITION & TWIN FIRE COIL KIT SPSTR, FLH 94+, FXR 96+ | $447.99 | |
Dyna 2000 Ignition Modules
| Part Number | Description | Racer Price | |
| --- | --- | --- | --- |
| 5-DD2000-HD1E | DYNA DIGITAL 2000 IGNITION SGL/DUAL FIRE | $244.43 | |
| 5-DD2000-HD1E8 | DYNA DIGITAL 2000 IGNITION SGL/DUAL FIRE 8 PIN | $265.00 | |
| 5-DD2000-HD2E | DYNA DIGITAL 2000 IGNITION DUAL FIRE | $216.99 | |
| 5-DD2000-HD2E8 | DYNA DIGITAL 2000 IGNITION DUAL FIRE 8 PIN | $216.99 | |
| 5-1009001 | DYNA EXTENSION HARNESS | $98.99 | |
| 5-1009002 | DYNA 7 TO 8 PIN ADAPTER | $72.21 | |