Dyna S Ignition System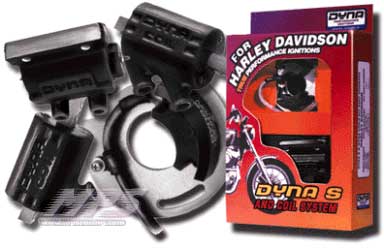 The Dyna S High Performance Ignition System, designed for Harleys, is a complete self-contained electronic ignition system built with the latest state-of-the-art engineering. This is the same ignition used by top drag and road racers to win numerous victories and set records over the past decade. The Dyna S is completely housed behind the ignition cover and uses a magnetic rotor with the original spark advancer, so the factory advance curve is maintained.
Dyna high tech coils for Harley-Davidson Big Twins and Sportsters are American made, top quality performance coils . Tested and proven on street, racing, and touring motorcycles for over fourteen years. Dyna coils produce spark voltages in excess of 30,000 volts and spark energies second to none. All Dyna coils are guaranteed against defects in materials and workmanship.
| Part Number | Description | Racer Price | |
| --- | --- | --- | --- |
| 5-DS6-1 | DYNA S IGNITION 1970 & LATER DUAL FIRE | $139.99 | |
| 5-DS6-2 | DYNA S IGNITION 1970 & LATER SINGLE FIRE | $166.99 | |
| 5-DSK6-1 | DYNA S IGNITION & COIL KIT 1970 & LATER DUAL FIRE | $209.99 | |
| 5-DSK6-2 | DYNA S IGNITION & COIL KIT 1970 & LATER SINGLE FIR | $316.99 | |