Speed-Flex™ Brake Hose
Hydraulic Systems
Standard automotive flexible brake hoses are manufactured from synthetic rubber and reinforced with multiple layers of fabric braid. They were designed and developed for use with drum brake systems. When disc brakes were developed for racing cars, line pressure requirements increased considerably. With the larger and heavier cars, like Ford's GT-40s, enough of the available brake pedal travel was used up in expanding the flexible brake hoses so that there was insufficient pedal travel left for safe braking.
In the mid-1960s, Earl's pioneered the use of armored flex hose of extruded Teflon to solve this problem. The stiffness of the Teflon liner combined with the tightly woven high tensile stainless steel outer braid solved the pedal travel problem. By eliminating the line swell it also dramatically increased the firmness and feel of the brake pedal which allowed the drivers to modulate the brakes more efficiently. Improved abrasion resistance and increased temperature capacity are secondary advantages.
Since brake actuation produces high pressure with very little fluid displacement, we recommend -2 & -3 Speed-Flex for brake systems. Clutch actuation, on the other hand, requires moderate pressure but considerable displacement of fluid. For hydraulic clutch systems we recommend the use of -4 Speed-Flex.
Fuel & Lubrication Systems
In recent years various fuel manufacturers have added any number of new unpublished additives to their blends rendering some of them incompatible with synthetic rubber lined hose. Earl's Speed-Flex Teflon® lined stainless braided hose is impervious to any automotive fuel blend known to us and may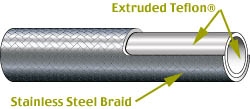 be the best choice for use with modern racing gasolines. All Speed-Flex hoses are compatible with gasoline, hydrocarbon fuels, alcohols, nitro-methane, mineral and synthetic lubricants, and high density fuel additives. Size 6 is carbon lined to dissipate static electricity.
Some caution is necessary in the selection of armored Teflon® hose. The Teflon® liner is manufactured in two wall thicknesses, commercial (.030") and aircraft specification (.040"), Earl's uses the thicker and stronger wall. There are also hoses in the marketplace manufactured in such a manner that the stainless braid is loose on the Teflon® liner. These hoses offer good pressure capacity but limited expansion resistance.
Earl's Speed-Flex hose is the standard of the industry. Beware of imitations.

Note:

Because we deal predominately with motorcycles, we usually only stock -3, -4, and -6 sizes. We can

special order

anything Earl's offers.
| Part Number | Description | Racer Price | |
| --- | --- | --- | --- |
| 40-600002ERL | EARLS -2 SPEED-FLEX PER FT. | $9.58 | |
| 40-600003ERL | EARLS -3 SPEED-FLEX PER FT. | $3.97 | |
| 40-6000031ERL | EARLS -3 SPEED-FLEX, CLEAR COATED | $5.58 | |
| 40-600004ERL | EARLS -4 SPEED-FLEX PER FT. | $5.06 | |
| 40-600006ERL | EARLS -6 SPEED-FLEX PER FT. | $7.90 | |
| 40-610002ERL | EARLS 10 FT. -2 SPEED-FLEX | $77.87 | |
| 40-610003ERL | EARLS 10 FT. -3 SPEED-FLEX | $53.51 | |
| 40-6100031ERL | EARLS 10 FT, -3 SPEED-FLEX, CLEAR COATED | $60.57 | |
| 40-610004ERL | EARLS 10 FT. -4 SPEED-FLEX | $55.40 | |
| 40-610006ERL | EARLS 10 FT. -6 SPEED-FLEX | $83.78 | |
| 40-620002ERL | EARLS 20 FT. -2 SPEED-FLEX | $199.95 | |
| 40-620003ERL | EARLS 20 FT. -3 SPEED-FLEX | $83.78 | |
| 40-6200031ERL | EARLS 20 FT, -3 SPEED-FLEX, CLEAR COATED | $118.95 | |
| 40-620004ERL | EARLS 20 FT. -4 SPEED-FLEX | $105.95 | |
| 40-620006ERL | EARLS 20 FT. -6 SPEED-FLEX | $165.95 | |

When considering the replacement of stock rubber brake hoses with stainless braid-protected hose of extruded Teflon you should consider the following facts:
Speed-Flex hose is intended for use with Speed-Seal hose ends only. No other Earl's hose end is intended for use with Speed-Flex hose. The use of other manufacturers hose ends is not recommended. The use of stainless braid protected Teflon brake hose assemblies will result in a firmer brake pedal, improved brake pedal "feel" and better brake modulation. These hoses will not necessarily provide longer hose life or any other advantage.
We have independent test lab reports on file showing that prototype assemblies exceeded D.O.T. recommendations in all categories. The only continuing test program however, is a 4000 psi. hydrostatic pressure test of every assembly that we make. We do not claim that any individual hose assembly is certifiable to D.O.T. standards and we therefore must advise you that they are sold to be used on off-road applications only. We make no claim of usability or suitability for highway or road use. Teflon brake hoses must be installed by an experienced professional mechanic. After installation each hose must be both clean and free flowing. There must be no possibility that the installed hose assemblies can stretch, crimp or kink under any conditions of wheel travel and steering angle. As with any hose installation, periodic inspection of hose condition is essential.