Super Stock™ Hose Ends
Super Stock™ push-on hose ends are designed to be an attractive and lightweight direct replacement for the popular and economical brass push lock type. Machined from aluminum alloy and anodized in the familiar red and blue made famous by Earl's, they are available in all common AN 37° flare configurations and, as straight hose ends, with male NPT threads.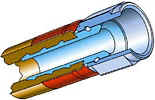 Designed to be used with our Super Stock™ Hose, these hose ends are not intended for use with stainless braid-protected hoses or Pro-Lite 350™. While basically meant for street and marine applications, Super Stock hose and hose ends have found favor with professional racers and in limited production OEM applications.

Assembly instructions for Super Stock™ Hose Ends can be found in our instructions section.
Note:

Because we deal predominately with motorcycles, we usually only stock -3, -4, and -6 sizes. We can

special order

anything Earl's offers.
Note:
The aluminum crimp sleeve no longer comes with this hose end (it is available separately).
Also see the Crimping Tool
| Part Number | Description | Racer Price | |
| --- | --- | --- | --- |
| 40-700145ERL | EARLS 1/4" ID ST. SUPER-STOCK H. END | $5.57 | |
| 40-700167ERL | EARLS 3/8" ID ST. SUPER-STOCK H. END | $5.57 | |
| 40-700109ERL | EARLS 1/2" ID ST. SUPER-STOCK H. END | $5.58 | |
| 40-704645ERL | EARLS 1/4" ID 45 DEG. SUPER-STOCK H. END | $17.97 | |
| 40-704667ERL | EARLS 3/8" ID 45 DEG. SUPER-STOCK H. END | $17.97 | |
| 40-704609ERL | EARLS 1/2" ID 45 DEG. SUPER-STOCK H. END | $21.15 | |
| 40-709145ERL | EARLS 1/4" ID 90 DEG. SUPER-STOCK H. END | $17.97 | |
| 40-709167ERL | EARLS 3/8" ID 90 DEG. SUPER-STOCK H. END | $17.97 | |
| 40-709109ERL | EARLS 1/2" ID 90 DEG. SUPER-STOCK H. END | $20.09 | |
| 40-712045ERL | EARLS -4 120 DEG. SUPER-STOCK | $17.97 | |
| 40-712067ERL | EARLS -6 120 DEG. SUPER-STOCK | $17.97 | |
| 40-712009ERL | EARLS -8 120 DEG. SUPER-STOCK | $24.32 | |
| 40-718045ERL | EARLS -4 180 DEG. SUPER-STOCK | $20.75 | |
| 40-718067ERL | EARLS -6 180 DEG. SUPER-STOCK | $21.99 | |
| 40-718009ERL | EARLS -8 180 DEG. SUPER-STOCK | $22.21 | |
| 40-720142ERL | EARLS 1/4" ID ST. SUPER-STOCK TO 1/8" MPT | $8.42 | |
| 40-720164ERL | EARLS 3/8" ID ST. SUPER-STOCK TO 1/4" MPT | $11.79 | |
| 40-720186ERL | EARLS 1/2" ID ST. SUPER-STOCK TO 3/8" MPT | $11.79 | |
| 40-798045ERL | EARLS -4 SUPER-STOCK REPLACE. SLEEVE | $2.13 | |
| 40-798067ERL | EARLS -6 SUPER-STOCK REPLACE. SLEEVE | $2.13 | |
| 40-798009ERL | EARLS -8 SUPER-STOCK REPLACE. SLEEVE | $2.13 | |

Made For Use With Super Stock Hose Only. Will Not work with Earl's Stainless Steel or Pro Lite Hose. Where Maximum Temperature Range Is Expected, Compression of The Super Stock Collar Is Required. Collars Are Included. Replacement Crimp Collars Are Available