Swivel-Seal™ Male Hose Ends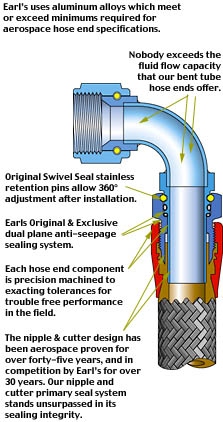 This unique line of hose ends has been developed to allow the hose end to be threaded directly into a female port without the bulk and complication of an adapter fitting. In all cases the coupler can be rotated independently of the hose end, this allows the coupler to be threaded into the part while the hose and hose end are held stationary. Both step-up and step-down coupler sizes are available as listed below.
When you need to reuse a hose end and the sockets are damaged or worn, you can now order replacement sockets!
Note:

Because we deal predominately with motorcycles, we usually only stock -3, -4, and -6 sizes. We can

special order

anything Earl's offers.

Swivel-Seal hose ends are designed to be used with Earl's Perform-O-Flex, Pro-Lite 350 & Auto-Flex braid-protected hose. Not intended for use on any other Earl's hose. Use with other manufacturers' hose is not recommended.
| Part Number | Description | Racer Price | |
| --- | --- | --- | --- |
| 40-820162ERL | EARLS ST. 1/8" NPT TO -6 HOSE | $16.47 | |
| 40-824562ERL | EARLS 45 DEG. 1/8" NPT TO -6 HOSE | $40.89 | |
| 40-829062ERL | EARLS 90 DEG. 1/8" NPT TO -6 SWIVEL-SEAL | $40.89 | |
| 40-820106ERL | EARLS ST. 1/4" NPT TO -6 HOSE | $17.17 | |
| 40-824506ERL | EARLS 45 DEG. 1/4" NPT TO -6 HOSE | $40.89 | |
| 40-829006ERL | EARLS 90 DEG. 1/4" NPT TO -6 SWIVEL-SEAL | $38.00 | |
| 40-820166ERL | EARLS ST. 3/8" NPT TO -6 HOSE | $20.28 | |
| 40-824566ERL | EARLS 45 DEG. 3/8" NPT TO -6 HOSE | $40.89 | |
| 40-829066ERL | EARLS 90 DEG. 3/8" NPT TO -6 SWIVEL-SEAL | $40.19 | |
| 40-820107ERL | EARLS ST. 1/4" NPT TO -8 HOSE | $20.76 | |
| 40-824507ERL | EARLS 45 DEG. 1/4" NPT TO -8 HOSE | $49.53 | |
| 40-829007ERL | EARLS 90 DEG. 1/4" NPT TO -8 SWIVEL-SEAL | $43.77 | |
| 40-820108ERL | EARLS ST. 3/8" NPT TO -8 HOSE | $20.79 | |
| 40-824508ERL | EARLS 45 DEG. 3/8" NPT TO -8 HOSE | $49.53 | |
| 40-829008ERL | EARLS 90 DEG. 3/8" NPT TO -8 SWIVEL-SEAL | $43.77 | |
| 40-820188ERL | EARLS ST. 1/2" NPT TO -8 HOSE | $26.51 | |
| 40-824588ERL | EARLS 45 DEG. 1/2" NPT TO -8 HOSE | $49.55 | |
| 40-829088ERL | EARLS 90 DEG. 1/2" NPT TO -8 SWIVEL-SEAL | $45.21 | |
| 40-844564ERL | EARLS 45 DEG. -4 AN TO -6 SWIVEL-SEAL | $45.94 | |
| 40-849064ERL | EARLS 90 DEG. -4 AN TO -6 SWIVEL-SEAL | $45.00 | |
| 40-844565ERL | EARLS 45 DEG. -5 AN TO -6 SWIVEL-SEAL | $45.94 | |
| 40-849065ERL | EARLS 90 DEG. -5 AN TO -6 SWIVEL-SEAL | $45.00 | |
| 40-840106ERL | EARLS ST. -6 AN TO -6 SWIVEL-SEAL | $15.63 | |
| 40-844506ERL | EARLS 45 DEG. -6 AN TO -6 SWIVEL-SEAL | $45.00 | |
| 40-849006ERL | EARLS 90 DEG. -6 AN TO -6 SWIVEL-SEAL | $45.00 | |
| 40-844568ERL | EARLS 45 DEG. -8 AN TO -6 SWIVEL-SEAL | $49.53 | |
| 40-849068ERL | EARLS 90 DEG. -8 AN TO -6 SWIVEL-SEAL | $45.00 | |
| 40-844586ERL | EARLS 45 DEG. -6 AN TO -8 SWIVEL-SEAL | $45.00 | |
| 40-849086ERL | EARLS 90 DEG. -6 AN TO -8 SWIVEL-SEAL | $50.72 | |
| 40-840108ERL | EARLS ST. -8 AN TO -8 SWIVEL-SEAL | $20.06 | |
| 40-844508ERL | EARLS 45 DEG. -8 AN TO -8 SWIVEL-SEAL | $49.53 | |
| 40-849008ERL | EARLS 90 DEG. -8 AN TO -8 SWIVEL-SEAL | $50.72 | |
| 40-844581ERL | EARLS 45 DEG. -10 AN TO -8 SWIVEL-SEAL | $49.53 | |
| 40-849081ERL | EARLS 90 DEG. -10 AN TO -8 SWIVEL-SEAL | $50.72 | |
| 40-849091ERL | EARLS 90 DEG. 12MM X1.25 TO -6 SW.-SEAL | $45.00 | |
| 40-849092ERL | EARLS 90 DEG. 12MM X1.50 TO -6 SW.-SEAL | $45.00 | |
| 40-849093ERL | EARLS 90 DEG. 7/8"-20 TO -6 SWIVEL-SEAL | $45.22 | |