Tube Braid™ Protective Covering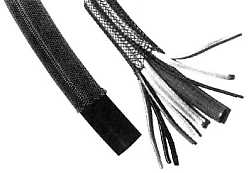 Earl's Tube-Braid™ is the least expensive way to finish off any custom engine modification. Easily installed. Stainless Tube-Braid is actually stainless steel that slips over existing hoses, and gives the look of the expensive line. Works ideally with Econ-O-Fit hose ends for the finished appearance of professional plumbing. They are also excellent for covering individual wires and cables and for containment of wire bundles.
Note:

Because we deal predominately with motorcycles, we usually only stock -3, -4, and -6 sizes. We can

special order

anything Earl's offers.
| Part Number | Description | Racer Price | |
| --- | --- | --- | --- |
| 40-920010ERL | EARLS 1/4-3/8" ID S.S. TUBRAID PER FT. | $8.78 | |
| 40-920013ERL | EARLS 3/8-5/8" ID S.S. TUBRAID PER FT. | $8.77 | |
| 40-920001ERL | EARLS 3/4-1" ID S.S. TUBRAID PER FT. | $5.54 | |
| 40-920007ERL | EARLS 1-1.75" ID S.S. TUBRAID PER FT. | $10.23 | |