Clutch Plates



Includes Clutch Drive Plates (Fibers), Clutch Driven Plates (Steels), Clutch Springs, and Clutch Cover

Gasket Suzuki Genuine Parts

Do the Math - Financially this is a no brainer!

Factory Tested

99-01 clutches Include 2 x 65-21441-24F10 Fibers

02+ clutches Include 1 x 65-21441-24F10 &
1 x 65-21442-24F00 (larger I.D.) Fibers

Complete Microfiche and Part Numbers



| Part Number | Description | Racer Price | |
| --- | --- | --- | --- |
| 65-21400-24820 | Suzuki Clutch Kit Hayabusa 02-07 | $159.00 | |
| 65-21400-24830 | Suzuki Clutch Kit Hayabusa Gen II | $159.00 | |
| 65-21441-24F00 | Suzuki Hayabusa Clutch Fiber Plate Thin Gen I T=.118'' | $26.40 | |
| 65-21441-24F30 | Suzuki Hayabusa Clutch Fiber Plate Thin Gen II T=.118'' | $26.40 | |
| 65-21441-24F10 | Suzuki Hayabusa Clutch Fiber Plate Thick T=.149'' | $26.40 | |
| 65-21442-24F00 | Suzuki Hayabusa Clutch Fiber Plate Thick #1 (Larger I.D.) T=.149'' | $26.40 | |
| 65-21451-24F00 | Suzuki Hayabusa Clutch Steel Plate Thin T=.079'' | $13.20 | |
| 65-21451-24F10 | Suzuki Hayabusa Clutch Steel Plate Thick T=.090'' | $13.20 | |
| 88-13089-0018 | Kawasaki Zx14 Clutch Plate Steel T=.1024'' | $14.97 | |
| 65-21400-40811 | Suzuki Clutch Kit Gsxr1000 01-04 | $149.00 | |
| 65-21400-36860 | Suzuki Clutch Kit Gsxr1000 05-06 | $149.00 | |
| 65-21400-36871 | Suzuki Clutch Kit Gsxr1000 07-08 | $149.00 | |
| 65-21400-42810 | Suzuki Clutch Kit Gsxr1000 09-11 | $149.00 | |
| 65-21400-42820 | Suzuki Clutch Kit Gsxr1000 12-13 | $149.00 | |

Fast By Gast Clutch Plate Kit
These FBG clutch plate kits are made as a direct replacement for stock clutches. They are available with or without the steel plates. This is the best aftermarket clutch for your Hayabusa. When using the FBG Clutch Kit, the second thick fiber plate will be used in place of the OEM inner fiber plate (img 13) wave washer (img 15) and seat (img 14).
| Part Number | Description | Racer Price | |
| --- | --- | --- | --- |
| 17-HAY-CL-KIT | F B G HAYABUSA CLUTCH KIT 10 FIBER, 9 STEEL | $149.00 | |
| 17-HAY-CL-FIB | F B G HAYABUSA CLUTCH FIBER PLATES 10 | $89.00 | |
| 1-0199 | MPS Clutch Plate Kawasaki Z-1 | $9.00 | |
| 1-0200 | MPS Clutch Plate Suzuki GS | $9.00 | |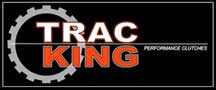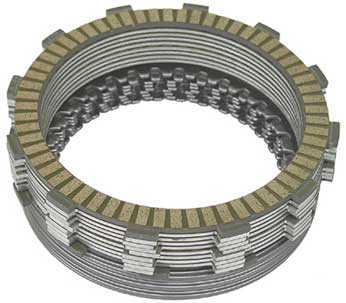 Trac King Ultra Performance clutch kits are specifically designed for extreme racing applications. From abusive drag racing applications to motorcycle powered race cars, these clutches will give performance that surpasses other clutches.
Drag racers that insist that oem clutches are the best… You owe it to your self to try a Trac King, you will never use an oem clutch again.
Trac King clutches are equally at home in stock and modified street bikes for extended clutch life and better clutch performance. If you have the horsepower, we have your clutch. Try one today. Part numbers ending in FO are friction disc only. All others are complete with friction disc and steel plates.
Stack heights set where necessary.
| Part Number | Description | Racer Price | |
| --- | --- | --- | --- |
| 18-TKC1300GSX | APE Hayabusa Trac King Clutch Pack (1.95-2.00) | $154.95 | |
| 18-TKC1300GSX-FO | APE Hayabusa Trac King Clutch Pack - Fibers Only | $118.11 | |
| 18-TKC1300-HAYSLR | APE Hayabusa Trac King Clutch Pack For Use With Hays/MTC Slider (1.890) | $144.10 | |
| 18-TKC1300-HaysLU | APE Hayabusa Trac King Clutch Pack For Use With Hays Lockup Clutch (1.840) | $133.27 | |
| 18-TKC1300-ROCK | APE Hayabusa Trac King Clutch Pack For MTC Gen II and Rock Solid (1.717) | $144.10 | |
| 18-TKC1000-4GSX | APE Gsxr1000 01-04 Trac King Clutch Pack | $138.84 | |
| 18-TKC1000-4GSX-FO | APE Gsxr1000 01-04 Trac King Clutch Pack - Fibers Only | $102.81 | |
| 18-TKC1000-8GSX | APE Gsxr 1000 05-08 Trac Kinc Clutch Pack | $160.42 | |
| 18-TKC1000-8GSX-FO | APE Gsxr 1000 05-08 Trac Kinc Clutch Pack - Fibers Only | $120.65 | |
| 18-TKCZX14 | APE ZX14 Trac King Clutch Pack | $160.40 | |
| 18-TKCZX14-FO | APE ZX14 Trac King Clutch Pack - Fibers Only | $95.95 | |