Delay Boxes
Pro-Cube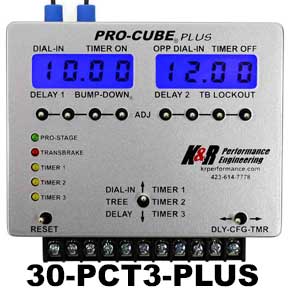 Check out all these features in one little box! This has got to be the trickest Delay Box/Throttle Stop Controller known to man. It's small size (4.5 wide x 3.5 high x 3.0 deep including vibration mounts) makes it perfect for motorcycle use. The Pro-Cube includes a crossover delay and up to 3 separate timers. The timers can be used to control any 12 VDC device including throttle stops, nitrous oxide, auto transmission kill control, and boost controllers. The Pro Stage feature allows you to follow the same routine whether racing full tree or pro tree. This is a very cool feature! This lets you turn the throttle wide open without putting the engine on the rev limiter until the launch button is depressed in pro tree mode or your first bulb on full tree mode. This gives you a consistently shorter amount of time you have to be on the launch rev limiter while staging. All you racers that run a Heads Up class and Pro ET will really love the Pro-Cube's full tree - pro tree feature that saves all your timer settings separately for full or pro tree. So all your throttle stop and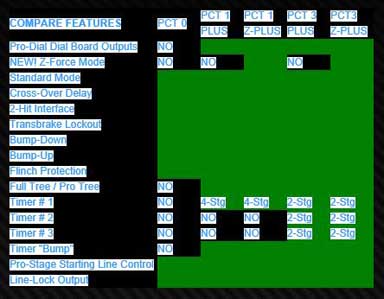 nitrous settings you need to run your heads up class can be changed to a totally different combination to run Pro ET by simply flipping a switch. It also features a built in interfacer letting you hit the tree twice with either single or dual buttons. The Pro-Cube also features a bump down feature that takes a pre set amount of time out of your delay each time the bump down button is pressed thereby lowering your reaction time. It will also work as a bump up for timer 1 controlling a throttle stop. Pressing the bump down button after the launch will reduce the amount of time you are on the throttle stop by the pre set amount. This lets you speed the bike up during a run if you felt tire spin etc.
SMALL IN SIZE – HUGE IN FEATURES
AUTOMATIC CROSSOVER / CROSSTALK-enter dial-ins, react to the first "flash" and let the box do the math.
SMALL SIZE- 4.5"W x 3.5"H x 2.75"Deep---allows unit to fit virtually anywhere (leaving room for a tachometer and other gauges).
BUMP DOWN- correct for late reactions (adjustable to the .001sec. increments) •NEW! "BUMP UP" –separate button allows you the opportunity to "Bump Up" (adjustable to the .001sec. increments) without losing the chance to "Bump Down".
DOUBLE-HIT-take two "shots" at the tree and leave on your quickest reaction.
LARGE LCD DISPLAY- new blue backlighting for easy day/night viewing.
QUICK SET SWITCHES-allows nearly instant changes to any setting (no more panic trying to make last second changes).
RUN INFO- automatically displays reaction differential and "Bump" counts .
TRANSBRAKE LOCKOUT- prevents accidental transbrake lockup (adjustable timer).
FLINCH PROTECTION- save yourself from known red lights
RESET SWITCH- instantly allows you to stop the delay box cycle, and be race ready
LINELOCK- versatile output for connecting linelock, "launch-control" throttle stop, etc.
PRO-STAGE- patented system developed by Frank Hawley, allows you to stage at an idle for both Full tree and Pro tree for improved concentration and consistency. Goes to full throttle when transbrake is activated on Pro tree, and waits until your tree starts on a Full tree.
LED INDICATORS- status lights show when each output is activated. •OVERLOAD PROTECTION- self protection from overloads and shorts on all outputs.
UPGRADE ABILITY- unit can be upgraded (without purchasing a new box) to have up to 3 separate timers to control t-stop, shifter, nitrous, etc.
WARRANTY- So confident in our products, we offer an unprecedented 2-year warranty!
DASH INSTALLATION- add that "Professional" look by recess mounting with our new terminated Dash Kit, available separately.
Pro-Cube II
The Pro-Cube II is similar to it's predecessor, the immensely popular K&R Pro-Cube delay box, with a handful of new features. The biggest enhancement in the Pro-Cube II is the new Z-force transbrake trigger capability. Z-force, short for zero force, is an option exclusive to the K&R Pro-Cube II delay box that allows the driver to depress the transbrake button to start the delay cycle, rather than release it. On and off-track testing has shown monumental gains in reaction consistency for many drivers using this system over the universally accepted 'push and release' routine.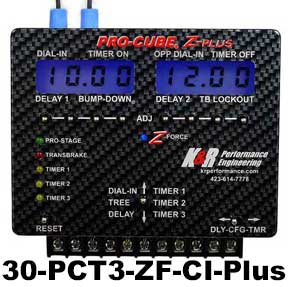 "The Z-force option isn't a completely foreign concept. We've used and sold an adapter box in the past that allowed a similar routine," explained K&R's Kevin Rodden. "I'm a bracket racer myself, and I started 'pushing' rather than letting go of the button a few years ago. My reaction times have improved as a result, as have many of our customers. With the new Pro-Cube II, we simply made Z-force an option. Now the 'push' capability is there in one box, and the Z-force option is easily enabled and un-enabled, so drivers have the choice whether to 'let go' or to 'push' to start the delay cycle."
The Z-Force option works like this. In a typical race setting with a standard delay box, a racer depresses the transbrake switch upon completing his or her staging procedure, then releases the button when the Christmas tree activates, thus starting the delay cycle that eventually releases the transbrake and launches the vehicle. With Z-force, upon completing the staging procedure, the driver taps and releases the transbrake switch. This locks the transbrake, holding the vehicle steady. When the Christmas tree activates, the driver then depresses the transbrake switch again to activate the delay cycle. It is the depression, or contact of the switch that activates the cycle, not the release.
"What the Z-force option does is take the variable of button pressure, or at the very least the thought and worry of button pressure, out of the equation," explained Rodden. " As racers, a lot of times we've found ourselves mashing down on the transbrake button, or getting 'light' on the button in certain situations--whether consciously or unconsciously. The Z-force system is just that: zero force, so it eliminates the variable of the pressure applied to the button. When the top amber comes on, just tap the button, and you're set. For a lot of our customers it's proven to be a huge driving aide."
The K&R Pro-Cube II delay box has all the features and benefits that K&R customers have come to love from the original Pro-Cube design. The Pro-Cube II comes in the same compact, easy-to-use (even with gloves on) design, and has the same dimensions and mounting hardware as it's predecessor. Just like the original Pro-Cube, the Pro-Cube II offers K&R's familiar "Bump Down" and "Bump Up" features, a large LCD display, quick set switches for easy & instant changes in any setting, Flinch protection, Transbrake lockout options, Full & Pro Tree modes (that save independently for quick and easy transformation), 3 separate and independent timers (for throttle stops, shifters, nitrous, etc.), K&R Pro-Stage technology, LED Indicators, and built-in overload protection. And of course, the Z-force option is easily activated and de-activated for drivers to use either driving style
| Part Number | Description | Racer Price | |
| --- | --- | --- | --- |
| 30-PCT0 | K&R Pro-Cube Crossover No Timers | $389.00 | |
| 30-PCT1-PLUS | K&R Pro-Cube Plus Crossover & 4 Stage Timer | $439.00 | |
| 30-PCT3-PLUS | K&R Pro-Cube Plus Crossover 3 Timers | $529.00 | |
| 30-PCT3-ZF-PLUS | K & R Pro-Cube II Zero Force Plus Crossover 3 Timers Pro Stage | $559.00 | |
| 30-PCT3-ZF-CI-PLUS | K & R Pro-Cube II Zero Force Carbon Fiber Illusion Crossover | $599.00 | |