Oiling System Parts

MPS Oil Fill Funnel
Check out our new Oil Fill Funnel for Suzuki. It screws into the oil cap hole. No more having to hold the funnel! Available now in 11 colors!

MPS Oil Fitting Adapter
These oil line adapters allow the use of standard AN fittings and braided steel oil lines. They have 1/4 NPT female center and bolt up to stock oil coolers and feed outlets using factory O-rings (new O-ring is included).
MPS Oil Cooler Bypass Kit
Allows you to remove the stock engine oil cooler by blocking off the oil cooler ports. This is done either for weight savings or when your exhaust system won't allow you to run an oil cooler.
Necessary fittings, high pressure line and block adapters and O-rings are included.
No drilling or plugging necessary
Can easily returned back to stock if desired
Oil Pressure Relief Valve
For Replacement of the OEM oil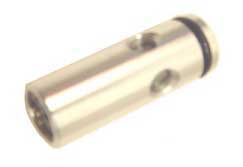 pressure valve. Catastrophic engine failures are most commonly caused by a loss in oil to key components. Rod and main bearings are prime examples of that, as are cam buckets, cam lobes, and the transmission. The DMEoil pressure valve helps to reduce this by increasing oil pressure from the standard of 70psi to over 110psi to keep oil moving and is used by top engine builders.
Able to be used on the Hayabusa, GSXR 750/1000, ZX14 & ZX10. The part has been successfully tested in Drag Racing & Daily riding with outstanding results. Built to help prevent bearing failure from low oil pressure at high rpm. Great for high compression naturally aspirated motors & nitrous applications.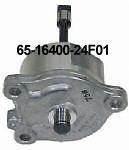 Suzuki Oil Pump
Stock Suzuki Oil Pump
Direct replacement for a damaged unit
APE Billet ZX14 Oil Pump Cover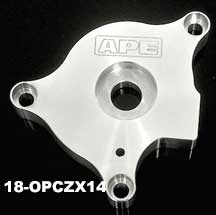 APE reintroduces the popular Kawasaki ZX14 heavy duty oil pump cover. This popular mod was manufactured for years by a company no longer in business.
The oem cover on the ZX14 is well known to bow under pressure and leak resulting in pressure drop. This problem is compounded when high pressure check valve is used.
The APE cover can not flex. Problem solved. The APE crank shop has seen many ZX14 cranks come in for journal repair, that might have survived if they had the APE cover.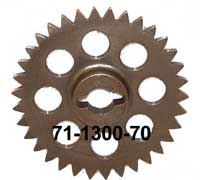 Robinson Industries Oil Pump Gear
This gear is a direct bolt in replacement for the OEM oil pump gear. This gear causes the pump to turn at faster speeds which increases oil volume and thus pressure.
Dogwood Racing EZ Drain Oil Pan
The Dogwood Racing EZ Drain Oil Pan is the perfect drain pan for low ground clearance drag bikes. It easily slides under most race bikes and features a drain hose to drain directly into a waste oil can. Perfect addition to your shop tools!
| Part Number | Description | Racer Price | |
| --- | --- | --- | --- |
| 1-0362 | MPS Oil Fitting Adapter Suzuki (each) | $17.32 | |
| 1-0623 | MPS Oil Block Off Fitting Suzuki (each) | $17.32 | |
| 1-0666 | MPS Oil Cooler Bypass Kit | $62.95 | |
| 27-PRV_LONG | DME Hayabusa/Gsxr1000 (01- 08) Oil Pressure Relief Valve | $75.00 | |
| 27-PRV_GSXR1000_09 | DME Gsxr1000 09-18 Oil Pressure Relief Valve | $75.00 | |
| 27-PRV_ZX10/ZX14 | DME ZX14/ZX10 Oil Pressure Relief Valve | $75.00 | |
| 65-16400-24F01 | Suzuki Hayabusa Oil Pump | $194.03 | |
| 65-09248-14011 | Suzuki Hayabusa Oil Galley Plug | $2.00 | |
| 65-09168-14011 | Suzuki Hayabusa Oil Galley Plug Gasket | $1.25 | |
| 71-1300-70 | RI Hayabusa Oil Pump Gear High Volume | $115.00 | |
| 71-1060-70 | R I Oil Pump Gear High Volume Gsxr1000 01-08 | $115.00 | |
| 71-1400-70 | RI Oil Pump Gear High Volume Zx14 | $115.00 | |
| 1-0698 | MPS Oil Fill Funnel - Please Specify Color | $19.95 | |
| 18-OPCZX14 | APE ZX14 Billet Oil Pump Cover | $52.95 | |
| 25-EZ-Drain | Dogwood EZ Drain Oil Pan | $89.00 | |