Low Profile Oil Pans

MPS Billet Aluminum
Hayabusa Low Profile Oil Pans

Trap Door with Fixed Pickup
The trap door design allows oil to flow freely to the back of the pan during acceleration. During deceleration the door closes and traps the oil in the back of the pan. This keeps the fixed pick up submerged in oil both accelerating and decelerating. The oil that bypasses the pressure relief valve has been ported to the back of the pan as well. This will prevent just pumping oil from the back of your engine to the front. These CNC machined, billet aluminum pans are available in 1" and 2" deep versions. They both feature a fixed oil pump pickup with screen.
Please note: This oil pan was designed to not use the oil cooler. An oil cooler block off and removal of the oil passage restrictor is required when removing the oil cooler.
Please Note: Factory bolts will not work with 1" pan. Qty 14 M6-1.0x16 bolts provided.
VooDoo Hayabusa Fixed Pickup

Billet 2" Oil Pan
Stainless Steel Swinging Pick-Up
Designed to Fit 99-20 Suzuki Hayabusa With Sidewinder or Turbo Exhaust
Will Not Fit With OEM or Traditional 4 Into 1 Exhaust
Holds 4 Quarts of Oil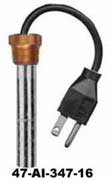 Oil Heater
For quicker engine warm ups heat your oil prior to going to the lanes using the ARC sump heater. Heating the oil reduces parasitic engine drag and aids in oil distribution. It is for track use only.
MPS Suzuki Oil Pan Baffles
Keeps the oil near the pickup for Drag Racing or for Stunt Riding.
Fits:
1-0566 Hayabusa all years
1-0659 GSXR1000 01-06, GSXR750 00-04, GSXR600 01-04 (requires two 23-OP071060AFM gaskets)
DME Billet Aluminum
GSXR1000 Low Profile Oil Pan
Fits 2001-2006, 2007-2008, 09-16 and 2017+
Pans are low profile for added ground clearance so you can slam your 1000. These billet oil pans have a swinging pick-up to prevent loss of oil pressure when drag racing.
Features:
2001-2008: 1.5" thick
2009-2016: 2.0" thick
2017+ : 1.5" at the front and slopes to 2.5" at the rear
Billet aluminum
Swinging pickup with needle bearing
Uses stock drain plug
Not for use with stock exhaust. May or may not fit with your pipe. Measure clearance from stock gasket to pipe
APE Flat Profile Oil Drain Plug

After issues with cracked oil pans, a leading race shop contacted APE for a solution. The problem.. When these modern no bar bikes wheelie and come down hard, the drain plug can hit the ground and attempts to dig in. This tries to bend the plug backwards which can crack the pan. The solution… APE flat profile drain plug. Can not dig into the track surface and puts an end to the cracked pans. The APE plug use an 6mm allen wrench so virtually nothing protrudes below the pan surface.
Adam's Performance
ZX14 Low Profile Oil Pan
New from Adams Performance comes the next generation of Billet Oil pans for the Kawasaki ZX14R 06-17.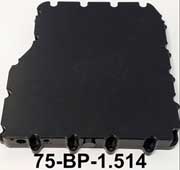 This Billet aluminum oil pan has internal baffling and trap door to control oil flow.
1.5" Depth
Designed for idewinder type exhaust systems that do not travel under the oil pan, so check before you purchase. This kit also includes an oil filter relocator.
Will Work on the Gen 1(06-11) or the Gen 2 (12-17) Will Require a Shorter Oil Filter
Includes Drain Plug and New Modified Oil Pickup
| Part Number | Description | Racer Price | |
| --- | --- | --- | --- |
| 1-0632 | MPS Hayabusa 1'' Low Profile Oil Pan Trap Door Style | $599.00 | |
| 1-0633 | MPS Hayabusa 2'' Low Profile Oil Pan Trap Door Style | $599.00 | |
| 25-vopbusaj9n | VooDoo Hayabusa 2'' Oil Pan w/ Swinging Pickup | $302.35 | |
| 1-0623 | MPS Oil Block Off Fitting Suzuki (each) | $17.32 | |
| 1-0566 | MPS Hayabusa Oil Pan Baffle | $56.59 | |
| 23-EC369060AFM | Cometic Hayabusa Oil Pan Gasket | $20.42 | |
| 27-OIL01C | DME Low Profile Oil Pan GSXR1000 01-06 | $430.00 | |
| 27-OIL07C | DME Low Profile Oil Pan GSXR1000 07-08 | $430.00 | |
| 27-128 | DME Low Profile Oil Pan GSXR1000 09-16 | $499.00 | |
| 27-127 | DME Low Profile Oil Pan GSXR1000 2017+ | $499.00 | |
| 1-0659 | MPS GSXR1000 Oil Pan Baffle 01-06, GSXR750 00-04, GSXR600 01-04 | $56.59 | |
| 23-OP071060AFM | Cometic GSXR1000 Oil Pan Gasket 01-02 | $17.79 | |
| 23-OP269060AFM | Cometic GSXR1000 Oil Pan Gasket 03-08 | $17.79 | |
| 65-09247-14036 | Suzuki GSXR (all) Oil Pan Drain Plug | $6.50 | |
| 65-09168-14004 | Suzuki GSXR (all) Oil Pan Drain Plug Gasket | $2.00 | |
| 18-DPS1300 | APE Flat Profile Drain Plug Hayabusa, GSXR600-1000 | $19.95 | |
| 25-VOPZX14K6 | Voodoo Oil Pan 1.5'' Zx14 06-21 | $472.45 | |
| 75-BP-1.514 | Adams Low Profile Oil Pan ZX14 | $850.00 | |
| 23-OP197032AFM | Cometic ZX14 Oil Pan Gasket | $29.30 | |
| 47-AI-347-16 | ARC Sump Heater Oil And Water 100W 120V 1/4'' Npt | $70.00 | |