MPS Spyder Nitrous Spray System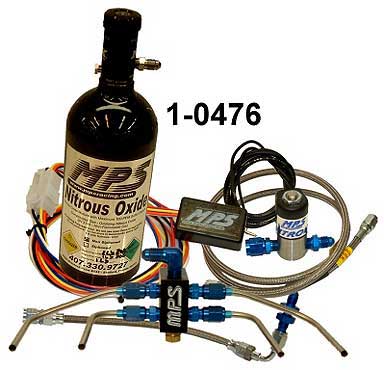 The Spyder Nitrous Spray System uses 4 individual flare jets ( NX or NOS) for exact distribution of nitrous to each cylinder. This eliminates problems with uneven distribution associated with larger nitrous shots in single nozzle dry nitrous systems
The Spyder Dry Nitrous System is capable of producing 120 horsepower with the supplied .062" orifice solenoid. 300+ horsepower is possible with a larger nitrous solenoid and the proper components.
The Spyder Dry Nitrous System comes with one set of jets. Tell us the HP you want at the time of order and we will supply the jets with the kit.
The nitrous enters the air box through a –4 bulkhead fitting on the bottom rear of the air box. The bulkhead fitting inside the air box is connected to the distribution block via a –4 line. From the distribution block the nitrous passes through the 4 individual jets and through the stainless steel tubes into the appropriate port
The Spyder Nitrous Spray System was originally designed for Suzuki Hayabusa, but can be easily adapted to most other fuel injected sport bikes. Let us know the year and model of your bike for proper fitment.
Note: 1999-2007 Hayabusa requires two short stacks
Can be used with or without an air filter as well
Installation available - Call for details
Please specify jetting required. The following chart is a guideline only. Below are horsepower increases as measured at rear wheel. Every 10 horsepower can reduce your 1/4 ET as much as .1 seconds or more. Bear in mind there are many variables such as bike model, nozzle type and method of distribution.
2.5# bottles are currently only available in brushed aluminum finish
All Bottles are NOT siphoned unless otherwise requested
| Part Number | Description | Racer Price | |
| --- | --- | --- | --- |
| 1-0476 | MPS Spyder Dry Nitrous Kit w/ 1 lb Bottle Busa | $518.60 | |
| 1-0476-GSXR | MPS Spyder Dry Nitrous Kit W 1Lb Bottle Gsxr 01-08 | $518.60 | |
| 1-0476-ZX14 | MPS Spyder Dry Nitrous Kit W 1Lb Bottle Zx14 | $518.60 | |
| 1-0476-ZX10 | MPS Spyder Dry Nitrous Kit W 1Lb Bottle Zx10 | $518.60 | |
| 1-0476-R1 | MPS Spyder Dry Nitrous Kit W 1Lb Bottle R1 up to 2006 | $518.60 | |
| 1-0499 | MPS Spyder Dry Nitrous Kit W 2.5 lb Bottle Busa | $530.14 | |
| 1-0499-GSXR | MPS Spyder Dry Nitrous Kit W 2.5 Lb Bottle Gsxr 01-08 | $530.14 | |
| 1-0499-ZX14 | MPS Spyder Dry Nitrous Kit W 2.5 Lb Bottle Zx14 | $530.14 | |
| 1-0499-ZX10 | MPS Spyder Dry Nitrous Kit W 2.5 Lb Bottle Zx10 | $530.14 | |
| 1-0499-R1 | MPS Spyder Dry Nitrous Kit W 2.5 Lb Bottle R1 up to 2006 | $530.14 | |
| 1-0484 | MPS Spyder Dry Nitrous Kit No Bottle Busa | $426.19 | |
| 1-0484-GSXR | MPS Spyder Dry Nitrous Kit No Bottle Gsxr 01-08 | $426.19 | |
| 1-0484-ZX14 | MPS Spyder Dry Nitrous Kit No Bottle Zx14 | $426.19 | |
| 1-0484-ZX10 | MPS Spyder Dry Nitrous Kit No Bottle Zx10 | $426.19 | |
| 1-0484-R1 | MPS Spyder Dry Nitrous Kit No Bottle R1 up to 2006 | $426.19 | |
| 1-0558 | MPS Spyder Nitrous Kit w/ No Airbox Mount 1# Bottle Hayabusa Gen I | $495.50 | |
| 1-0619 | MPS Spyder Nitrous Spray System Only w/ No Airbox Mount Hayabusa Gen I | $264.50 | |
| 1-0477 | MPS Spyder Nitrous Spray Bar Only Busa | $264.50 | |
| 1-0477-GSXR | MPS Spyder Nitrous Spray Bar Only Gsxr | $264.50 | |
| 1-0477-ZX14 | MPS Spyder Nitrous Spray Bar Only Zx14 | $264.50 | |
| 1-0477-ZX10 | MPS Spyder Nitrous Spray Bar Only Zx10 | $264.50 | |
| 1-0477-R1 | MPS Spyder Nitrous Spray Bar Only R1 up to 2006 | $264.50 | |
| 65-13881-33E50 | Suzuki Hayabusa Short Stack Gen I | $19.94 | |
| 65-13881-41G00 | Suzuki Hayabusa Short Stack Gen II and GSXR1000 05-08 | $21.36 | |
| 1-0958 | MPS Siphon Tube Install 1 lb, 10oz, 7oz Bottles | $31.50 | |
| 1-0485 | MPS Nitrous Siphon Tube 3/8'' OD | $18.90 | |