Valvetrain Parts
The KPM high performance dual valve springs were specially designed for MPS by Kibblewhite Performance Machining. Designed for all popular cam profiles, these springs were computer simulated with extra attention paid to mass, rpm, harmonics, and stress evaluations to provide the best valve spring for your Hayabusa. They produce 65 pounds of seat pressure at 1.450" installed height and will not coil bind with cams up to .490 lift. KPM Hayabusa Valve Springs are made with premium grade super clean chrome silicon wire and are heat treated, shot peened, and stress relieved. MPS also carries KPM high performance stainless steel valves. Available in standard and oversize head diameters. All stems are hard chromed for excellent wear. We also stock genuine Suzuki valve stem seals and valve keepers.
MPS Hayabusa Cylinder Head Kit These high quality kits come with all parts needed to refresh your Hayabusa cylinder head. These new kits include the new triple groove Kibblewhite Black Diamond Stainless steel valves in either stock or +1mm oversize. This new stem and keeper design helps reduce the chance of a dropped valve by increasing the surface contact area of the keeper and the valve. The Hayabusa Cylinder Head Kits contain: stainless steel valves in either stock or 1mm oversize, triple groove keepers, titanium retainers, 65 pound valve springs, special spring bases, and valve seals.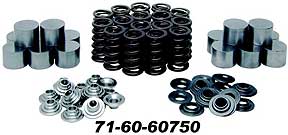 KPM Hayabusa "Shim In Tappet" Spring Kit. This high quality kit

solves the shim spitting problem on performance Hayabusa motorcycles. This unique design prevents retainer "ovaling" because the shim rides in the heat treated steel tappet and not the aluminum or titanium retainer. The Kit comes complete with new steel spring seats, "shim in tappet" tappets, 65lb valve springs, and special titanium retainers.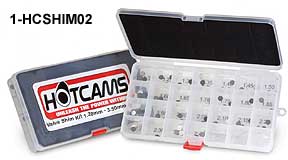 HotCamsShim Kit 9.48mm , 7.48mm or .90mm OD. HotCams shim kits make it much easier to maintain your valve train and are a great addition to any mechanics tool box. They are also an excellent value at only $.62 per shim when purchased as a kit. The kits contain three 9.48mm or 7.48mm OD shims in each size from 1.20mm to 3.50mm in .05mm increments.

Valves
| Part Number | Description | Racer Price | |
| --- | --- | --- | --- |
| 1-0651-OS | MPS Cylinder Head Kit Hayabusa Over Sized | $787.50 | |
| 71-60-60008H | KPM Valve Hayabusa Intake Std 33mm White Diamond | $26.62 | |
| 18-98153 | APE Valve Hayabusa Intake 33mm Stainless Steel | $28.69 | |
| 71-60-60009 | KPM Valve Hayabusa Intake OS 34mm (discontinued 8 remaining) | $23.99 | |
| 18-98154 | APE Valve Hayabusa Intake OS 34mm Stainless Steel | $28.69 | |
| 71-60-60010h | KPM Valve Hayabusa Exhaust 27.5mm White Diamond | $26.62 | |
| 18-98151 | APE Valve Hayabusa Exhaust 27.5mm Stainless Steel | $28.69 | |
| 71-60-60011H | KPM Valve Hayabusa Exhaust OS 28.5mm White Diamond | $26.62 | |
| 18-98152INCL | APE Valve Hayabusa Exhaust OS 28.5mm Inconel | $37.44 | |
| 71-60-60770 | KPM Valve Hayabusa Intake Triple Groove STD 33mm (d/c 10 remaining) | $28.00 | |
| 71-60-60771 | KPM Valve Hayabusa Intake Triple Groove O/S 34mm (d/c 1 remaining) | $28.00 | |
| 71-60-60772 | KPM Valve Hayabusa Exhaust Triple Groove STD 27.5mm (d/c 1 remaining) | $28.00 | |
| 71-60-60773 | KPM Valve Hayabusa Intake Triple Groove O/S 28.5mm | $28.00 | |
| 18-98203 | APE Valve GSXR 1000 00-04 Intake 29mm Stainless Steel | $33.52 | |
| 71-60-60141 | KPM Valve GXSR 1000 01-04 Intake O/S 30mm | $29.81 | |
| 18-98204 | APE Valve GSXR 1000 00-04 Intake OS 30mm Stainless Steel | $33.52 | |
| 18-98206 | APE Valve GSXR 1000 00-04 Exhaust 24mm Stainless Steel | $33.52 | |
| 71-60-60144 | KPM Valve GXSR 1000 01-04 Exhaust O/S 25mm | $29.81 | |
| 18-98205 | APE Valve GSXR 1000 00-04 Exhaust OS 25mm Stainless Steel | $33.52 | |
| 71-60-60616h | KPM Valve GSXR 1000 05-08 Exhaust Std 24mm White Diamond | $37.55 | |
| 18-98377 | APE Valve GSXR 1000 05-08 Exhaust 24mm Stainless Steel | $28.69 | |
| 18-98378 | APE Valve GSXR 1000 05-08 Exhaust OS 25mm Stainless Steel | $28.69 | |
| 71-60-60612h | KPM Valve GSXR 1000 05-08 Intake Std 30mm White Diamond | $37.55 | |
| 18-98379 | APE Valve GSXR 1000 05-08 Intake 30mm Stainless Steel | $28.69 | |
| 18-98380 | APE Valve GSXR 1000 05-08 Intake OS 31mm Stainless Steel | $28.69 | |
| 71-40-40273 | KPM Valve ZX14 Intake STD 33.4mm | $29.81 | |
| 18-98503 | APE Valve ZX14 Intake 33.4mm Stainless Steel | $28.69 | |
| 71-40-40274 | KPM Valve ZX14 Intake O/S 34.4mm | $29.81 | |
| 18-98504 | APE Valve ZX14 Intake OS 34.4mm Stainless Steel | $28.69 | |
| 71-40-40276 | KPM Valve ZX14 Exhaust Std 28.25mm | $29.81 | |
| 18-98502 | APE Valve ZX14 Exhaust 28.5mm Stainless Steel | $28.69 | |
| 71-40-40277 | KPM Valve ZX14 Exhaust O/S 29.25mm (discontinued - 7 remaining) | $23.99 | |
| 18-98509INC | APE Valve ZX14 Exhaust OS 29.5mm Inconel | $37.44 | |
Valve Springs and Kits
| Part Number | Description | Racer Price | |
| --- | --- | --- | --- |
| 71-60-60760 | KPM Racing Spring Kit w/ Titanium Retainers 0.490'' Lift Hayabusa | $491.23 | |
| 71-60-60800 | KPM Valve Spring Kit Hayabusa Triple Groove | $760.08 | |
| 71-60-60750 | KPM Valve Spring Kit Hayabusa Shim In Tappet | $1,489.33 | |
| 71-1300-S-50 | KPM Valve Springs Hayabusa 65# | $137.46 | |
| 18-vs1300gsx-2 | APE Hayabusa 65# Valve Springs | $148.69 | |
| 18-VS1300GSX | APE Hayabusa 47# Valve Springs | $148.69 | |
| 25-CARP1300 | Carpenter Valve Springs Hayabusa / ZX12 70# | $190.00 | |
| 71-60-60146 | KPM Racing Spring Kit w/ Titanium Retainers 0.44'' GSXR1000 01-04 | $456.77 | |
| 71-60-60148 | KPM Valve Srings GSXR 1000 01-04 46# (2 sets remaining outside of kit) | $137.07 | |
| 71-60-60950 | KPM Valve Srings GSXR 1000 05-08 Beehive 0.425'' Lift | $164.25 | |
| 18-VS1000S-PRO | APE GSXR1000 01-08 55# Pro Valve Springs | $189.00 | |
| 25-CARP1008 | Carpenter Valve Spring Kit GSXR 1000 01-08 62# | $190.00 | |
| 25-CARP1014 | Carpenter Valve Springs ZX14 / ZX10 / GSXR1000 09+ 62# | $190.00 | |
| 71-40-40292 | KPM Valve Springs ZX14 06-11 65# | $143.50 | |
| 71-40-40267 | KPM Racing Spring Kit w/ Titanium Retainers 0.405'' Lift ZX14 | $542.99 | |
| 18-VS1400K | APE ZX14 Valve Springs (includes retainers) | $388.49 | |
| 1-VSS-A202 | MPS Valve Spring Shim .060'' (16/set) .915'' od X .640 id | $7.35 | |
| 1-VSS-B202 | MPS Valve Spring Shim .030'' (16/set) .915'' od X .640 id | $7.35 | |
| 1-VSS-C202 | MPS Valve Spring Shim .015'' (16/set) .915'' od X .640 id | $7.35 | |
| 1-VSS-A204 | MPS Valve Spring Shim .060'' (16/set) .796'' od X .515 id | $7.35 | |
| 1-VSS-B204 | MPS Valve Spring Shim .030'' (16/set) .796'' od X .515 id | $7.35 | |
| 1-VSS-C204 | MPS Valve Spring Shim .015'' (16/set) .796'' od X .515 id | $7.35 | |
| 1-VSS-A107 | MPS Valve Spring Shim .060'' (8/set) 1.255'' od X .624 id | $3.94 | |
| 1-VSS-B107 | MPS Valve Spring Shim .030'' (8/set) 1.255'' od X .624 id | $3.94 | |
| 1-VSS-C107 | MPS Valve Spring Shim .015'' (8/set) 1.255'' od X .624 id | $3.94 | |
Retainers, Guides & Seals
| Part Number | Description | Racer Price | |
| --- | --- | --- | --- |
| 71-60-60760 | KPM Racing Spring Kit w/ Titanium Retainers 0.490'' Lift Hayabusa | $491.23 | |
| 71-60-60761 | KPM Retainers Titanium Hayabusa | $575.20 | |
| 18-TVSR1300PRO | APE Titanium Retainers Hayabusa | $245.95 | |
| 18-TVSRS1000GSX | APE Titanium Retainers GSXR1000 01-04 | $245.95 | |
| 18-TVSRS1000GSX-2 | APE Titanium Retainers GSXR1000 05+ | $245.95 | |
| 18-VG1300GSX | APE Valve Guides Hayabusa | $217.24 | |
| 18-VG1000GSX-4 | APE Valve Guides GSXR1000 01-04 | $224.76 | |
| 18-VG1000GSX-15 | APE Valve Guides GSXR1000 2005+ | $224.76 | |
| 18-vgk1400 | APE Valve Guides ZX14 | $217.24 | |
| 71-60-60620 | KPM Valve Guide GSXR1000 07-08 | $19.89 | |
| 71-700-100015 | KPM Valve Guide Seals Hayabusa & ZX14 | $5.62 | |
| 71-60-60805 | K P M Base Washers H T Steel Hayabusa | $136.49 | |
| 65-09289-05011 | Suzuki Hayabusa Valve Seal Each OEM | $6.70 | |
| 1-0634 | MPS Hayabusa and ZX14 Valve Seal (5.0mm) | $4.20 | |
| 65-09289-04003 | Suzuki GSXR1000 01-04 Valve Seal Each OEM (4.0mm) | $6.70 | |
| 65-09289-04002 | Suzuki GSXR1000 2005+ Valve Seal Each OEM (4.5mm) | $6.70 | |
| 1-0762 | MPS GSXR1000 05+ Valve Seal (4.5mm) | $4.20 | |
| 71-700-100014 | KPM Valve Seal GSXR1000 07-08 | $5.62 | |
| 65-12932-24f00 | Suzuki Hayabusa Valve Keepers | $2.05 | |
| 65-12932-05C00 | Suzuki GSXR1000 Valve Cotter/Keeper 01-04 | $2.05 | |
| 65-12932-32C00 | Suzuki GSXR1000 Valve Cotter/Keeper 05+ | $2.05 | |
| 65-12891-02F00 | Suzuki Hayabusa Tappet | $66.00 | |
Shims
| Part Number | Description | Racer Price | |
| --- | --- | --- | --- |
| 1-HCSHIM02 | Shim Kit - 9.48mm OD | $112.95 | |
| 1-HCSHIM01 | Shim Kit - 7.48mm OD | $112.95 | |
| 1-HCSHIM00 | Shim Kit - 8.90mm OD | $112.95 | |
| 1-HCSHIM-IND | Hot Cam Shim Individual - Please Specify Size | $3.25 | |
| 65-12892-41c00-230 | Suzuki Hayabusa Valve Shim 230 | $10.80 | |
| 65-12892-41c00-235 | Suzuki Hayabusa Valve Shim 235 | $10.80 | |
| 65-12892-41c00-240 | Suzuki Hayabusa Valve Shim 240 | $10.80 | |
| 65-12892-41c00-245 | Suzuki Hayabusa Valve Shim 245 | $10.80 | |
| 65-12892-41c00-250 | Suzuki Hayabusa Valve Shim 250 | $10.80 | |
| 65-12892-41c00-255 | Suzuki Hayabusa Valve Shim 255 | $10.80 | |
| 65-12892-41c00-260 | Suzuki Hayabusa Valve Shim 260 | $10.80 | |
| 65-12892-41c00-265 | Suzuki Hayabusa Valve Shim 265 | $10.80 | |
| 65-12892-41c00-270 | Suzuki Hayabusa Valve Shim 270 | $10.80 | |
| 65-12892-41c00-275 | Suzuki Hayabusa Valve Shim 275 | $10.80 | |
| 65-12892-41c00-280 | Suzuki Hayabusa Valve Shim 280 | $10.80 | |
| 65-12892-41c00-285 | Suzuki Hayabusa Valve Shim 285 | $10.80 | |
| 65-12892-41c00-290 | Suzuki Hayabusa Valve Shim 290 | $10.80 | |
| 65-12892-41c00-295 | Suzuki Hayabusa Valve Shim 295 | $10.80 | |
| 65-12892-41c00-300 | Suzuki Hayabusa Valve Shim 300 | $10.80 | |
| 65-12892-41C00-305 | Suzuki Hayabusa Valve Shim 305 | $10.80 | |
| 65-12892-41c00-310 | Suzuki Hayabusa Valve Shim 310 | $10.80 | |
| 65-12892-41C00-315 | Suzuki Hayabusa Valve Shim 315 | $10.80 | |
| 65-12892-41C00-320 | Suzuki Hayabusa Valve Shim 320 | $10.80 | |
| 65-12892-41C00-325 | Suzuki Hayabusa Valve Shim 325 | $10.80 | |
| 65-12892-41C00-330 | Suzuki Hayabusa Valve Shim 330 | $10.80 | |