Transmissions & Parts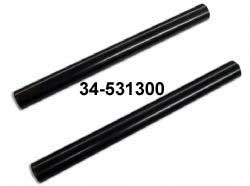 The Schnitz billet shift shafts are machined, heat treated, ground and then coated with an anti-slip coating to ensure trouble-free shifting for your engine. Most others grind, then heat treat their shafts. This causes up to a .005" out of roundness that will reduce shifting smoothness. These are the only shafts that are ground after heat treating, and then coated with a true anti-slip coating. Schnitz is so confident in these shift shafts, they offer a lifetime warranty!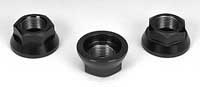 The PMFR countersunk nut is made of 4142 chrome moly steel heat treated to 28 rockewll for an extra durable part. It has an integral washer and a 1 1/16" hex.
| Part Number | Description | Racer Price | |
| --- | --- | --- | --- |
| 16-017 | Hayabusa Race Cut Transmission (good core required) | $900.00 | |
| 71-1300-66 | RI Hayabusa Billet 6 Speed AutomaticTransmission | $3,200.00 | |
| 71-1300-65-17t | RI Hayabusa HD Output Shaft w 17T Sprocket Gen I | $369.00 | |
| 71-1300-65-08-17T | RI Hayabusa HD Output Shaft w 17T Sprocket Gen II | $389.00 | |
| 71-1300-65-08-18T | RI Hayabusa HD Output Shaft 08 Hayabusa W 18T Sprocket | $389.00 | |
| 81-3516-16 | Vortex Front Sprocket 16 Tooth HD Shaft 530 Chain Hayabusa | $28.95 | |
| 81-3516-17 | Vortex Front Sprocket 17 Tooth HD Shaft 530 Chain Hayabusa | $28.95 | |
| 81-3516-18 | Vortex Front Sprocket 18 Tooth HD Shaft 530 Chain Hayabusa | $28.95 | |
| 25-170-19 | PBI Front Sprocket 19 Tooth HD Shaft 530 Chain Hayabusa | $28.95 | |
| 71-1300-610-269 | RI Hayabusa Low Gear Gen I | $269.00 | |
| 71-1300-665 | RI Hayabusa High Ratio 5Th (1.08:1) And 6Th (0.96:1) Gears Gen I | $675.00 | |
| 71-1300-610-269-08 | R I Hayabusa Low Gear Gen II | $269.00 | |
| 71-1300-665-08 | R I Hayabusa High Ratio 5Th (1.08:1) And 6Th (0.96:1) Gears Gen II | $675.00 | |
| 65-25211-24F10 | Suzuki Hayabusa Shift Fork 1-2 (2 required for complete set) | $126.00 | |
| 65-25231-24F10 | Suzuki Hayabusa Shift Fork 5-6 (1 required for complete set) | $126.00 | |
| 57-531300 | Shift Shafts Billet Hayabusa | $54.95 | |
| 18-TSSH1300 | APE Tool Steel Shift Shafts Hayabusa | $59.95 | |
| 57-531000 | Shift Shafts Billet GSXR 1000 00-08 | $54.95 | |
| 18-TSSGX1000-09 | APE Tool Steel Shift Shafts GSXR 1000 09 and up | $59.95 | |
| 18-TSSKZX14 | APE Tool Steel Shift Shafts ZX14 | $59.95 | |
| 1-0493 | MPS Hayabusa HD Shifter Detent Spring | $20.90 | |
| 1-0836 | MPS GSXR 1000 HD Shifter Detent Spring | $20.90 | |
| 65-25512-06G10 | Suzuki Hayabusa Shift Pawl Gen II | $34.91 | |
| 65-25381-13E00 | Suzuki Hayabusa Shift Plate Star Gen II | $47.00 | |
| 65-25312-42F01 | Suzuki Hayabusa Gear Shift Plate Bolt | $9.68 | |
| 65-09181-14167 | Suzuki Hayabusa Gear Shaft Washer | $3.41 | |
| 65-09283-42017 | Suzuki Hayabusa Transmission Output Shaft Seal 99-07 | $46.80 | |
| 55-CB-BUSA-TRANS | WWB Ceramic Transmission Bearing Kit Hayabusa | $355.00 | |
| 55-HDT-BUSA | WWB Steel Heavy Duty Transmission Bearing Hayabusa | $175.00 | |
| 55-CB-BUSA-MTR | WWB Ceramic Transmission / Motor Bearing Kit Hayabusa | $505.00 | |
| 55-CB-ZX14-TRANS | WWB Ceramic Transmission Bearing Kit Zx14 | $495.00 | |
| 68-CS226 | PMFR C/S Sprocket Nut 20mm x 1.5 Thread | $29.00 | |
| 1-0489 | MPS Core Charge Hayabusa Transmission | $550.00 | |