Valve Springs and Kits
The KPM high performance dual valve springs were specially designed for MPS by Kibblewhite Performance Machining. Designed for all popular cam profiles, these springs were computer simulated with extra attention paid to mass, rpm, harmonics, and stress evaluations to provide the best valve spring for your Hayabusa. They produce 65 pounds of seat pressure at 1.450" installed height and will not coil bind with cams up to .490 lift. KPM Hayabusa Valve Springs are made with premium grade super clean chrome silicon wire and are heat treated, shot peened, and stress relieved.
World famous APE valve springs are made from premium chrome silicone wire for consistant pressure and excellent fatigue life. Racers as well as street riders have come to depend on APE springs for winning performance. For use with any high lift cam and / or agressive camshaft profile.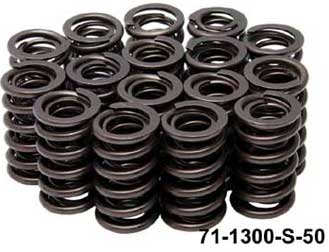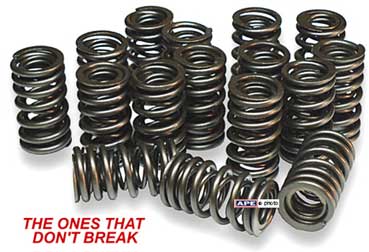 MPS Hayabusa Cylinder Head Kit These high quality kits come with all parts needed to refresh your Hayabusa cylinder head. These new kits include the new triple groove Kibblewhite Black Diamond Stainless steel valves in +1mm oversize. This new stem and keeper design helps reduce the chance of a dropped valve by increasing the surface contact area of the keeper and the valve. The Hayabusa Cylinder Head Kits contain: stainless steel valves in either stock or 1mm oversize, triple groove keepers, titanium retainers, 65 pound valve springs, special spring bases, and valve seals.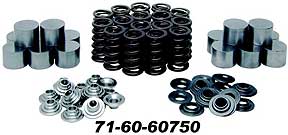 KPM Hayabusa "Shim In Tappet" Spring Kit. This high quality kit

solves the shim spitting problem on performance Hayabusa motorcycles. This unique design prevents retainer "ovaling" because the shim rides in the heat treated steel tappet and not the aluminum or titanium retainer. The Kit comes complete with new steel spring seats, "shim in tappet" tappets, 65lb valve springs, and special titanium retainers.

| Part Number | Description | Racer Price | |
| --- | --- | --- | --- |
| 1-0651-OS | MPS Cylinder Head Kit Hayabusa Over Sized | $750.00 | |
| 71-60-60800 | KPM Valve Spring Kit Hayabusa Triple Groove | $760.08 | |
| 71-60-60760 | KPM Racing Spring Kit w/ Titanium Retainers 0.490'' Lift Hayabusa | $491.23 | |
| 71-60-60750 | KPM Valve Spring Kit Hayabusa Shim In Tappet | $1,303.30 | |
| 71-1300-S-50 | KPM Valve Springs Hayabusa 65# | $119.00 | |
| 18-vs1300gsx-2 | APE Hayabusa 65# Valve Springs | $121.72 | |
| 18-VS1300GSX | APE Hayabusa 47# Valve Springs | $148.69 | |
| 25-CARP1300 | Carpenter Valve Springs Hayabusa / ZX12 70# | $175.00 | |
| 71-60-60146 | KPM Racing Spring Kit w/ Titanium Retainers 0.44'' GSXR1000 01-04 | $456.77 | |
| 71-60-60148 | KPM Valve Srings GSXR 1000 01-04 46# (4 sets remaining outside of kit) | $137.07 | |
| 71-60-60950 | KPM Valve Srings GSXR 1000 05-08 Beehive 0.425'' Lift | $153.36 | |
| 18-VS1000S-PRO | APE GSXR1000 55# Pro Valve Springs | $175.00 | |
| 18-VS1000S | APE GSXR1000 55# Valve Springs (NOT for use with stock cams) | $124.95 | |
| 25-CARP1008 | Carpenter Valve Spring Kit GSXR 1000 01-08 62# | $149.95 | |
| 25-CARP1014 | Carpenter Valve Springs ZX14 / ZX10 / GSXR1000 09+ 62# | $175.00 | |
| 71-40-40292 | KPM Valve Springs ZX14 65# | $143.50 | |
| 71-40-40267 | KPM Racing Spring Kit w/ Titanium Retainers 0.405'' Lift ZX14 | $542.99 | |
| 71-40-40269 | KPM Valve Springs ZX14 66# for use in Titanium Racing Spring Kit | $194.60 | |
| 18-VS1400K | APE ZX14 Valve Springs (includes retainers) | $388.49 | |
| 1-VSS-A202 | MPS Valve Spring Shim .060'' (16/set) .915'' od X .640 id | $7.00 | |
| 1-VSS-B202 | MPS Valve Spring Shim .030'' (16/set) .915'' od X .640 id | $7.00 | |
| 1-VSS-C202 | MPS Valve Spring Shim .015'' (16/set) .915'' od X .640 id | $7.00 | |
| 1-VSS-A204 | MPS Valve Spring Shim .060'' (16/set) .796'' od X .515 id | $7.00 | |
| 1-VSS-B204 | MPS Valve Spring Shim .030'' (16/set) .796'' od X .515 id | $7.00 | |
| 1-VSS-C204 | MPS Valve Spring Shim .015'' (16/set) .796'' od X .515 id | $7.00 | |
| 1-VSS-A107 | MPS Valve Spring Shim .060'' (8/set) 1.255'' od X .624 id | $3.75 | |
| 1-VSS-B107 | MPS Valve Spring Shim .030'' (8/set) 1.255'' od X .624 id | $3.75 | |
| 1-VSS-C107 | MPS Valve Spring Shim .015'' (8/set) 1.255'' od X .624 id | $3.75 | |