MPS Fittings & Line


















Can't Beat These Slick Push Fittings!
In-line connection of tubing to a threaded port. External tightening with a flat spanner or a socket wrench, internal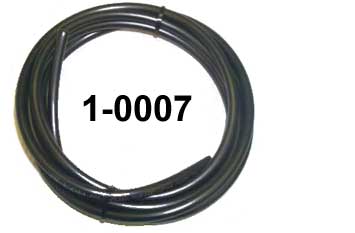 adjustment with an Allen wrench.
No Ferrules Needed
Reusable
Available for 1/8", 1/4" & 3/8" Poly Line
Available for 1/8" & 1/4" NPT
Compact
Pre coated thread ensuring direct sealing
Full air flow

MPS strongly recommends installing an inline air filter to keep debris out of your air valve. The all-anodized, lightweight (.08 lbs) aluminum housing is compact (2.3" length, .75" diameter) and can be used directly before the air valve. The element is 40 micron, which insures minimum pressure drop.
| Part Number | Description | Racer Price | |
| --- | --- | --- | --- |
| 1-0007 | MPS Air Line 1/4'' Poly (Per Foot) | $0.83 | |
| 1-0355 | MPS Air Line 3/8'' Poly Line | $0.83 | |
| 3-16250NOS | NOS 1/8'' x 5' Roll Poly Line | $26.32 | |
| 3-16255NOS | NOS 1/8'' X 10' Roll Poly Line | $28.62 | |
| 3-16258NOS | NOS 1/8'' X 15' Roll Poly Line | $43.53 | |
| 3-16260NOS | NOS 1/8'' X 20' Roll Poly Line | $51.55 | |
| 1-0275 | MPS Straight Push in Fitting 1/16'' NPT x 1/8'' Poly | $6.05 | |
| 1-0637 | MPS Straight Push in Fitting10-32 Male x 1/8'' Poly | $7.15 | |
| 1-0193 | MPS Straight Push in Fitting 10-32 Male x 1/4'' Poly | $7.15 | |
| 1-0114 | MPS Straight Push in Fitting 1/8'' NPT x 1/8'' Poly | $4.95 | |
| 1-0421 | MPS Straight Push in Fitting 1/8'' N P T Female X 1/8'' Pol | $5.50 | |
| 1-0042 | MPS Straight Push in Fitting 1/8'' NPT x 1/4'' Poly | $3.85 | |
| 1-0312 | MPS Straight Push in Fitting 1/8'' NPT Female x 1/4'' Ploy | $7.15 | |
| 1-0088 | MPS Straight Push in Fitting 1/8''NPT X 3/8'' Poly | $7.15 | |
| 1-0192 | MPS Air Filler Fitting - Nickel Plated Brass and TPMS Compatible Metal Cap | $6.60 | |
| 1-0197 | MPS Air Filter 1/8'' NPT Inline | $15.00 | |
| 1-0197-1 | MPS Air Filter 1/4'' NPT Inline | $15.00 | |
| 1-0717 | MPS Straight Push in Fitting 1/4''NPT x 1/4'' Poly | $7.15 | |
| 1-0438 | MPS Straight Push in Fitting 1/4'' NPT Female X 1/4'' Poly | $7.70 | |
| 1-0356 | MPS Straight Push in Fitting 1/4'' NPT x 3/8'' Poly | $6.05 | |
| 1-0749 | MPS 90° Push in Fitting 10-32 X 1/8'' Poly | $10.45 | |
| 1-0437 | MPS 90° Push in Fitting 10-32 X 1/4'' Poly | $10.45 | |
| 1-0898 | MPS 90° Push in Fitting 1/8'' NPT Female X 1/8'' Poly | $10.00 | |
| 1-0797 | MPS 90° Push in Fitting 1/8'' NPT x 1/8'' Poly | $5.00 | |
| 1-0897 | MPS 90° Push in Fitting 1/8'' NPT Female X 1/4'' Poly | $10.00 | |
| 1-0040 | MPS 90° Push in Fitting 1/8'' NPT x 1/4'' Poly | $4.95 | |
| 1-0718 | MPS 90° Push in Fitting 1/4''NPT x 1/4'' Poly | $7.15 | |
| 1-0387 | M P S 90° Push in Fitting 1/4'' NPT X 3/8'' Poly | $7.15 | |
| 1-0388 | MPS Straight Poly Push in Union1/8'' | $4.95 | |
| 1-0455 | MPS Straight Poly Push in Union 1/4'' | $4.95 | |
| 1-0454 | MPS 90° Poly Push in Union 1/4'' | $6.60 | |
| 1-0324 | MPS Tee Poly Push in Fitting1/8'' | $8.25 | |
| 1-0123 | MPS Tee Poly Push in Fitting1/4' | $7.15 | |
| 1-0041 | MPS Tee 1/4'' Poly Push in Fitting 1/8'' NPT on the Run | $6.05 | |
| 1-0835 | MPS Tee 1/4'' Poly Push in Fitting Male Branch1/8'' NPT | $6.05 | |
| 1-0441 | MPS Tee Poly Push in Fitting Unequal 3/8'' x 3/8'' x 1/4 | $13.20 | |
| 1-0636 | MPS Y Poly Push in Fitting 1/8'' | $8.25 | |
| 1-0453 | MPS Y Poly Push in Fitting1/4'' | $6.60 | |
| 1-0635 | MPS Cross Poly Push in Fitting 1/4'' | $13.20 | |
| 1-0411 | MPS Brass Hex Nipple 1/8'' NPT | $2.20 | |
| 1-0412 | MPS Brass Coupling 1/8'' NPT | $2.75 | |
| 1-0413 | MPS Brass Hex Plug 1/8'' NPT | $2.20 | |
| 1-0536 | MPS Brass 90° 1/8'' NPT Male x 1/8'' NPT Female | $4.40 | |
| 1-0789 | MPS Brass 90° 1/8'' NPT Male x 1/8'' NPT Male | $4.50 | |
| 1-0767 | MPS Brass Run Tee 1/8'' MNPT x 1/8'' FNPT x 1/8'' F | $7.00 | |
| 1-0458 | MPS Brass Hose Barb 1/8'' NPT x 1/4'' Hose | $4.40 | |
| 1-0755 | MPS Brass Hose Barb 1/8'' NPT x 5/16'' Hose | $6.00 | |
| 1-0375 | MPS Brass Hose Barb 1/4'' NPT x 5/16'' Hose | $5.50 | |
| 1-0376 | MPS Brass Hose Barb 1/4'' NPT x 3/8'' Hose | $5.50 | |
| 1-0468 | MPS Brass 90° Hose Barb 1/4'' NPT x 3/8'' Hose | $7.15 | |
| 1-0504 | MPS Flare Jet Holder 1/8' NPT x -3AN | $6.60 | |
| 1-0713 | MPS One Way Shut-off Quick Disconnect Socket 1/8'' NPT Male | $8.00 | |
| 1-0714 | MPS One Way Shut-off Quick Disconnect Plug 1/8'' NPT Male | $4.00 | |
| 1-0715 | MPS One Way Shut-off Quick Disconnect Plug 1/8'' NPT Female | $4.50 | |
| 1-0716 | MPS One Way Shut-off Quick Disconnect Plug 1/4'' Poly Line | $6.00 | |