Batteries, Chargers & Accessories


The time has come for a dedicated 12v and 16v Powersports battery. After a year of extensive testing, the P.9B RR16 is now available for sale. Already a proven race winner and record setting battery, it's now available to all consumers. These batteries pack a huge punch in a small case!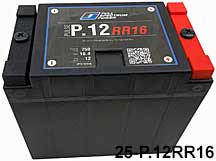 Universal Charger Capability - Most commercially available lithium battery chargers work with the Pulse IPT batteries.
Advanced Case Design- Lighter and stronger than our previous case, it rejects heat, vibration, gas and oil.
Advanced Cell Design- We designed the Pulse IPT cells to cope with the demands of motorsports. Every component of our cells were designed and optimized for motorsports, based on a decade of experience building engine start batteries. These are only available from Full Spectrum Power.
V Direct Multi Terminal - Our solid copper terminals have 4 threaded mount holes. Attach your accessory wires without having to use long screws on one small terminal.
V Sleeve Silicon Terminal Covers - Color coded for polarity, our silicon terminal covers protect against short circuits.
ADDITIONAL INFORMATION

16v P.12RR16

Weight 5.1lb
Dimensions (metric) 149 x 86.5 x 130mm
Dimensions (standard) 5.9 x 3.4 x 5in
Capabilities 750ca

16v P.9BRR16

Weight 3lb/1350g
Dimensions (metric) 150 x 65 x 103mm
Dimensions (standard) 5.9 x 2.6 x 4.1in
Capabilities 425ca/7ah

12v P.10S
12v P.10L

Weight 2.8lb/1245g
Dimensions (metric) 150 x 87 x 106mm
Dimensions (standard) 5.9 x 3.4 x 4.2in
Capabilities 3160ca/6ah

12v P.1R

Weight 1lb/500g
Dimensions (metric) 113 x 40 x 80mm
Dimensions (standard) 4.4 x 1.6 x 3.1in
Capabilities 160ca/2.5ah

Optimate Lithium Select 9.5 amp Charger the fastest professional battery charger for the 12.8V/16V LiFeP04 / LFP inyour performance / race motorcycles, cars or craft. – The ultimateLithium charger for the track!

Select 12.8V or 16V to match the specified charge voltage for your LiFeP04 / LFP, then connect to battery and the charger does the rest.
Ampmatic charge control for Lithium adjusts current to match battery size and condition – Small battery gets less, large battery gets more.
Most advanced Lithium save mode will save battery from as low as 0.5V – Continues charging ifhealthy, stops and warns if faulty!
Pushbutton activated BMS wake up mode safely wakes battery out of sleep mode or low discharge.
OptiMate Lithium 24-7 smart inter-active maintenance prevents discharge from connected circuitry & guarantees more battery power, longer battery life!
Automatically charges, tests and maintains in any temperature – voltage adjusted higher when colder, lower when hotter!

Featherweight Lithium Battery
Features:
Lithium Ion Polymer technology
All components are designed, manufactured, assembled and packed in one location assuring high quality and consistency
Extremely lightweight, 50% to 70% lighter than standard batteries

25-490-2426 only 15oz (3 1/2" X 2" X 3 1/2") great for auxillary 24V start
25-490-2400 only 1lb 1oz (4 1/2" X 2 3/4" X 3 1/3") great for auxillary 24V start
25-490-2416 only 1lb 15oz (6" x 3 7/16" x 4 1/8") fits Hayabusa, GSXR1000, ZX14, ZX12
25-490-2418 only 2lbs 9 oz (6" x 3 7/16" x 4 1/8") fits Hayabusa, GSXR1000, ZX14, ZX12

Cold Cranking AMPS: <

25-490-2400 120 AMPS
25-490-2426 120 AMPS
25-490-2416 220 AMPS
25-490-2418 300 AMPS

Built-in LED test gauge
Increased cranking amps over lead acid batteries
Fast recharge, can be brought up to a 90% charge within 6 minutes
Easily 6 to 12 times more cycle life compared to lead acid batteries
Long shelf life, up to1 year before requiring recharging
Can be mounted in any position
No hazardous acid or heavy metals, non-explosive and non-combustible
More precise fitments compared to other brands of lithium batteries
3 Year Warranty (may be voided if instructions are not followed)
Easy mount battery box available
Warnings:
MPS Featherweight Battery Box
MPS Featherweight Battery Box is made from lightweight ABS plasticand are custom made to fit the WPS Featherweight Batteries perfectly. The MPS Featherweight Battery Box has 6 mounting holes for ¼" socket head cap screws. It can be mounted in any direction, even upside down. They weigh only 160 grams!
MPS Remote Start Battery Pack

MPS Remote Start Battery Pack is the lightest starter pack available. Perfect for Grudge bikes that donít want to wire a starter circuit on the bike. The entire unit with batteries weighs only 5.25 pounds, so it is super easy to carry. The remote starter pack features a heavy duty solenoid, heavy duty cable connectors, and the start button integrated into the handle. It is custom made for two 240 Amp WPS Featherweight Batteries P/N 25-490-2516. It is available with the batteries as P/N 1-0779 or without batteries as P/N 1-0779-NB.
MPS Battery Charge Harness

Tiger Racing Hayabusa Battery Box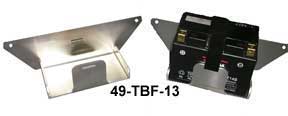 New Battery Box for the Hayabusa. Mounts behind the headlight
This Front Mount Battery Box is designed to bolt onto the stock faring stay and provide a convenient location to mount your battery. Great for those with cut frame rails or anyone looking to add some weight to the front of the bike.
Note - Stock headlight will need to removed or highly modified to fit
| Part Number | Description | Racer Price | |
| --- | --- | --- | --- |
| 25-P.12RR16 | Full Spectrum Battery 16V 750ca 5.9 X 3.4 X 4.1 | $499.00 | |
| 25-P.9BRR16 | Full Spectrum Battery 16V 425ca 5.9 x 2.6 x 4.1 | $339.00 | |
| 25-P.10S | Full Spectrum Battery 12V 720ca 5.9 X 3.4 X 4.2 | $349.00 | |
| 25-P.10L | Full Spectrum Battery 12V 360ca 5.9 X 3.4 X 4.2 | $239.00 | |
| 25-P.1R | Full Spectrum Battery 12V 160ca 4.4 x 1.6 x 3.1 | $159.00 | |
| 1-0697-4 | MPS Battery Box for P.152R16 Full Spectrum Battery | $61.95 | |
| 1-0697-3 | MPS Battery Box for P9 Full Spectrum Battery | $61.95 | |
| 1-0697-1 | MPS Battery Box for 300 or 220 amp Featherweight & Full Spectrum P.10 Batte | $61.95 | |
| 25-OPTIMATE7 | Full Spectrum Battery Charger 16V | $179.95 | |
| 25-490-2400 | Featherweight Lithium Battery 120 A 4 7/16 X 2 3/4 X 3 3/8 | $141.95 | |
| 25-490-2426 | Featherweight Lithium Battery 140 A 3 9/16 X 2 X 3 1/2 | $187.95 | |
| 25-490-2416 | Featherweight Lithium Battery 220 A 6 X 3 7/16 X 4 1/8 | $196.95 | |
| 25-490-2418 | Featherweight Lithium Battery 300 A 6 X 3 7/16 X 4 1/8 | $286.95 | |
| 1-0697-1 | MPS Battery Box for 300 or 220 amp Featherweight & Full Spectrum P.10 Batte | $61.95 | |
| 1-0697-2 | MPS Battery Box for 120 amp Featherweight Lithium Battery | $61.95 | |
| 1-0928 | MPS Battery Box for Hayabusa 24V Start | $61.95 | |
| 1-0779-NB | MPS Remote Start Battery Pack No Batteries | $208.95 | |
| 1-0779 | MPS Remote Start Battery Pack 220A | $568.90 | |
| 1-0855 | MPS Remote Start Battery Pack 360A | $748.90 | |
| 1-0776 | MPS Starter Relay 200A | $29.00 | |
| 1-0864 | MPS Remote Start Harness | $26.25 | |
| 49-TBF-13 | Tiger Racing Battery Box - Hayabusa | $79.95 | |
| 1-0157 | MPS Battery Charge Harness | $21.95 | |
| 34-fc1001 | Hayabusa Engine Case Protector Starter Kickback Gen 1 | $34.95 | |