Batteries, Chargers & Accessories

Featherweight Lithium Battery
Features:
All components are designed, manufactured, assembled and packed in one location assuring high quality and consistency
Extremely lightweight, 50% to 70% lighter than standard batteries

25-490-2500 only 0.9lbs (4 7/16" X 2 3/4" X 3 3/8") great for auxillary 24V start
25-490-2516 only 2.0lbs (6" x 3 7/16" x 3 5/8") fits Hayabusa, GSXR1000, ZX14, ZX12
25-490-2518 only 2.75lbs (6" x 3 7/16" x 4 1/8") fits Hayabusa, GSXR1000, ZX14, ZX12

Cold Cranking AMPS:

25-490-2500 120 AMPS
25-490-2516 240 AMPS
25-490-2518 360 AMPS

Built-in LED test gauge
Increased cranking amps over lead acid batteries
Fast recharge, can be brought up to a 90% charge within 6 minutes
Easily 6 to 12 times more cycle life compared to lead acid batteries
Long shelf life, up to1 year before requiring recharging
Can be mounted in any position
No hazardous acid or heavy metals, non-explosive and non-combustible
More precise fitments compared to other brands of lithium batteries
2 Year Warranty (may be voided if instructions are not followed)
Easy mount battery box available
Warnings:
MPS Featherweight Battery Box
MPS Featherweight Battery Box is made from lightweight ABS plasticand are custom made to fit the WPS Featherweight Batteries perfectly. The MPS Featherweight Battery Box has 6 mounting holes for ¼" socket head cap screws. It can be mounted in any direction, even upside down. They weigh only 160 grams!
MPS Remote Start Battery Pack

MPS Remote Start Battery Pack is the lightest starter pack available. Perfect for Grudge bikes that donít want to wire a starter circuit on the bike. The entire unit with batteries weighs only 5.25 pounds, so it is super easy to carry. The remote starter pack features a heavy duty solenoid, heavy duty cable connectors, and the start button integrated into the handle. It is custom made for two 240 Amp WPS Featherweight Batteries P/N 25-490-2516. It is available with the batteries as P/N 1-0779 or without batteries as P/N 1-0779-NB.
Yuasa HP Maintenance Free Battery
Features:
Dimensions: 5 5/16" x 3 1/2" x 6 9/16"
210 Cold Cranking Amps
12 Volt 12 Amp Hour
Sealed Construction
Comes with EZ Fill Acid in Pack
MPS Battery Charge Harness

Tiger Racing Hayabusa Battery Box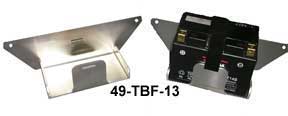 New Battery Box for the Hayabusa. Mounts behind the headlight
This Front Mount Battery Box is designed to bolt onto the stock faring stay and provide a convenient location to mount your battery. Great for those with cut frame rails or anyone looking to add some weight to the front of the bike.
Note - Stock headlight will need to removed or highly modified to fit
| Part Number | Description | Racer Price | |
| --- | --- | --- | --- |
| 25-490-2500 | Featherweight Lithium Battery 120 A 4 7/16 X 2 3/4 X 3 3/8 | $88.95 | |
| 25-490-2526 | Featherweight Lithium Battery 140 A 3 9/16 X 2 X 3 1/2 | $119.95 | |
| 25-490-2516 | Featherweight Lithium Battery 240 A 6 X 3 7/16 X 3 5/8 | $159.00 | |
| 25-490-2518 | Featherweight Lithium Battery 360 A 6 X 3 7/16 X 4 1/8 | $219.00 | |
| 1-0697-2 | MPS Battery Box for 120 amp Featherweight Lithium Battery | $59.00 | |
| 1-0697 | MPS Battery Box for 240 amp Featherweight Lithium Battery | $59.00 | |
| 1-0697-1 | MPS Battery Box for 360 amp Featherweight Lithium Battery | $59.00 | |
| 1-0779 | MPS Remote Start Battery Pack 240A | $499.00 | |
| 1-0779-NB | MPS Remote Start Battery Pack No 240 A Batteries | $199.00 | |
| 1-0855 | MPS Remote Start Battery Pack 360A | $579.00 | |
| 1-0855-NB | MPS Remote Start Battery Pack No 340A Batteries | $199.00 | |
| 1-0864 | MPS Remote Start Harness | $25.00 | |
| 7-YTX14AHL-BS | Yuasa H P Maintenance Free Battery | $119.00 | |
| 7-YT12A-BS | Yuasa Battery Hayabusa 99-07 | $110.00 | |
| 49-TBF-13 | Tiger Racing Battery Box - Hayabusa | $69.95 | |
| 1-0157 | MPS Battery Charge Harness | $20.90 | |
| 34-fc1001 | Hayabusa Engine Case Protector Starter Kickback Gen 1 | $29.95 | |