MPS Tether Kill Switches
The Finest Dead Man's Tether Kill Switch On The Market
Required By Most Racing Sanctions
Coil Cord is Nylon Reinforced
Billet Aluminum Construction
CNC Machined
Black Anodized
Fits 7/8" Bars
Narrow Only 1/2" Wide
Split For Easy Installation
Rebuildable
Double Detented Plug
Normally Closed Operation
Comes With Cord And Plug
Cords and plugs sold separately
MPS Tether Kill Switches are the standard of the industry. CNC machined from billet aluminum then hard anodized black for a good looking tough finish. Split design allows easy installation anywhere on the handlebar. Complete switch comes apart for easy inspection with 2 bolts without removing it from the handlebars. This is the best tether kill out there period! Comes with cord and plug.
MPS Street Lite Tether Kill Switch

This lightweight, low cost line of tether kill switches solves the space problem when adding accessories on sport bikes. The Street Lite Switch housings are constructed of durable ABS plastic for dramatic weight savings over typical aluminum products. Our switch is a normally closed type switch. The MPS Street Lite tether switch can be used as the master switch on race only bikes. The switch will handle as much current as an 18-gauge wire.

PMR Killswitch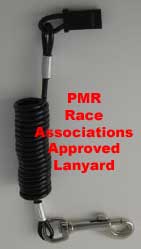 The PMR Killswitch was designed to stop the engine if the rider loses control of their bike. The switch is a normally closed type switch and replaces the stock bar clamp on most 7/8 handle bars. This PMR Killswitch fits all brand of motorcycles with the clutch or brake assemblies for 7/8 handle bars made by Nissin (look on the back of your assembly you should see the name somewhere) with a bolt hole spacing of 32mm center to center. Please check this to verify before ordering.
Fits Motorcycles and Quads from Suzuki, Honda, Kawasaki, Yamaha
CNC machined from 6061-T6 Aircraft Grade Aluminum
Stainless steel screws included
Designed to replace factory brake or clutch mounting bracket
May fit other makes & models
Made to be used with 4 stroke motorcycles
All killswitches now come with Race Approved Lanyards
| Part Number | Description | Racer Price | |
| --- | --- | --- | --- |
| 1-0070 | MPS Tether Kill Switch - Coil Cord Style | $53.90 | |
| 1-0070-1 | MPS Tether Kill Switch - Lanyard Style | $49.50 | |
| 1-0702 | MPS Street Lite Tether Kill Switch | $39.00 | |
| 1-0069 | MPS Tether Kill Coil Cord Only | $11.00 | |
| 1-0069-1 | MPS Tether Kill Lanyard Cord Only | $6.60 | |
| 1-0179 | MPS Tether Kill Plug | $5.50 | |
| 1-0071 | MPS Tether Kill Rebuild Kit | $13.20 | |
| 87-PM-45 | PMR Stealth Killswitch with Coil Cord | $64.95 | |
| 87-PM-47 | PMR Stealth Killswitch Combo | $89.95 | |
| 87-PM-78B | PMR Black Bar Clamp if Not Usings Factory Brake or Clutch Mounting Bracket | $39.95 | |