Cam Shaft Accessories
Manual Cam Chain Tensioner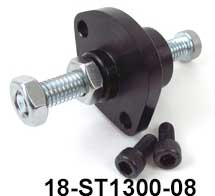 Protect your motor from the catastrophic damage of a suddenly loose cam chain
Manual cam chain tensioners prevent the cam chain tensioner from backing off. A tensioner that allows the cam chain to slacken can cause catastrophic engine damage. CNC machined from billet aluminum, then hard anodized, these tensioners look as good as they work.
APE Pro Series Tensioner

APE introduces the Pro Series manual cam chain tensioner. This new tensioner is designed for the racer who frequently adjusts his engine. The easy-access socket head adjuster screw

is perfect for tight spaces. The interior o-ring design ensures that repeated adjustments will not eventually flatten the o-ring against a jam nut. The Pro Series tensioner is anodized gun-metal gray, with stainless steel hardware and a fully machined adjuster bolt. It comes with two 6mm mounting bolts and gasket.
Adjustable Cam Sprockets

Unlock additional horsepower by timing your cams for optimal performance. APE adjustable cam sprockets press on the camshaft replacing the non-adjustable OEM sprockets. Offers unlimited adjustment.

Hayabusa Roller Cam Chain Conversion
Replace the main weak link in the 'busa motor. Now available from APE is a complete roller cam chain conversion for the Suzuki Hayabusa. For serious racers that can not have cam timing fluctuations and / or the risk of the oem style hy-vo cam chain breaking, this kit is the answer. The kit contains special upper and lower cam drive sprockets, camshaft adaptors, and cam chain. Another benefit of this setup is that now longer cam chains are available for racers using the longer stroker crankshafts with tall stroker plates. These kits require modifications to the oem front, back, and top chain guide.

Cam Chains

We offer the stock Suzuki cam chain as well as the Vance & Hines heavy duty cam chain. Vance & Hines Motorsports Hayabusa Cam Chains are produced from the strongest and finest steel available. Recommended in all high performance street and racing applications.
| Part Number | Description | Racer Price | |
| --- | --- | --- | --- |
| 65-12760-24F01 | Suzuki Hayabusa Cam Chain | $157.11 | |
| 74-VHM12136 | VMH Cam Chain Hyvo 136 Link (stock) | $169.00 | |
| 74-VHM12138 | VHM Cam Chain Hyvo 138 Link | $169.00 | |
| 74-VHM12140 | VHM Cam Chain Hyvo 140 Link | $169.00 | |
| 65-12760-40F01 | Suxuki GSXR1000 Cam Chain 01-06 and 2009+ | $140.81 | |
| 65-12760-21H00 | Suxuki GSXR1000 Cam Chain 07-08 | $140.81 | |
| 88-92057-0649 | Kawasaki ZX14 Cam Chain 06-11 | $97.53 | |
| 88-92057-0576 | Kawasaki ZX14 Cam Chain 2012+ | $96.50 | |
| 65-12771-24F00 | Suzuki Hayabusa Guide Cam Chain Front (#2 on Microfiche) | $54.46 | |
| 65-12782-24F01 | Suzuki Hayabusa Guide Cam Chain Top (#3 on Microfiche) | $47.04 | |
| 65-12811-24F11 | Suzuki Hayabusa Guide Cam Chain Tensioner (#5 on Microfiche) | $59.94 | |
| 18-ST1300GX | APE Cam Chain Tensioner Hayabusa Gen I | $59.95 | |
| 18-ST1300-PRO | APE Cam Chain Tensioner Pro Hayabusa Gen 1 | $89.95 | |
| 18-ST1300-08 | APE Cam Chain Tensioner Hayabusa Gen II, GSXR1000 09-16, GSXR600/750 08-11 | $59.95 | |
| 18-ST1300-08-PRO | APE Cam Chain Tensioner Pro Hayabusa Gen 2, Gsxr1000 09-16, 600/750 08-11 P | $89.95 | |
| 18-ST750Y2K | APE Cam Chain Tensioner GSXR1000 01-02, GSXR750 00-03, GSXR600 01-03 | $59.95 | |
| 18-ST1000-3 | APE Cam Chain Tensioner Gsxr 1000 03-08, GSXR600/750 04-07 | $59.95 | |
| 18-ST1000-3-PRO | APE Cam Chain Tensioner Pro Gsxr1000 03-08, 600/750 04-07 | $89.95 | |
| 18-KTZX10 | APE ZX10 Cam Chain Tensioner 04-05 Only | $59.95 | |
| 18-ktzx10-PRO | APE ZX10 Pro Cam Chain Tensioner 06-15 Only | $89.95 | |
| 18-KT750 | APE ZX12 Cam Chain Tensioner (all) and Many Other ZX Models | $59.95 | |
| 18-KTZX14 | APE ZX14 Cam Chain Tensioner 06-11 | $59.95 | |
| 18-KTZX14-12-PRO | APE ZX14 Cam Chain Tensioner 2012+ | $89.95 | |
| 18-CCK1300GSX | APE Hayabusa Roller Cam Chain Conversion | $359.95 | |
| 18-CCK1300GSX-116 | APE Hayabusa Roller Cam Chain Conversion 1 Link Longer | $388.98 | |
| 18-BF05MUX114 | APE Hayabusa Roller Conversion Cam Chain Only | $125.00 | |
| 18-BF05MUX116 | APE Hayabusa Roller Conversion Cam Chain Only 1 Link Longer | $139.95 | |
| 18-CSAKS1300 | APE Hayabusa Slotted Cam Sprockets | $179.95 | |
| 18-CSAKS750-2 | APE Cam Sprockets 00-16 GSXR 1000, 750, 600 | $179.95 | |
| 18-CSAKS1000-17 | APE Cam Sprockets 17-19 GSXR1000 | $139.95 | |
| 18-acszx14 | APE ZX14 Cam Sprockets thru 2011 | $69.95 | |
| 18-ACSZX14-12 | APE ZX14 Cam Sprockets 2012+ | $69.95 | |
| 18-vs1300gsx-2 | APE Hayabusa 65# Valve Springs | $121.72 | |
| 18-VS1300GSX | APE Hayabusa 47# Valve Springs | $148.69 | |
| 18-VS1400K | APE ZX14 Valve Springs (includes retainers) | $388.49 | |
| 65-09289-05011 | Suzuki Hayabusa Valve Seal Each OEM | $6.70 | |
| 55-CB-BUSA-CAM | WWB Ceramic Cam Bearing Hayabusa Each - Specify Year | $75.00 | |
| 55-6005-N | WWB Steel Cam Bearing Hayabusa Gen I Each | $19.95 | |
| 55-6005-NB | WWB Steel Cam Bearing Hayabusa Gen II Each | $24.95 | |