Rod & Main Bearings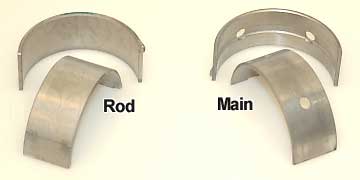 8 Connecting Rod Bearings are required for Suzuki Hayabusa. (2 bearings per connecting rod)
10 Main Bearings are required for Suzuki Hayabusa (2 bearings per journal)
All Bearings Are Per Half (2 needed per rod and main)
The green, black, brown, and yellow represent different size of bearings. You have to know what you need before ordering, none are "standard," none are returnable
Suzuki Bearing Selection Tables

Kawasaki ZX14 Selection Tables


Don't forget your Plastigage® for Accuracy!


Plastigage® is made from a special extruded plastic thread with accurately controlled crush properties and provides a fast and accurate way to check clearances. Plastigage® is packaged in a calibrated envelope that not only protects the plastic threads, but also serves as a scale to measure the clearance.
Low Friction Dry Film Lubricant Coating
Dry Film Lubricant coating helps reduce friction and abrasive wear. It provides intermittent dry lubrication and is not affected by dust or dirt. It is specifically engineered to withstand the extreme conditions of today's high performance engines. Professional engine builders enjoy a higher level of confidence with increased embedability, strength and durability.
Advantages:
Low coefficient of friction
Increases load carrying capacity
Thin coating to accommodate assembly constraints
Chemical resistance
Corrosion protection
Increased Lubricity
Reduced friction and drag resulting in decreased parasitic load
Thickness (mil): 0.2 - 0.4
| Part Number | Description | Racer Price | |
| --- | --- | --- | --- |
| 65-12229-24f00-0a0 | Suzuki Hayabusa Main Bearing Green Gen I | $17.24 | |
| 65-12229-24f00-0b0 | Suzuki Hayabusa Main Bearing Black Gen I | $17.24 | |
| 65-12229-24f00-0c0 | Suzuki Hayabusa Main Bearing Brown Gen I | $17.24 | |
| 65-12229-24f00-0d0 | Suzuki Hayabusa Main Bearing Yellow Gen I | $17.24 | |
| 65-12229-15H10-0A0 | Suzuki Hayabusa Main Bearing Green Gen II | $17.24 | |
| 65-12229-15H10-0B0 | Suzuki Hayabusa Main Bearing Black Gen II | $17.24 | |
| 65-12229-15H10-0C0 | Suzuki Hayabusa Main Bearing Brown Gen II | $17.24 | |
| 65-12229-15H10-0D0 | Suzuki Hayabusa Main Bearing Yellow Gen II | $17.24 | |
| 65-12229-15H10-0E0 | Suzuki Hayabusa Main Bearing Blue Gen II | $17.24 | |
| 65-12164-46e01-0a0 | Suzuki Hayabusa Rod Bearing Green | $17.24 | |
| 65-12164-46e01-0b0 | Suzuki Hayabusa Rod Bearing Black | $17.24 | |
| 65-12164-46e01-0c0 | Suzuki Hayabusa Rod Bearing Brown | $17.24 | |
| 65-12164-46e01-0d0 | Suzuki Hayabusa Rod Bearing Yellow | $17.24 | |
| 65-12164-40F00-0A0 | Suzuki Gsxr1000 01-04 Rod Bearing Green | $15.84 | |
| 65-12164-40F00-0B0 | Suzuki Gsxr1000 01-04 Rod Bearing Black | $15.84 | |
| 65-12164-40F00-0C0 | Suzuki Gsxr1000 01-04 Rod Bearing Brown | $15.84 | |
| 65-12164-40F00-0D0 | Suzuki Gsxr1000 01-04 Rod Bearing Yellow | $15.84 | |
| 65-12164-41G01-0A0 | Suzuki Gsxr1000 05-08 Rod Bearing Green | $15.84 | |
| 65-12164-41G01-0B0 | Suzuki Gsxr1000 05-08 Rod Bearing Black | $15.84 | |
| 65-12164-41G01-0C0 | Suzuki Gsxr1000 05-08 Rod Bearing Brown | $15.84 | |
| 65-12164-41G01-0D0 | Suzuki Gsxr1000 05-08 Rod Bearing Yellow | $15.84 | |
| 65-12164-47H00-0A0 | Suzuki Gsxr1000 09-14 Rod Bearing Green | $15.84 | |
| 65-12164-47H00-0B0 | Suzuki Gsxr1000 09-14 Rod Bearing Black | $15.84 | |
| 65-12164-47H00-0C0 | Suzuki Gsxr1000 09-14 Rod Bearing Brown | $15.84 | |
| 65-12164-47H00-0D0 | Suzuki Gsxr1000 09-14 Rod Bearing Yellow | $15.84 | |
| 65-12229-40F00-0A0 | Suzuki Gsxr1000 01-04 Main Bearing Green | $17.24 | |
| 65-12229-40F00-0B0 | Suzuki Gsxr1000 01-04 Main Bearing Black | $17.24 | |
| 65-12229-40F00-0C0 | Suzuki Gsxr1000 01-04 Main Bearing Brown | $17.24 | |
| 65-12229-40F00-0D0 | Suzuki Gsxr1000 01-04 Main Bearing Yellow | $17.24 | |
| 65-12229-41G00-0A0 | Suzuki Gsxr1000 05-08, 12-14 Main Bearing Green | $17.24 | |
| 65-12229-41G00-0B0 | Suzuki Gsxr1000 05-08, 12-14 Main Bearing Black | $17.24 | |
| 65-12229-41G00-0C0 | Suzuki Gsxr1000 05-08, 12-14 Main Bearing Brown | $17.24 | |
| 65-12229-41G00-0D0 | Suzuki Gsxr1000 05-08, 12-14 Main Bearing Yellow | $17.24 | |
| 65-12229-41G00-0E0 | Suzuki Gsxr1000 05-08, 12-14 Main Bearing Blue | $17.24 | |
| 65-12229-47H10-0A0 | Suzuki Gsxr1000 09-11 Main Bearing Green | $17.24 | |
| 65-12229-47H10-0B0 | Suzuki Gsxr1000 09-11 Main Bearing Black | $17.24 | |
| 65-12229-47H10-0C0 | Suzuki Gsxr1000 09-11 Main Bearing Brown | $17.24 | |
| 65-12229-47H10-0D0 | Suzuki Gsxr1000 09-11 Main Bearing Yellow | $17.24 | |
| 65-12229-47H10-0E0 | Suzuki Gsxr1000 09-11 Main Bearing Blue | $17.24 | |
| 88-92139-0129 | Kawasaki Zx14 Rod Bearing Blue | $18.98 | |
| 88-92139-0130 | Kawasaki Zx14 Rod Bearing Black | $18.98 | |
| 88-92139-0131 | Kawasaki Zx14 Rod Bearing Brown | $18.98 | |
| 88-92139-0132 | Kawasaki Zx14 06-11 Main Bearing Blue Journal 1-3-5 | $18.98 | |
| 88-92139-0133 | Kawasaki Zx14 06-11 Main Bearing Black Journal 1-3-5 | $18.98 | |
| 88-92139-0134 | Kawasaki Zx14 06-11 Main Bearing Brown Journal 1-3-5 | $18.98 | |
| 88-92139-0135 | Kawasaki Zx14 06-11 Main Bearing Blue Journal 2-4 | $18.98 | |
| 88-92139-0136 | Kawasaki Zx14 06-11 Main Bearing Black Journal 2-4 | $18.98 | |
| 88-92139-0137 | Kawasaki Zx14 06-11 Main Bearing Brown Journal 2-4 | $18.98 | |
| 88-92139-0738 | Kawasaki Zx14 12+ Main Bearing Blue Journal 1-3-5 | $18.98 | |
| 88-92139-0739 | Kawasaki Zx14 12+ Main Bearing Black Journal 1-3-5 | $18.98 | |
| 88-92139-0740 | Kawasaki Zx14 12+ Main Bearing Brown Journal 1-3-5 | $18.98 | |
| 88-92139-0741 | Kawasaki Zx14 12+ Main Bearing Blue Journal 2-4 | $18.98 | |
| 88-92139-0742 | Kawasaki Zx14 12+ Main Bearing Black Journal 2-4 | $18.98 | |
| 88-92139-0743 | Kawasaki Zx14 12+ Main Bearing Brown Journal 2-4 | $18.98 | |
| 1-SPG-1 | Plastigage Green .001'' to .003'' (12'' strip) | $5.00 | |
| 25-BC | Coating Rod and Main Bearings Full Set Motorcycle | $72.00 | |