Wiring Products
Connectors
EXAMPLE - Parts needed to make a complete 2 circuit connection: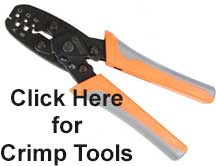 P/N 43-14803180 Male Housing, Qty 1
P/N 43-14803190 Female Housing, Qty 1
P/N 43-606201 Male Pin Connector, Qty 2
P/N 43-606191 Female Socket Connector, Qty 2
Assemble the female socket connectors into the male housing and the male pin connectors into the female housing.

AMP Connectors

Motorcycle (MC) Connectors



Specialty Connectors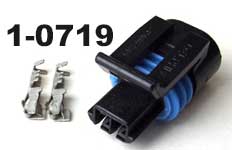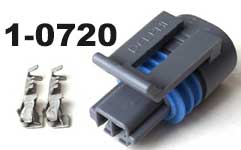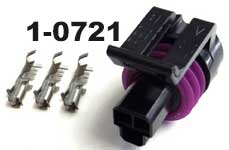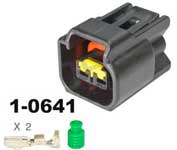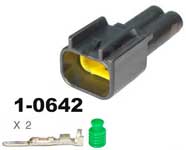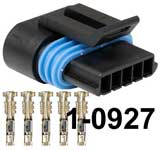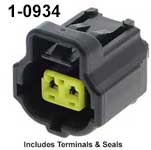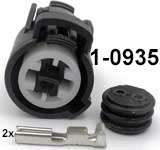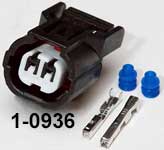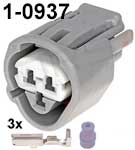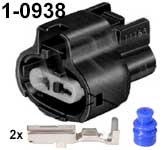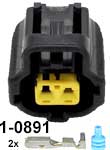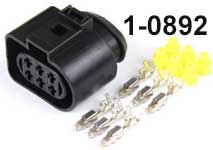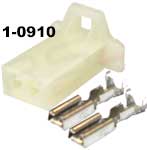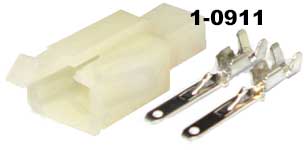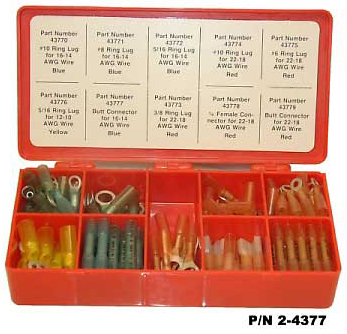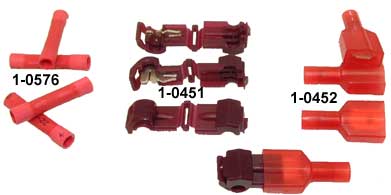 Wire

Wire Covering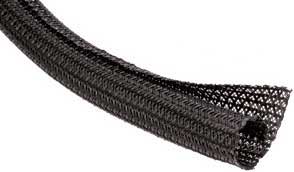 MPS wire loom's unique split, semi-rigid braided construction makes it the ideal solution for situations where ease of installation is of primary importance.
The lateral split allows the tube to open up to accommodate a wide variety of bundling requirements, and the semi-rigid braid configuration simply closes around the entire installation without the need for any additional fasteners (velcro, tape, etc.)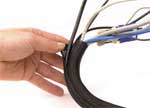 The 10 mil PET braid is lightweight, quiet and

flexible. The 25% edge overlap (at nominal diameter) allows coverage around inline plugs, connectors and splices.
It will bend to a tight radius without distorting or splitting open and, unlike full rigid tubing, will not impair or affect the flexibility of harnesses. This wire loom allows for the addition or removal of wires without disassembly.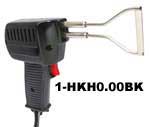 Don't forget the handheld hot knife. Perfect for individual projects or small volume production. The large knife blade heats quickly and easily cuts and seals most grades of braided sleeving. Handle can also be used as a soldering gun with the appropriate tips. 110 volt operation.
| Part Number | Description | Racer Price | |
| --- | --- | --- | --- |
| 1-0110 | MPS Bullet Connector Female with Shield | $0.74 | |
| 1-0109 | MPS Bullet Connector Male with Shield | $0.74 | |
| 1-0451 | MPS T-Tap 22-18 AWG | $0.34 | |
| 1-0452 | MPS Male Spade Connector, Insulated 22-16 AWG | $0.34 | |
| 1-0576 | M P S Butt Connector Red 18-22 AWG | $0.34 | |
| 2-4377 | MSD Perma Seal Connector Kit | $59.44 | |
| 43-606201 | AMP Pin Connector | $0.29 | |
| 43-14803190 | AMP Pin Housing 2 Circuit | $0.49 | |
| 43-14803050 | AMP Pin Housing 3 Circuit | $0.69 | |
| 43-14804260 | AMP Pin Housing 4 Circuit | $0.69 | |
| 43-14803400 | AMP Pin Housing 6 Circuit | $0.99 | |
| 43-14803450 | AMP Pin Housing 8 Circuit | $1.49 | |
| 43-1480339 | AMP Pin Housing 10 Circuit | $1.99 | |
| 43-606191 | AMP Socket Connector | $0.29 | |
| 43-14803180 | AMP Socket Housing 2 Circuit | $0.49 | |
| 43-14803030 | AMP Socket Housing 3 Circuit | $0.69 | |
| 43-14804240 | AMP Socket Housing 4 Circuit | $0.69 | |
| 43-14802700 | AMP Socket Housing 6 Circuit | $0.99 | |
| 43-14802830 | AMP Socket Housing 8 Circuit | $1.49 | |
| 43-1480285 | AMP Socket Housing 10 Circuit | $2.29 | |
| 1-0816 | MPS Connector MC 2 Male Pins | $9.04 | |
| 1-0817 | MPS Connector MC 2 Female Pins | $4.88 | |
| 1-0816-2R | MPS Connector MC 2 Male Pins 2 Ridges | $9.04 | |
| 1-0817-2R | MPS Connector MC 2 Female Pins 2 Ridges | $4.88 | |
| 1-0822 | MPS Connector MC 3 Male Pins | $8.69 | |
| 1-0823 | MPS Connector MC 3 Female Pins | $6.30 | |
| 1-0818 | MPS Connector MC 4 Male Pins | $15.47 | |
| 1-0819 | MPS Connector MC 4 Female Pins | $9.51 | |
| 1-0820 | MPS Connector MC 6 Male Pins | $14.99 | |
| 1-0821 | MPS Connector MC 6 Female Pins | $5.51 | |
| 1-0824 | MPS Connector MC Female Pin | $0.82 | |
| 1-0825 | MPS Connector MC Male Pin | $0.79 | |
| 1-0826 | MPS Connector MC Wire Seal | $0.54 | |
| 1-0879 | MPS Connector 150 2P Female Pins | $5.25 | |
| 1-0880 | MPS Connector 150 2P Male Pins | $5.25 | |
| 1-0887 | MPS Connector 150 3P Female Pins | $5.78 | |
| 1-0888 | MPS Connector 150 3P Male Pins | $5.78 | |
| 1-0881 | MPS Connector 150 4P Female Pins | $6.30 | |
| 1-0882 | MPS Connector 150 4P Male Pins | $6.30 | |
| 1-0883 | MPS Connector 150 6P Female Pins | $6.83 | |
| 1-0884 | MPS Connector 150 6P Male Pins | $6.83 | |
| 1-0885 | MPS Connector 150 8P Female Pins | $7.35 | |
| 1-0886 | MPS Connector 150 8P Male Pins | $7.35 | |
| 1-0858 | MPS Connector 150 10P Female Pins | $7.88 | |
| 1-0857 | MPS Connector 150 10P Male Pins | $7.88 | |
| 1-0889 | MPS Connector 150 Female Pins | $0.53 | |
| 1-0890 | MPS Connector 150 Male Pins | $0.53 | |
| 1-0784 | MPS Connector Holley J1B 26 Pin | $34.44 | |
| 1-0787 | MPS Connector Holley J2B 26 Pin | $34.48 | |
| 1-0785 | MPS Connector Holley J1A & Fueltech A 32 Pin | $33.01 | |
| 1-0786 | MPS Connector Holley J2A & Fueltech B 32 Pin | $30.07 | |
| 1-0844 | MPS Connector Holley Digital Dash I/O Plug | $34.44 | |
| 1-0848 | MPS Connector O2 Sensor Holley Male Pins | $20.99 | |
| 1-0831 | MPS Connector FT500 24 Pin | $21.00 | |
| 1-0832 | MPS Connector FT500 16 Pin | $15.75 | |
| 1-0833 | MPS FT500 Female Terminal | $0.53 | |
| 1-0788 | MPS Connector ECU Pin Female | $0.92 | |
| 1-0891 | MPS Connector Temperature Sensor Suzuki (see app chart) | $10.49 | |
| 1-0934 | MPS Connector Coolant Temp Hayabusa Gen 2 | $10.49 | |
| 1-0935 | MPS Connector Air Temp Hayabusa Gen 2 | $10.49 | |
| 1-0936 | MPS Connector Coolant and Air Temp ZX14 Gen 2 | $10.49 | |
| 1-0937 | MPS Connector Coolant Temp ZX14 Gen 1 | $10.49 | |
| 1-0938 | MPS Connector Air Temp ZX14 Gen 1 | $10.49 | |
| 1-0939 | MPS Connector Cam Sensor ZX14 Gen I | $10.49 | |
| 1-0892 | M P S Connector O2 Bosch Style | $9.45 | |
| 1-0719 | MPS Connector Coolant Temp Sensor GM Style | $10.49 | |
| 1-0720 | MPS Connector Air Temp Sensor | $10.49 | |
| 1-0721 | MPS Connector Pressure Sensor | $10.49 | |
| 1-0722 | MPS Connector MAP Sensor | $10.49 | |
| 1-0724 | MPS Connector 1-0723 Speed Sensor | $10.49 | |
| 1-0910 | MPS Connector Crank Sensor Hayabusa Female | $4.19 | |
| 1-0911 | MPS Connector Crank Sensor Hayabusa Male | $4.19 | |
| 1-0729 | MPS Connector TPS / GPS / Cam Sensor Male Pins | $10.49 | |
| 1-0725 | MPS Connector TPS / GPS / Cam Sensor Female Pins | $10.49 | |
| 1-0838 | MPS Connector TPS Sensor Hayabusa Gen II, GSXR1000 Sensor Female pins | $20.99 | |
| 1-0866 | MPS Connector Cam Sensor Hayabusa Gen I | $10.49 | |
| 1-0641 | MPS Connector Coil Female Suzuki & Kawasaki | $7.35 | |
| 1-0642 | MPS Connector Coil Male Suzuki & Kawasaki | $7.35 | |
| 1-0927 | MPS Connector Smart Coil 5 Wire | $6.29 | |
| 1-0563 | MPS Connector For LS Coils - 4 Conductor | $13.86 | |
| 1-0878 | MPS Connector K Type Thermocouple | $12.60 | |
| 1-0834 | MPS Connector Hi AMP Battery | $26.25 | |
| 1-0828 | MPS Relay Socket | $19.95 | |
| 1-0830 | MPS Fuse Holder Stackable | $15.75 | |
| 1-0829 | MPS Fuse 30 AMP | $1.05 | |
| 1-0774 | MPS Igniter Connector 4 Conductor Female | $10.49 | |
| 1-0773 | MPS Igniter Connector 5 Conductor Female | $10.49 | |
| 1-0915 | MPS Igniter Connector 4 Conductor Male | $10.49 | |
| 1-0914 | MPS Igniter Connector 5 Conductor Male | $10.49 | |
| 1-0643 | MPS Connector Injector Gen I Female | $10.50 | |
| 1-0645 | MPS Connector Injector Gen I Male | $10.50 | |
| 1-0644 | MPS Connector Injector Gen II Female | $8.40 | |
| 1-0646 | MPS Connector Injector Gen II Male | $16.80 | |
| 1-0827 | MPS Connector Injector Bosch EV6/EV14 | $10.49 | |
| 1-0446 | MPS Connector Injector Bosch EV1 | $10.49 | |
| 1-0647 | MPS Injector Adapter Lead Hayabusa Gen I to Bosch | $16.80 | |
| 1-0648 | MPS Injector Adapter Lead Hayabusa Gen II to Bosch | $16.80 | |
| 1-0849 | MPS Connector Injector ZX14 | $10.49 | |
| 1-0567-BR | MPS Wire 18 Gauge Brown Per Foot | $0.29 | |
| 1-0567-BLK | MPS Wire 18 Gauge Black Per Foot | $0.29 | |
| 1-0567-R | MPS Wire 18 Gauge Red Per Foot | $0.29 | |
| 1-0567-BL | MPS Wire 18 Gauge Blue Per Foot | $0.29 | |
| 1-0567-Y | MPS Wire 18 Gauge Yellow Per Foot | $0.29 | |
| 1-0567-O | MPS Wire 18 Gauge Orange Per Foot | $0.29 | |
| 1-0567-W | MPS Wire 18 Gauge White Per Foot | $0.29 | |
| 1-0567-G | MPS Wire 18 Gauge Green Per Foot | $0.29 | |
| 1-0571 | MPS Heat Shrink 1/8'' Per Foot | $1.66 | |
| 1-0572 | MPS Heat Shrink 3/16'' Per Foot | $1.96 | |
| 1-0573 | MPS Heat Shrink 1/4'' Per Foot | $2.56 | |
| 1-0574 | MPS Heat Shrink 3/8'' Per Foot | $3.16 | |
| 1-0575 | MPS Heat Shrink 1/2'' Per Foot | $3.56 | |
| 1-F6N0.25BK | MPS Wire Loom 1/4'' per Foot | $1.19 | |
| 1-F6N0.38BK | MPS Wire Loom 3/8'' per Foot | $1.68 | |
| 1-F6N0.50BK | MPS Wire Loom 1/2'' per Foot | $1.83 | |
| 1-F6N0.75BK | MPS Wire Loom 3/4'' per foot | $2.06 | |
| 1-F6N1.00BK | MPS Wire Loom 1'' per Foot | $3.18 | |
| 1-HKH0.00BK | MPS Wire Loom Hot Knife | $91.69 | |
| 91-DEPINTOOL | MaxxECU Depinning Tools (Set) | $75.00 | |