Motorcycle Coils

Increased horsepower
Increased torque
Improved throttle response
Improved fuel efficiency
Direct OEM replacement
Made in USA
More Performance

POWER CORE Get the best performance out of your engine with a hotter, longer and more powerful spark. By releasing up to 40% more voltage than other coils Energycoil helps to ignite fuel with increased intensity to deliver impressive performance gains and increased engine response.

Stronger Connections

POWER GRIP Transfer more energy effectively with beefy connectors that match the profile of a spark-plug terminal for greater surface contact and extremely efficient energy transfers that help improve electrical transfer efficiency by up to 45%.

Better Protection

ENERGY SHIELD Keep more energy on tap with protection against energy leakage and spark flash-over. By using the latest advancements in manufacturing technology we created a shield around the Power Core that not only focuses more energy down to the spark-plug but also serves as a powerful shield that helps to eliminate electrical interference

Simple Installation

PLUG & PLAY Energycoil is designed to directly replace your original stick coils without any modifications. Adding Energycoil to your engine is one of the easiest ways to increase performance , improve engine response and lower fuel consumption.
Electrical Specifications
Primary resistance: 1.2 ohms
Primary inductance: 2.4 mH
Secondary resistance: 12.5K ohms
Secondary inductance: 12.9 H
Test voltage: 13.5V
Dwell time to achieve test current: 1.3ms=5.2A, 2.1ms=7.6A
Secondary available voltage: 25.2Kv @ 5.2A, 42.8Kv @ 7.6A
Secondary peak gap current: 72.4mA @ 5.2A, 105.8mA @ 7.6A
Spark duration: 0.910@ 5.2A, 1.435ms @ 7.6A
Fitment of 25-ECMPS-SU-KA-99
Suzuki Hayabusa
Suzuki GSXR1000
Suzuki GSXR750
Kawasaki ZX10R
Kawasaki ZX12R
Kawasaki ZX14R
Coil Connectors Suzuki/Kawasaki

| Part Number | Description | Racer Price | |
| --- | --- | --- | --- |
| 25-ECMPS-SU-KA-99 | Energycoil Coil On Plug Stick Coils Set of 4 | $679.99 | |
| 1-0641 | MPS Connector Coil Female Suzuki & Kawasaki | $7.00 | |
| 1-0642 | MPS Connector Coil Male Suzuki & Kawasaki | $7.00 | |

Blaster Coil & LS Smart Coil

The MSD Motorcycle coil is specifically designed to be used with MSD's MC-1, MC-2, and MC-3 ignitions. The Blaster coil uses a high turns ratio with low primary side resistance producing the highest voltage and spark energy available. The molded-in socket style towers are spaced far apart to prevent arc-over.
02/2016: MSD currently has no 2-8204 coils in stock. It is unknown if or when they will be available.
| | 2-8204 | 2-8232 | 2-8287 |
| --- | --- | --- | --- |
| Maximum Voltage | 40K V | 43K V | 44K V |
| Primary Resistance | 1.2 OHMs | .09 OHMs | .49 OHMs |
| Secondary Resistance | 11.5k OHMs | 988 OHMs | 2.3K OHMs |
| Weight | 1.2 lbs | 13 ozs | 1.2 lbs |
| Part Number | Description | Racer Price | |
| --- | --- | --- | --- |
| 2-8204 | MSD Blaster Coil (currently out of stock) | $128.13 | |
| 2-8232 | MSD Blaster Coil Single Tower for CPC Ignition | $59.96 | |
| 2-8287 | MSD LS Smart Coil | $96.40 | |
| 1-12573190 | MPS LS2 Smart Coils | $55.00 | |
| 1-0563 | MPS Connector For LS Coils - 4 Conductor | $13.20 | |

Dyna Standard Ignition Coils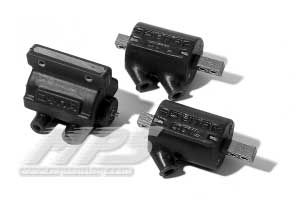 These high tech, top quality coils are designed for maximum performance. They produce spark voltages in excess of 30,000 volts and spark energies second to none. DYNA Coils are made to replace stock coils. Choose from three configurations and five variations of resistance for different applications. DYNA Coils work with point ignitions, aftermarket electronic ignitions and factory electronic ignitions. Before selecting a coil, check the coil primary resistance requirements as specified by the manufacturer of the ignition being used.
DYNA Ignition System Coil Requirements:
DYNA 2000 Harley Ignitions: Recommended - 5-DC6-1 for dual fire & 5-DC3-1 for single fire. The DYNA 2000 ignition for Harleys can be used with any coil with primary resistance of 2.5 to 3.0 ohms.
DYNA 4000 Pro Ignition: Must use 5-DC9-1 or 5-DC9-2. The DYNA 4000 ignition system is designed for racing only and is matched to the characteristics of the 5-DC9-1 coil for optimum energy production.
DYNA S Harley Ignition: Recommended - 5-DC7-1, 5-DC8-1, 5-DC10-1, 5-DC3-1, 5-DC6-1. Use coil with 5.0 ohms primary resistance for street use, 3.0 ohms primary resistance for racing applications.
Single Plug Head:
Single Fire - Use two single output coils, street or strip.
Dual Fire - Use one dual output coil, street or strip.
Dual Plug Head:
Single Fire - Use two dual output coils, street only.
Dual Fire - Use two dual output coils, street or strip.
Dual Plug Head, single fire racing applications: Use two 5-DC2-1, 1.5 ohm coils, connected in series for each cylinder. Since these coils are dual tower, one tower of each coil must be shorted to chassis ground.
DYNA S (non-Harley): Recommended - 5-DC1-1. Use coil with 3.0 ohms primary resistance.
Dynatek Ignition Coils for Harley-Davidsons
Twin Fire
Dynatek Twin Fire Ignition Coils
will enhance the benefits of, and is the perfect compliment to the 5-DD2000-HD1EP* Digital Ignition System. The 5-DC6-4 coil has all the features users have come to expect from a Dyna coil; high voltage (greater than 30,000 volts) with fast rise times, and high energy. The Dyna Twin Fire coil is the new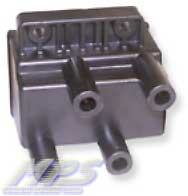 standard for performance and packaging efficiency for single fire ignition installations on Harley- Davidson® Motorcycles. The Twin Fire coil incorporates two individual performance ignition coils into one easy to mount package. This solves the problem of trying to mount two ignition coils on Harleys when installing single fire ignition systems. The 5-DC6-5 Twin Fire Mini coil is only slightly larger than the stock Harley coil and uses the stock mounting bracket. The 5-DC6-5 Twin Fire Mini coil will fit under the tank on most XL and FLH models as well as in the stock location on the side of the motor for FXR models or rear of the motor for Dyna and Softail models. The 5-DC6-4 is used for all dual spark plug head applications. The Dyna Twin Fire coil can be used with any electronic ignition system that incorporates dwell control, but cannot be used with the 5-DS6-2, Dyna S or similar ignitions.
Twin Fire II
Single Fire just got easier thanks to the latest advance in ignition coil technology. High technology materials now
make it possible to put two coils in the same space as the stock coil with greater output!
Dynatek Miniature Series Coils
Advanced magnetic core technology delivers high output in one of the smallest packages available. Great for customs where coils need to be hidden. These coils are designed for use with the Dyna 2000 and 3000 series ignitions, factory installed electronics, or other after-market ignitions that employ dwell control.
Twin Fire & Mini Coil Features and Benefits:
No exposed laminations to rust and degrade performance
High voltage and primary terminals machined from brass
Ultrasonically welded and sealed against moisture
Compact size fits easily under stock covers
Peak gap current in excess of 50mA
High impact thermoplastic housing
Over 40,000 volts per output
Accepts 7 to 8.8mm wires
1 year warranty
| Part Number | Description | Racer Price | |
| --- | --- | --- | --- |
| 5-DC1-1 | DYNA COILS 3.0 OHM, GREEN (2 OUTPUT), QUANTITY 2 | $167.99 | |
| 5-DC2-1 | DYNA COILS 1.5 OHM, BROWN (2 OUTPUT), QUANTITY 2 | $167.99 | |
| 5-DC3-1 | DYNA COILS 3.0 OHM, GREEN (1 OUTPUT), QUANTITY 2 | $167.99 | |
| 5-DC4-1 | DYNA COILS 2.2 OHM, GRAY (2 OUTPUT), QUANTITY 2 | $167.99 | |
| 5-DC6-1 | DYNA COILS 3.0 OHM, GREEN (2 OUTPUT), QUAN 1 (Harley - Not 1/2 -DC1-1) | $91.99 | |
| 5-DC7-1 | DYNA COILS 5.0 OHM, BLACK (2 OUTPUT), QUANTITY 1 | $91.99 | |
| 5-DC8-1 | DYNA COILS 5.0 OHM, BLACK (2 OUTPUT), QUANTITY 2 | $167.99 | |
| 5-DC9-1 | DYNA COILS 0.7 OHM, BLUE (2 OUTPUT), QUANTITY 2 | $167.99 | |
| 5-DC10-1 | DYNA COILS 5.0 OHM, BLACK (1 OUTPUT), QUANTITY 2 | $167.99 | |
| 5-dc11-1 | Dyna Miniature Series Coil .5 Ohm, Dual Output, Qty 2 | $177.99 | |
| 5-dc12-1 | Dyna Miniature Series Coil .5 Ohm, Single Output, Qty 2 | $177.99 | |
| 5-dc1-2 | Dyna Miniature Series Coil 3 Ohm, Dual Output, Qty 2 | $177.99 | |
| 5-DC3-2 | Dyna Miniature Series Coil 3 Ohm, Single Output, Qty 2 | $177.99 | |
| 5-DC9-2 | DYNA COILS 0.7 OHM, FOUR OUTPUT TOWERS | $194.99 | |
| 5-dc11-2 | Dyna Miniature Series Coil .5 Ohm, Dual Output, Qty 1 | $111.99 | |
| 5-dc12-2 | Dyna Miniature Series Coil .5 Ohm, Single Output, Qty 1 | $111.99 | |
| 5-dc1-3 | Dyna Miniature Series Coil 3 Ohm, Dual Output, Qty 1 | $111.99 | |
| 5-dc3-3 | Dyna Miniature Series Coil 3 Ohm, Single Output, Qty 1 | $111.99 | |
| 5-DC6-4 | DYNA COILS 3.0 OHM, FOUR OUTPUT TOWERS | $167.99 | |
| 5-DC9-4 | Dyna Coils 0.7 Ohm, Blue (1 Output), Quantity 2 | $167.99 | |
| 5-DC6-5 | DYNA TWINFIRE II IGNITION COIL 3.0 OHM | $163.99 | |