RPM Module Kits & Selectors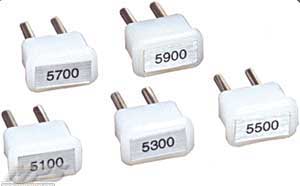 The MSD RPM Module Kits and RPM Module Selectors give you a full selection of RPM values to choose from, The individual modules and Modules Selectors plug into MSD Ignitions, Shift Lights, RPM Activated Switches, and the Two or Three Step Module Selectors.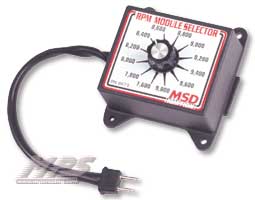 Instead of carrying around a handful of your favorite RPM Modules, why not use an MSD Module Selector? It plugs right in where the RPM Modules go. You have a choice of 12 rpm points by rotating the knob that has positive stops for each rpm point. There are 6 different models, and each model has 12 different selectable rpm points.
| Part Number | Description | Racer Price | |
| --- | --- | --- | --- |
| 2-8743 | M S D MODULE KIT, MC, RPM, 3K SERIES | $45.01 | |
| 2-8744 | M S D MODULE KIT, MC, RPM, 4K SERIES | $45.01 | |
| 2-8745 | M S D MODULE KIT, MC, RPM, 5K SERIES | $45.01 | |
| 2-8746 | M S D MODULE KIT, MC, RPM, 6K SERIES | $45.01 | |
| 2-8747 | M S D MODULE KIT, MC, RPM, 7K SERIES | $45.01 | |
| 2-8748 | M S D MODULE KIT, MC, RPM, 8K SERIES | $45.01 | |
| 2-8749 | M S D MODULE KIT, MC, RPM, 9K SERIES | $45.01 | |
| 2-8750 | M S D MODULE KIT, MC, RPM,10K SERIES | $45.01 | |
| 2-8751 | M S D MODULE KIT, MC, RPM,11K SERIES | $45.01 | |
| 2-8670 | M S D SELECTOR, RPM, 3K-5.2K | $94.35 | |
| 2-8671 | M S D SELECTOR, RPM, 4.6K-6.8K | $94.35 | |
| 2-8672 | M S D SELECTOR, RPM, 6K-8.2K | $94.35 | |
| 2-8673 | M S D SELECTOR, RPM, 7.6-9.8K | $107.95 | |