Gen II Clutches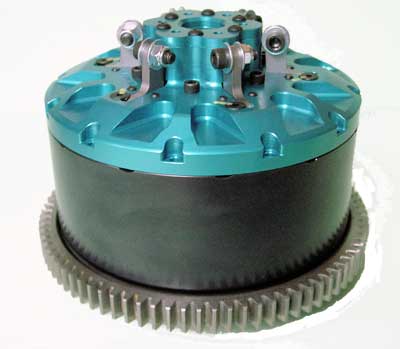 MTC Engineering is proud to announce the release of its new lock up clutch. The new clutch called the "Gen II Multistage Clutch" is designed and built with the same robustness as MTC has used for over 40 years in making the best products in the racing industry.
This clutch significantly reduces clutch lever efforts and yet improves clutch adjustability through its "multistage" technology. The new design runs on engine RPM, and demonstrates a quicker reaction time and more repeatability between passes. The new design also allows for easier dynamic spring replacement with its quick access cover plate over the springs. Clutch includes tuner kit.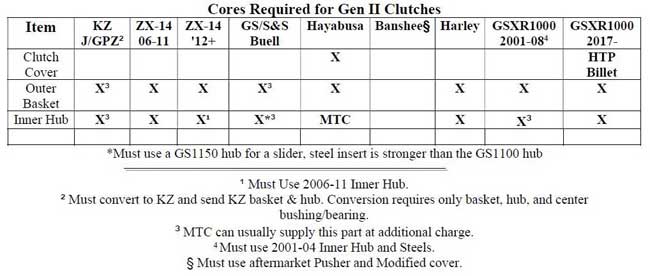 Need more information about the Gen II Multistage? click here.
| Part Number | Description | Racer Price | |
| --- | --- | --- | --- |
| 58-GMS-HYB500 | MTC Gen II Clutch - Suzuki Hayabusa (includes billet hub) * | $2,261.30 | |
| 58-GMS-HYB100 | MTC Gen II Clutch Billet Inner Hub Hayabusa | $415.00 | |
| 58-GMS-HYB200 | MTC Gen 2 Clutch Basket Bottom Spacer | $53.35 | |
| 58-GMS-GSXR500 | MTC Gen II Clutch - Suzuki GSXR1000 01-08 | $1,545.30 | |
| 58-GMS-GSXR-2-500P | MTC Gen II Clutch w/ H T P Cover GSXR 1000 2017+ | $2,626.00 | |
| 58-GMS-GSXR-2-500 | MTC Gen II Clutch Suzuki GSXR 1000 2017+ | $1,545.30 | |
| 58-CLU-CC536 | MTC HTP Quick Access Clutch Cover Gsxr1000 2017+ | $1,100.00 | |
| 58-GMS-GS500 | MTC Gen II Clutch - Suzuki GS | $1,931.65 | |
| 58-GMS-zx14-500 | MTC Gen II Clutch - Kawasaki ZX14 thru 2011 | $1,854.40 | |
| 58-GMS-ZX14-2-500 | MTC Gen II Clutch - Kawasaki ZX14 2012+ | $1,944.25 | |
| 58-GMS-KZ500 | MTC Gen II Clutch - Kawasaki KZ 900/1000 | $1,931.65 | |
| 58-GMS-HDP500 | MTC Gen II Clutch - HD Pro-Series | $2,008.90 | |
| 58-GMS-BU500 | MTC Gen II Clutch - Buell | $1,905.90 | |
| 58-GMS-TUNER-KIT | MTC Gen II Tuner Kit | $80.40 | |
| 58-GMS-HYB406 | MTC Gen II Static Springs | $36.15 | |
Core Deposits
| Part Number | Description | Racer Price | |
| --- | --- | --- | --- |
| 1-0423 | M P S Core Deposit Hayabusa Clutch Cover | $202.13 | |
| 1-0425 | M P S Core Deposit Hayabusa Clutch Basket | $288.75 | |
| 65-21410-40F00 | Suzuki GSXR1000 Clutch Inner Hub 01-04 (outright purchase) | $107.78 | |
*Kit includes MTC billet inner hub