Nitrous Nozzles
MPS Air Box Nitrous Nozzle Mount Kit for Gen I Hayabusa

These little ABS plastic mounts will replace the vacuum motor in the bottom of a Gen 1 Hayabusa air box. Just remove the vacuum motor and replace with a quarter turn and they are installed. Their jet holder fitting uses a flare style jet (NX brass or NOS stainless steel flare).
Air Box Nozzle Mount Video

NOS Fogger Nozzles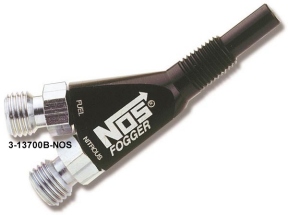 The original, patented NOS Fogger nozzle revolutionized the way nitrous oxide and fuel were dispersed into an engine. To this day,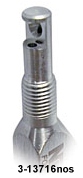 there's nothing better than it for a variety of applications. However, as engine displacements got bigger, cylinder head designs got better and camshaft technology advanced, it became evident that greater precision was needed and NOS developed the Fogger2 nozzle (3-13700BNOS). Its unique flow design provides superior atomization of supplemental fuel as well as more even fuel distribution within the nitrous flow than other nozzles. Changing power levels takes only seconds and is simply a matter of changing the fuel and nitrous jets on the nozzle. Both the original Fogger and Fogger2 nozzles are made of brass and have a black finish. They feature an etched NOS logo and tags for fuel and N2O identification during installation or jet changes. For alcohol applications, please call our Technical Support Department at 321-972-8282.
NOS Fan Spray Nozzles
The NOS line of Fan Spray or Jet Spray nozzles are designed to be used as independent nozzles for nitrous and fuel where installation restrictions might make the Fogger Nozzle impractical. For example, the hidden under-the-manifold direct port nitrous system utilizes Jet Spray nozzles due to room restrictions. Fan Spray nozzles are fully adjustable with a simple jet change and feature injection at a 90° angle much like the NOS Fogger2 Nozzle. Jet Spray nozzles have a fixed metering orifice and spray at either straight or 90° angles depending on your needs.
NOS Nozzle Mounts

When you can't put your FoggerTM nozzles into an aluminum intake runner, these handy little mounts make it easy to install the nozzles into rubber intake boots/manifolds. Order one for each cylinder; nut and collar included.
NOTE: Jets separately are sold separately.

NX Fogger Nozzles
The PIRANHA nozzle uses NX's patented bell/cone to provide the highest level atomization in the industry while still having the smallest amount of protrusion into the port
The VORTECH nozzle also uses NX's patented bell/cone to provide the highest level atomization in the industry. The VORTECH is 3/8in longer than the PIRANHA for applications that needs a longer nozzle.
The NX STRAIGHT THRU design nozzle is unique and will provide a higher level of atomization than any other annual nozzle available today.
The SHARK nozzle has a unique internal design that uses the nitrous pressure to provide the ultimate in atomization.
The SX2 nozzle is two of the NX SHARK nozzles in one. This will allow you to run either one or two stages in the same nozzle
The SHARK SHO is capable of up to 400 horsepower from ea nozzle. It comes with a special feed line to allow for the high power level.
| Part Number | Description | Racer Price | |
| --- | --- | --- | --- |
| 1-0712 | MPS Nitrous Nozzle Mount Kit Hayabusa Gen I | $30.45 | |
| 3-13700BNOS | NOS Fogger2 Nozzle | $73.92 | |
| 3-13716NOS | NOS Soft Plume 90° Fogger Nozzle - Stainless Steel | $89.58 | |
| 3-13500NOS | NOS Fan Spray Nozzle - Blue | $22.47 | |
| 3-13502NOS | NOS Fan Spray Nozzle - Red | $22.47 | |
| 3-16404NOS | NOS 1/8'' Tube Cone Ferule | $1.49 | |
| 3-17540NOS | NOS 3AN X 1/8 Blue | $3.59 | |
| 3-17541NOS | NOS 3AN X 1/8 Red | $3.59 | |
| 3-17283NOS | NOS Flat Nozzle Mounting Kit | $14.54 | |
| 3-15990NOS | NOS 1/16'' NPT Tap for NOS Fogger & Fan Spray Nozzles | $19.40 | |
| 48-70000P | NX Prianha Nozzle | $73.42 | |
| 48-80016P | NX Stainless Steel Vortech Nozzle | $88.62 | |
| 48-90016P | NX Shark Nozzle | $73.42 | |
| 48-90017P | NX SX2 Nozzle | $134.71 | |
| 48-90019p | NX Shark S.H.O. 400 HP EFI Nozzle | $164.24 | |
| 48-80018P | NX STD (Straight Thru Design) Nozzle | $72.08 | |
| 48-80017P | NX 1/16' NPT Tap for Piranha Nozzle | $21.27 | |
| 48-91018P | NX 1/8' NPT Tap for Shark Nozzle | $21.27 | |
| 48-91017P | NX Shark & Piranha Nozzle Fitting / Jet Holder | $8.27 | |
| 48-92017P | NX STD, SX2 & SSV Nozzel Fitting / Jet Holder | $8.27 | |