Nitrous and Fuel Filters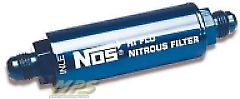 NOS has a complete line of Nitrous and Fuel Filters designed exclusively for the demands of your nitrous system. One of the most important components of any nitrous system, NOS filter fittings feature an aircraft type stainless steel mesh filter element to keep contaminants from attacking the solenoid and plugging the jets. The new NOS high pressure Billet Aluminum Filter (part number 3-15550nos) features a precision billet aluminum body and a cleanable stainless steel mesh filter element that has 10 times the filtering area of a standard filter. It is an excellent idea to check your nitrous filter periodically and clean if necessary. Available in a variety of sizes and angles for easy installation. All NOS nitrous systems include Nitrous and Fuel Filters.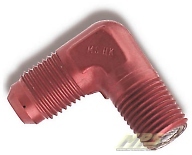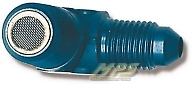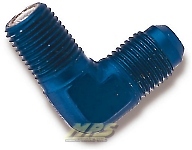 | Part Number | Description | Racer Price | |
| --- | --- | --- | --- |
| 3-15550NOS | NOS -4 x -4, Inline Billet Aluminum N2O Filter | $69.21 | |
| 3-15570NOS | NOS N2O Filter 1/8''NPT x -4AN | $17.19 | |
| 3-15572NOS | NOS N2O Filter 1/8''NPT x -4AN, 90° | $45.40 | |
| 3-15571NOS | NOS Fuel Filter 1/8''NPT x -4AN | $21.96 | |
| 3-15573NOS | NOS Fuel Filter 1/8''NPT x -4AN, 90° | $35.00 | |

In-Line Fuel Filter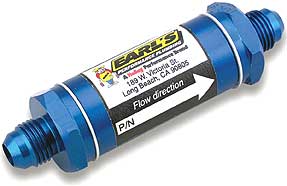 Paper is great for making notes, but as a filtering element it can't hold a candle to sintered bronze! Now, Earl's has an in-line 35 micron sintered bronze element fuel filter that can be easily disassembled for inspection and cleaning. Available with size 6 or 8 AN, or hose barb end fittings for use with Earl's high performance fuel line and fittings. Blue anodized finish makes this a hi-tech looking as well as practical addition to any engine. Sintered bronze filter elements also sold separately. 4 to 5 gpm flow.
Check Valves
(one-way or non-return valves)

The surplus units were widely used in fuel systems for decades. However, the surplus synthetic rubber seals are not always compatible with current hydrocarbon fuels and/or additives. Earl's has redesigned the original surplus valves with modern elastomers which are not affected by most fuels and lubricants.
| Part Number | Description | Racer Price | |
| --- | --- | --- | --- |
| 40-251004ERL | Earl's -4AN Flapper Check Valve | $69.95 | |
| 40-251006ERL | Earl's -6AN Flapper Check Valve | $69.95 | |
| 40-251008ERL | Earl's -8AN Flapper Check Valve | $69.95 | |
| 40-230103ERL | Earl's 5/16'' - 3/8'' Barb Fuel Filter | $36.95 | |
| 40-230106ERL | Earl's -6AN Fuel Filter | $33.95 | |
| 40-230108ERL | Earl's -8AN Fuel Filter | $33.95 | |
| 40-230107ERL | Earl's Fuel Filter Element Only | $8.95 | |