Proton Nitrous Systems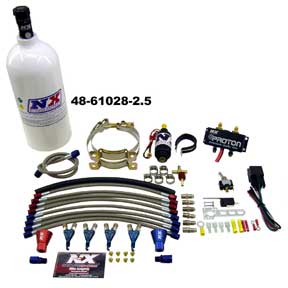 Nitrous Express has done it again! Imagine having both Nitrous and fuel solenoids in a common housing. The new PROTON solenoid assembly makes finding a good location for the solenoids a whole lot easier.
The new entry level PROTON system packs both solenoids into a small billet aluminum housing , measuring only 4.125" wide x 2.250" tall x 1.50" deep, it takes very little room.
Complete Proton systems are available for all single (jetting for 10-15-20hp), twin (jetting for 20-30-40hp) , triple (jetting for 30-45-60hp) and four (jetting for 40-60-80hp) cylinder powersports vehicles.
Piranha Nozzle Nitrous Systems
The NX Piranha Nozzle systems are designed for all applications without an existing fuel system for the nitrous kit. For example, the direct-port system for carbureted four cylinder engine comes complete with "Lightning" nitrous and fuel solenoids, braided stainless hoses, four "Piranha" nozzles, fuel pump, relay, microswitch, arming switch, jetting for 40,60,80,100HP. Includes either a 2.5 lb bottle and two stainless steel bottle brackets or no bottle.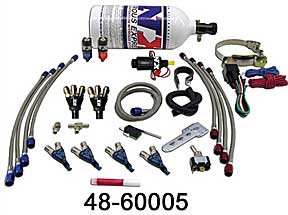 Proton Kits
| Part Number | Description | Racer Price | |
| --- | --- | --- | --- |
| 48-61025-1.0 | NX 1Cyl Proton System w/ 1# Bottle (jetting for 10-15-20hp) | $511.01 | |
| 48-61025-2.5 | NX 1Cyl Proton System w/ 2.5# Bottle | $605.17 | |
| 48-61026-1.0 | NX 2-Cyl Proton System w/ 1# Bottle (jetting for 20-30-40hp) | $595.29 | |
| 48-61026-2.5 | NX 2Cyl Proton System w/ 2.5# Bottle | $754.19 | |
| 48-61027-1.0 | NX 3-Cyl Proton System w/ 1# Bottle (jetting for 30-45-60hp) | $777.56 | |
| 48-61027-2.5 | NX 3-Cyl Proton System w/ 2.5# Bottle | $835.97 | |
| 48-61028-1.0 | NX 4-Cyl Proton System w/ 1# Bottle (jetting for 40-60-80hp) | $801.65 | |
| 48-61028-2.5 | NX 4-Cyl Proton System w/ 2.5# Bottle | $843.66 | |
Piranha Kits
| Part Number | Description | Racer Price | |
| --- | --- | --- | --- |
| 48-60002 | NX Twin Piranha Street System (jetting for 20-30-40-50hp) | $993.24 | |
| 48-60002-00 | NX Twin Piranha Street System (two nozzles, no bottle or bracket) | $914.73 | |
| 48-60033 | NX 3-Cyl Piranha Street System (jetting for 30-45-60-75hp) | $1,163.79 | |
| 48-60033-00 | NX 3-Cyl Piranha Street System (no bottle or bracket) | $1,083.81 | |
| 48-60005 | NX 4-Cyl Piranha Street System (jetting for 40-60-80-100hp) | $1,197.02 | |
| 48-60005-00 | NX 4-Cyl Piranha Street System (no bottle or bracket) | $1,116.99 | |
| 48-60006 | NX 4-Cyl Piranha Pro-Mod (10psi fuel) System (jetting for 60-100-150-200hp) | $1,284.54 | |
| 48-60006-00 | NX 4-Cyl Piranha Pro-Mod (10psi fuel) System (no bottle or bracket) | $1,204.56 | |
| 48-60022 | NX Harley Stage 1 Piranha System (single nozzle, jetting for 15-25-35-50hp) | $1,024.92 | |
| 48-60022-00 | NX Harley Stage 1Piranha System (single nozzle, no bottle or bracket) | $946.45 | |
| 48-60123 | NX Harley Show Polished Dual 10oz Bottles Piranha System | $1,268.84 | |