Micro Storm Progressive Nitrous Controller, 2-Stage, Dual Ramp
The Micro Storm progressive nitrous controller provides control for 2 stages of nitrous in a extremely small package of just 2 7/8" x 1 3/4" x 3/4". The billet aluminum encloser is anodized black with a 3 digit display and 3 high quality push buttons for easy programming and navigation through the setup menu. The Micro Storm can handle 40 amps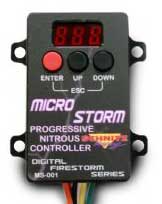 on each stage of nitrous so this tiny controller can be used with any nitrous solenoids on the market including MPS, NX, NOS and others. Additionally each stage of nitrous can be programmed from 10-40 hertz and have a dual ramp to give you even more control of power down slippery tracks or to prevent those monster 1/8th mile or 3rd gear wheelies.
This little jewel also has a TPS (throttle position) input and tach input for easy wiring on any vehicle. A shift light output is also provided but can be configured for use as a timer ouput to activate a stage of ignition retard.
One of the best features of the Micro Storm is its ability to store up to 5 different nitrous configurations that you have programmed. This is perfect for those who run in multiple classes that need more or less power to run their number.
Highlights:
Billet aluminum black anodized encloser with high quality push buttons for programming
Easy to read digital display
Controls 2 stages of wet and/or dry nitrous
Each stage can have its own hertz setting of 10-40 (cycles per second)
Dual ramp mode for each stage for more precise control
TPS and tach input for easy wiring and safety
Easy quick setup for TPS input
Shift light or timer output
Compact Size (2 7/8" x 1 3/4" x 3/4")
Progressive Nitrous 2 Dial Controller
This basic nitrous controller was designed for a simple and cost effective means to deliver nitrous power. A simple user interface and simplified wiring installation help to make the controller very user friendly. The starting power percentage can be adjusted from 20% to 50% in 2% increments. While the nitrous power build time is adjustable from 0.0 seconds (instant full nitrous power) to 8.0 seconds in 0.5 second increments. High amperage output drivers enable use with all popular solenoids. Overall size 4-3/8" long x 3" tall.
| Part Number | Description | Racer Price | |
| --- | --- | --- | --- |
| 34-MS-001-KIT | Schnitz Micro Storm Nitrous Controller | $339.00 | |
| 34-dcs-101 | Schnitz 2 Dial Nitrous Controller | $259.95 | |