MPS Hayabusa Terminated
Holley EFI Harness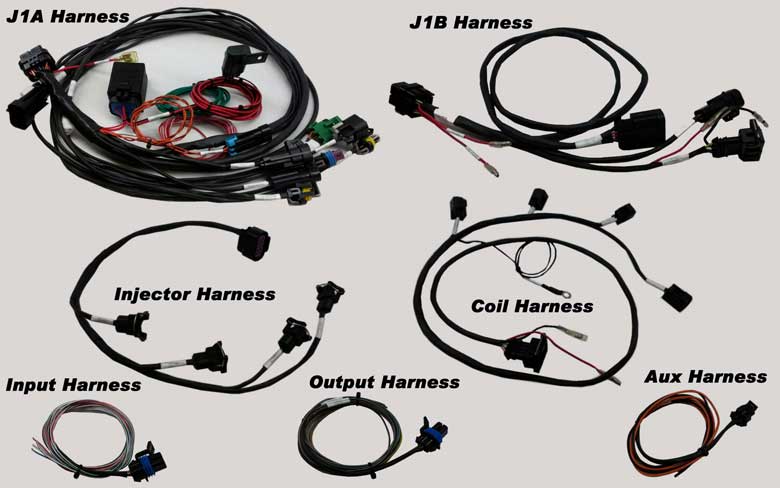 The MPS Terminated Holley EFI Harness (p/n 1-0782) simplifies the installation of your Holley EFI on a Suzuki Hayabusa or similar (GSXR1000, ZX14, ZX10) motorcycle. The harness is heat shrink covered and terminates all the connections of critical components of the EFI system. Using this terminated harness will greatly reduce the chance of problems when installing your Holley EFI system. If you are not comfortable or do not have the tools to crimp all the styles of connectors this harness is for you. It will plug into your injectors (customer specified type), igniter (MPS p/n 1-0783), coils (stock or aftermarket stick type), air temperature sensor (MPS p/n 1-0727), coolant temperature sensor (MPS p/n 1-0708), O2 Sensor (Bosch or NTK), 3 bar MAP sensor (MPS p/n 1-0764), fuel pressure (MPS p/n 1-0597), and oil pressure (MPS p/n 1-0598). A MAP sensor is not required for normally aspirated or nitrous applications. Both fuel pressure and oil pressure are optional sensors. The throttle position sensor (TPS) is a direct plug in with a Gen 1, Gen 2 Hayabusa, and GSXR 1000. Be sure to specify. The ZX14 and ZX14 will need to use the connector from the stock harness. We recommend using a hall effect cam sensor (MPS p/n 1-0649) on the Gen 1 Hayabusa. The harness will plug directly into this cam sensor and the factory Gen 2 cam sensor. For the stock crank sensor, you will need to cut the stock connector off and terminate the sensor wires with the male pin 3 conductor connector to match the MPS Holley EFI harness.
MPS Weeded, Tied and Labeled
Holley EFI Harness


The MPS Weeded and Labeled Holley EFI Harness (p/n 1-0676) gives you a great start to a custom harness. They have all the excess wires removed that are not needed and have the sensor power and grounds added for each sensor. We then label each set of sensor leads. All the sensor connectors except the actual ECU plugs must be installed by the end user.
| Part Number | Description | Racer Price | |
| --- | --- | --- | --- |
| 1-0782 | MPS Harness Terminated Holley EFI | $1,468.95 | |
| 1-0676 | MPS Holley EFI Harness Weeded, Tied and Labeled | $691.95 | |
| Part Number | Description | Racer Price | |
| --- | --- | --- | --- |
| 44-558-308 | Holley Main Power Harness | $81.77 | |
| 44-558-105 | Holley Unterminated Harness | $445.95 | |
| 44-558-401 | Holley J2A Connector And Harness | $195.95 | |
| 44-558-402 | Holley J2B Connector And Harness | $130.95 | |
| 44-558-404 | Holley J4 Connector And Harness | $162.95 | |
| 44-558-408 | Holley J2-J4 Connectors and Pins Only | $168.95 | |