MPS will be closed Friday the 24th thru Memorial Day to celebrate our fallen soldiers. Any in stock orderes placed during our absence will ship Tuesday the 27th.
Welcome to Motorcycle Performance Specialties online! We have been a manufacturer and distributor of motorcycle performance products since 1980. We take great pride in all products that we manufacture or distribute. This web site is constantly being updated to give you the latest information about all the products we sell. The buttons on the top of the page and the catalog navigation bar will help you navigate quickly to the parts in which you are interested. Passing your mouse over the catalog navigation bar buttons will drop down the included categories.
MPS Holley EZ Race Harness is now available

New Holley EFI Version 2 software with boost controller now available

Call MPS for more information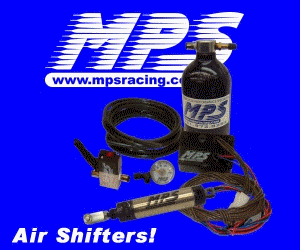 MPS/JDRF "Racing For A Cure" T-shirts
On Sale $15 (
ALL

proceeds go to JDRF)

These racing T-shirts were made in collaboration with "Tommy's Troopers" (a walking team for the annual JDRF fund raiser), MPS racing and Thyen Racing. Dan and Beth (of MPS) and Mike Thyen (owner of the MPS/JDRF sponsored Pro Mod Suzuki Hayabusa) all have family members or children with Type 1 juvenile diabetes! Click here for more details and to order a T-shirt to support this great cause.
PRODUCTS NOW available at MPS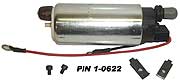 The MPS In Tank Fuel Pumps flow enough to support 650 horsepower and are a direct replacement to the factory fuel pump. The kit comes with all necessary hardware and instructions for an easy installation. Made in USA for long reliable service.

The output shaft support has a round steel anchor that is bolted to the swingarm pivot. The plate slides over the steel anchor and bolts to the cases with the bolts provided. An extended snout countershaft sprocket bolt then rides in the bearing fitted to the plate. This supports the end of the transmission output shaft preventing broken shafts and engine cases. A longer clutch pushrod is included. The output shaft support can be used with hand or slider clutches. If you have a "grudge bike" you need one of these!
Due to popular demand, we are once again stocking Kevlar gloves. These gloves are made with metal padding for extra protection to your entire hand. Gloves are very light and very comfortable to wear.

The Hayabusa 62# injectors flow almost 3x more fuel (650cc/min) than standard 24.5 lb. stock Hayabusa injectors. They are ideal for dry nitrous and turbo applications where much more fuel is needed. We can flash your 2002 and up ECU with a base map for these injectors. This makes tuning easy. For you really high horsepower guys we now have 80# injectors that flow almost 4x stock injectors. Both sizes fit in the stock fuel rail perfectly. The kit comes with everything necessary to install including new injector connectors.
We are now stocking the cool and convenient Clic® reader glasses that Dan wears in the shop and at the track. Never loose your glasses again!
Our new Hayabusa Billet Block is designed for motors running dry as they have no water jackets. Made of aircraft billet aluminum these high quality blocks add rigidity to the entire engine. The stud holes are sized for ½" cylinder studs, but can also be used with 10mm studs. The Hayabusa Billet Blocks are available in a ready to plate 81mm bore size or completely finished and plated in 81mm, 83mm, or 84mm. We also offer special order 85mm or 86mm with offset bores and taller deck heights.