Welcome to Motorcycle Performance Specialties online! We have been a manufacturer and distributor of motorcycle performance products since 1980. We take great pride in all products that we manufacture or distribute. This web site is constantly being updated to give you the latest information about all the products we sell. The buttons on the top of the page and the catalog navigation bar will help you navigate quickly to the parts in which you are interested. Passing your mouse over the catalog navigation bar buttons will drop down the included categories. ..


MPS Holley EZ Race Harness is now available
for only $999. Please call for details.



PRODUCTS NOW available at MPS
MPS is proud to be the newest distributor of Jiffy-tite fittings. Jiffy-tite Motorsports makes a full line of Quick-Connect Fluid Fittings available for virtually any fuel, water, engine or transmission system on the market today. They are the fastest, most secure fittings in the industry and are approved by sanctioning bodies coast to coast.

•Includes Clutch Drive Plates (Fibers), Clutch Driven Plates (Steels), Clutch Springs, and Clutch Cover Gasket
•Suzuki Genuine Parts
•Only $139 - $149 Do the Math - Financially this is a no brainer!
• Factory Tested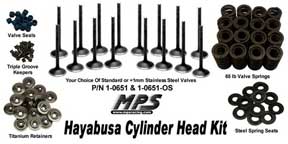 These high quality kits come with all parts needed to refresh your Hayabusa cylinder head. These new kits include the new triple groove Kibblewhite Black Diamond Stainless steel valves in either stock or +1mm oversize. This new stem and keeper design helps reduce the chance of a dropped valve by increasing the surface contact area of the keeper and the valve. The Hayabusa Cylinder Head Kits contain: stainless steel valves in either stock or 1mm oversize, triple groove keepers, titanium retainers, 65 pound valve springs, special spring bases, and valve seals. $1247.50 worth of parts for only $750.