MPS Automatic Air Shifters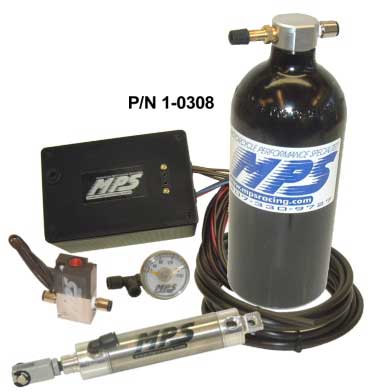 Automatic Upshifts At Full Throttle
Shift Point Is Set Using RPM Chips
Available With 50-100 Millisecond Kill Time
Outside Access To Adjustments
Small Size 4.5" x 3" x 2.25"
DOT Air Bottle
Push In Fittings
Electric Air Valve
Air Pressure Gauge
Stainless Shift Cylinder
Lifetime Warranty
MPS was the first to develop auto shifters back in 1986. We have refined them over the years and now offer several different combinations. Available for both two and four coil bikes in both auto shift only or auto shifts with integrated engine kill. They are also available with a fuel kill for dry nitrous applications as it avoids the bang of air and fuel igniting in the exhaust that can cause engine damage . The MPS Auto Shift Control is still the best weapon for good consistent runs. Shift points are the biggest reason for inconsistent runs. It shifts at the same preprogrammed point, run after run. Watch the track and your opponent, not a shift light!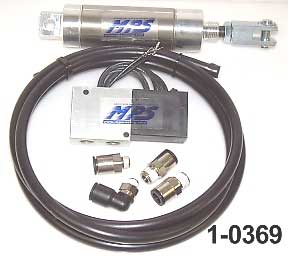 Our shifters come with push in style air fittings. These little jewels are so much nicer to work with than the old fashioned ferrule type that need replaced every time you remove the line. A DOT air bottle is included so you can upgrade to the high pressure system without needing to buy a new bottle. Custom wiring harnesses with a shifter/horn toggle switch are available as an option for some specific bikes to make wiring your MPS shifter a snap. We invented the Auto Shift and the Electronic Engine Kill so we can offer our exclusive, no hassle, free repair or replacement lifetime warranty on them. Be sure to ask about that when buying copycat versions of our products.
Standard or Autoshift - Kill Times Per Gear - Shift RPM Per Gear

This new MPS Air Shifter Kit has it all! DOT Air Bottle, Stainless Steel Shift Cylinder, Electric Air Valve, Push In Fittings, Air Pressure Gauge, Air Line, and the new RSR Air Shift Module. The RSR Air Shift Module allows the user to choose between ignition or fuel kill. Engine kill times are adjustable per gear shift. This is great for those with 1-2, 1-2-3, or 1-2-3-4 auto transmissions. The adjustable solenoid advance time setting allows the solenoid to apply pressure to the shift linkage before the engine kill sequence begins for no wasted kill time. Auto Shifting is built into the controller and can shift each gear at a different rpm. Can be wired to ground or +12v shift buttons for manual shifting. Works on most motorcycle applications.
| Part Number | Description | Racer Price | |
| --- | --- | --- | --- |
| 1-0308 | MPS Sport Bike Automatic Air Shifter | $559.00 | |
| 1-0308-NB | MPS Sport Bike Automatic Air Shifter No Bottle | $499.00 | |
| 1-0308-F | MPS Sport BIke Automatic Air Shifter with Fuel Kill | $589.00 | |
| 1-0308-F-NB | MPS Sport BIke Automatic Air Shifter with Fuel Kill Minus Bottle | $529.00 | |
| 1-0839 | MPS Air Shifter w/ RSR Air Shift Module | $545.00 | |
| 1-0840 | MPS Air Shifter w/ RSR Air Shift Module Minus Bottle | $425.00 | |
| 1-0369 | MPS Air Shifter Big Cylinder Kit | $282.90 | |
| 1-0370 | MPS Air Shifter Big Cylinder Upgrade (when purchasing an air shifter) | $172.90 | |
| 1-0491 | MPS Pressure Switch | $53.90 | |
| 1-0410 | MPS Air Valve Diode Kit | $5.50 | |
| 1-0285 | MPS Hayabusa & ZX14 (07-11) Air Shifter Wire Harness | $64.90 | |
| 1-0300 | MPS Zx12 Air Shifter Wire Harness | $64.90 | |
| 1-0518 | MPS Hayabusa ECU Shift Kill Harness Only | $75.90 | |
| 1-0317 | MPS Horn Button/Air Shifter Control Switch Swapper | $42.90 | |
| 1-0335 | MPS Horn/Shifter - Starter/NOS Switch Swapper | $42.90 | |
| 1-0653 | MPS Coil Harness Suzuki - Ignition Kill | $49.00 | |
| 1-0654 | MPS Coil Harness Kawasaki - Ignition Kill | $49.00 | |
NOTE: ZX9 has a waste spark ignition and needs 360° calibration (use a 180° calibrated box with a half RPM chip)