Hayabusa Clutch Modifications
Stop the chatter and get better 60' times!
The MPS Hayabusa Clutch Modifications are a must to drag race your Hayabusa! The stock clutch with its lock up mechanism is grabby and chatters. This makes good launches almost impossible. Our clutch mod kit uses a billet aluminum - hard anodized ring that holds the lock up mechanism in a fixed position. Heavy duty clutch springs are included in the clutch mod kit to prevent clutch slippage. Another option is to send in your back torque limiter (both pieces) and we will exchange it for a welded one. Get yours today! It is recommended to install a clutch slave cylinder support when modifying your clutch.
Gen I Hayabusa Clutch Spring Specs
| | Free Length | lbs@.900 | lbs@.800 | lbs@.700 |
| --- | --- | --- | --- | --- |
| 65-21413-24F10 | 1.096" | 20# | 30# | 40# |
| 1-0291-99 | 1.035" | 22.5# | 42.5# | 60# |
| 1-0291 | 1.18" | 27.5# | 40# | 48# |
Hayabusa Clutch Slave Cylinder Supports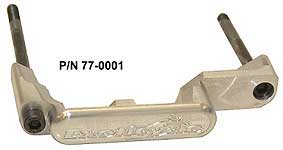 If you own a Suzuki Hayabusa of any year and you have modified your clutch in anyway, then pay close attention. You may have damaged your clutch slave unit and not know it. If you have added shims to your clutch springs, installed any number of aftermarket modified clutch hubs, baskets, springs and such, then you may have a cracked clutch slave unit due to the added exertion put upon that unit. Actually, I have seen some units only fractured and have hairline cracks and some others that were blatantly broken.
Robinson Output Shaft Support
For Hayabusa & GSXR1000

The output shaft support has a round steel anchor that is bolted to the swingarm pivot. The plate slides over the steel anchor and bolts to the cases with the bolts provided. An extended snout countershaft sprocket bolt then rides in the bearing fitted to the plate. This supports the end of the transmission output shaft preventing broken shafts and engine cases. A longer clutch pushrod is included. The output shaft support can be used with hand or slider clutches. If you have a "grudge bike" you need one of these!
Brock's Clutch Cushion Kit - Hayabusa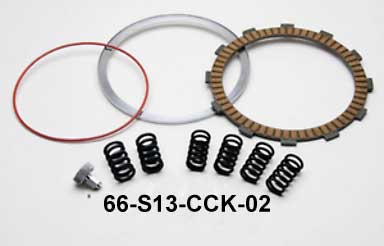 With the Clutch Cushion Kit, the clutch actuation is COMPLETELY chatter-free. There is no longer a need to oil your clutch plates before heading to the track with the hopes of getting a couple of smooth passes in before they start acting up. This feature alone saves the stock Busa owner a considerable amount of work, time and hassle. Another feature is noticeably increased clutch life due to the addition of Brock's Performance engineered clutch springs designed specifically for this application. In big-displacement/high torque applications, the results are multiplied even greater. The modified-engine Busa owner has been frustrated in the past due to the unpredictable action of the clutch when additional power is applied. Later model kits include: 1- BDE adapter kit. 1- BDE Dual-Stage Clutch Cushion. 1- Cushion Ring 6- BDE Load Control Clutch Springs (specially designed, no spacers required) (Staggered Assembly..... Four: BDE-HD Two: BDE-EHD) 1-Clutch Cushion Kit assembly instructions. 1- 6 position BDE Clutch Lever Cam. 1-spare spring detent ball for the Lever Cam. 1-Lever Cam assembly instructions
Note:

All 1999-2007 Hayabusa's currently using a Brock's Performance Clutch Cushion Kit 66-S13-CCK should order replacement clutch components from Suzuki for 1999-2001 model years.

Note:

2002-2007 (66-S13-CCK-02) kits convert the clutch packs back to 1999-2001 for use with the cushion.

Note:

2008-2011 (66-S1308-CCK) kits must be used with a clutch mod.
Related products:
| Part Number | Description | Racer Price | |
| --- | --- | --- | --- |
| 1-0286 | MPS Hayabusa Clutch Mod Kit (Please Specify Year) | $69.00 | |
| 1-0460 | MPS Hayabusa Clutch Mod Ring Only | $42.90 | |
| 1-0291-99 | MPS Hayabusa Heavy Duty Clutch Springs 1999 | $24.95 | |
| 1-0291 | MPS Hayabusa Heavy Duty Clutch Springs Gen 00-07 | $24.95 | |
| 1-0291-08 | MPS Hayabusa Heavy Duty Clutch Springs Gen 2 | $24.95 | |
| 18-HDCS1300GSX | APE Heavy Duty Clutch Springs Hayabusa Gen I | $49.95 | |
| 65-21413-24F10 | Suzuki OEM Clutch Spring Hayabusa Gen I Each | $5.52 | |
| 18-HDCS1300-08 | APE Heavy Duty Clutch Springs Hayabusa Gen II | $29.95 | |
| 65-21413-24F30 | Suzuki OEM Clutch Spring Hayabusa Gen II Each | $5.75 | |
| 18-HDCSZX14-6 | APE Heavy Duty Clutch Springs ZX14 06-11 | $29.95 | |
| 18-HDCSZX14-12 | APE Heavy Duty Clutch Springs ZX14 2012+ | $29.95 | |
| 1-0475 | MPS Hayabusa Welded Back Torque Limiter (cores required) | $42.90 | |
| 1-0479 | MPS Hayabusa Torque Limiter Core | $200.00 | |
| 77-021 | Exoticycle Hayabusa Clutch Slave Cylinder Support Gen I | $65.00 | |
| 77-001 | Exoticycle Hayabusa Clutch Slave Cylinder Support Gen II | $65.00 | |
| 71-1300-CS-HC | RI Output Shaft Support Hayabusa Gen 1 Hand Clutch Plain Cap | $495.00 | |
| 71-1300-CS-HC-SC | RI Output Shaft Support Hayabusa Gen 1 Hand Clutch Speedo Cap | $495.00 | |
| 71-1300-CS-S | RI Output Shaft Support Hayabusa Gen 1 Slider Clutch Plain Cap | $495.00 | |
| 71-1300-CS-S-SC | RI Output Shaft Support Hayabusa Gen 1 Slider Clutch Speedo Cap | $495.00 | |
| 71-1300-CS-HC-2 | RI Output Shaft Support Hayabusa Gen 2 Hand Clutch Plain Cap | $495.00 | |
| 71-1300-CS-HC-2-SC | RI Output Shaft Support Hayabusa Gen 2 Hand Clutch Speedo Cap | $495.00 | |
| 71-1300-CS-S-2 | RI Output Shaft Support Hayabusa Gen 2 Slider Clutch Plain Cap | $495.00 | |
| 71-1300-CS-S-2-SC | RI Output Shaft Support Hayabusa Gen 2 Slider Clutch Speedo Cap | $495.00 | |
| 71-1060-CS-HC-SC | RI Output Shaft Support GSXR1000 05-08 Hand Clutch Speedo Cap | $495.00 | |
| 71-1060-CS-S | RI Output Shaft Support GSXR1000 05-08 Slider Clutch Plain Cap | $495.00 | |
| 71-1060-CS-S-SC | RI Output Shaft Support GSXR1000 05-08 Slider Clutch Speedo Cap | $495.00 | |
| 66-S13-CCK | Brocks Clutch Cushion 99-01 Hayabusa | $239.00 | |
| 66-S13-CCK-02 | Brocks Clutch Cushion 02-07 Hayabusa | $239.00 | |
| 66-S1308-CCK | Brocks Clutch Cushion 08-11 Hayabusa | $289.00 | |