RPM Activated Switch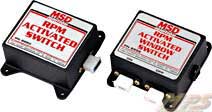 These RPM activated Switches can be used in a variety of applications when a device needs to be activated at a specific rpm point. By electronically activating devices such as solenoids, lights, beepers or retards at a desired rpm you can improve the consistency and performance of your bike.
RPM Activated Switch can be programmed to activate the function of these devices at your selected rpm with plug-in modules. When the engine reaches the desired rpm, the Switch will provide or remove the ground to complete or open a circuit.
The rpm point is adjusted with the same plug-in RPM Modules that are used on the MC-1, 2 or 3 Series Ignition. No RPM Modules are supplied with the unit and must be ordered separately.
| Part Number | Description | Racer Price | |
| --- | --- | --- | --- |
| 2-8950 | M S D SWITCH, RPM ACTIVATED | $149.95 | |
| 2-8956 | M S D RPM ACTIVATED SWITCH WINDOW | $139.95 | |