Ignition Module
Dynojet has discontinued ignition modules for the PC3USB. Limited stock remaining on select models.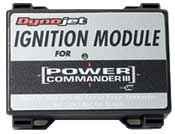 The Dynojet Ignition Module is an "add on" accessory for select Power Commanders. It allows you to control and adjust the ignition timing of your motorcycle's engine.
The Dynojet Ignition Module is connected to the PCIII USB with it's built in expansion port link and communicates via a CAN interface. As in the case of the Power Commander, the Dynojet Ignition Module uses OEM style connectors to plug in-line of the stock ignition harness so no cutting or splicing is required.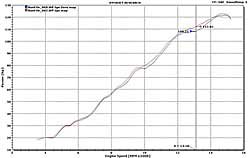 The Dynojet Ignition Module uses "direct coil driver technology" and allows a high degree of timing adjustment. In the Power commander Control Center Software the user is able to advance or retard the ignition curve up to 10 degrees based on throttle position and RPM. It is also possible to alter the timing for each cylinder individually if necessary.
The Ignition Module comes standard with no adjustments made in the map for the timing table. Due to different states of tune, fuel quality, and engine modifications we found it is best to leave the ignition timing stock for safety reasons. To have your ignition curve fine tuned Dynojet recommends bringing your bike to one of our Authorized Power Commander Tuning Centers. These centers have the necessary dynamometer equipment to extract the most performance out of the Ignition Module.
Power Commander V Ignition Module
Gain control over your spark advance curves and tune for maximum performance.
Allows +/-20 degrees of timing adjustment
Raise your Rev Limit (only available on select models)
Adjust timing based on temperature or boost inputs
Built In Launch Limiter
Individual Cylinder Timing
Gear Position Timing
Boost/Nitrous Retard Timing
Pit Lane Limiter
Power Commander Main Page
Dynojet / Power Commander FAQs
Dynojet Auto Tune Kits
Power Commander Accessories
More Power Commander Info
Honda
| Part Number | Description | Racer Price | |
| --- | --- | --- | --- |
| 35-6-89 | Ignition Module for PC5 CBR600RR 03-06 | $399.99 | |
| 35-6-70 | Ignition Module for PC5 CBR600RR 2007+ | $399.99 | |
Kawasaki
| Part Number | Description | Racer Price | |
| --- | --- | --- | --- |
| 35-6-76 | Ignition Module for PC5 ZX14 06-11 | $399.99 | |
| 35-6-101 | Ignition Module for PC5 ZX14 2012+ | $399.99 | |
| 35-6-73 | Ignition Module for PC5 PC5 ZX6R 2007+ | $399.99 | |
| 35-6-118 | Ignition Module for PC5 ZX12R 00-03 | $399.99 | |
Suzuki
| Part Number | Description | Racer Price | |
| --- | --- | --- | --- |
| 35-6-120 | Ignition Module for PC5 GSXR600 01-03, GSXR750 02-03 | $399.99 | |
| 35-6-78 | Ignition Module for PC5 GSXR1000 2005+ 750/600 2006+ | $399.99 | |
| 35-6-07 | Ignition Module for PC3USB 02-06 Busa | $399.99 | |
| 35-6-79 | Ignition Module for PC5 Hayabusa 02-07 | $399.99 | |
| 35-6-80 | Ignition Module for PC5 Hayabusa 2008+ | $399.99 | |
Yamaha
| Part Number | Description | Racer Price | |
| --- | --- | --- | --- |
| 35-6-72 | Ignition Module for PC5 R1 07-08 | $399.99 | |
| 35-6-87 | Ignition Module for PC5 R1 2009+ | $399.99 | |
| 35-6-83 | Ignition Module for PC5 R6S 2008+ | $399.99 | |