Power Commander V

The New Power Commander V is loaded with tons of new features. Below you will find some Power Commander V features.
Reduced size from PCIIIusb (less than half of the size of PCIII)
USB powered from computer (9 volt adapter is no longer needed for programming)
2 position map switching function built in (map switch not included)
Gear input (allows for map adjustment based on gear and speed)
Analog input (allows user to install any 0-5 volt sensor and build an adjustment table based on its input such as boost or temperature)
With gear position input connected the PCV is capable of allowing each cylinder to be mapped individually and for each gear (for example: on a 4 cylinder bike with a six speed transmission there could be up to 24 separate fuel tables).
Unit has a -100/+250% fuel change range (up from -100/+100%). This allows more adjustment range for 8 injector sportbikes
10 throttle position columns (up from 9 on PCIIIusb)
Enhanced "accel pump" utility (increased adjustment and sensitivity ranges)
Power Commander V - PTI

On select models a new version of PCV is now available that's perfect for forced induction applications. This new unit, PCV-PTi, comes with a Bosch 3 bar MAP/Temp sensor as part of the PCV harness for expanded capabilities built into the control center software.
The PTi version of the PCV gives you the ability to modify your fuel curve based off a pressure (boost) table and/or temperature table. The pressure table gives you 3D mapping capability based on boost vs RPM, while the temperature table gives you 2D mapping capability with up to 50 points of adjustment.
This new version of the Power Commander V is perfect for turbocharged or supercharged applications looking for precision, control, and reliability.
Unfortunately, the new PCV with Built in Ignition Control (can adjust timing) is only going to be available for select twin cylinder engines. The Ignition Module is still required to adjust timng through the Power Commander.

Power Commander III USB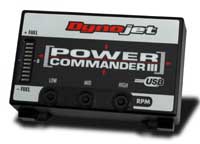 The Power Commander IIIusb was introduced in 2003 and utilizes the same "direct injector control" technology as the PCIII. The USB (Universal Serial Bus) port provides an instant, no-hassle way to connect the Power Commander module to a computer. This model also features an expansion port for future add-on modules like an ignition module.
Dynojet / Power Commander FAQs
Dynojet Auto Tune Kits
Power Commander Accessories
Power Commander Timing Accessories
More Power Commander Info
Harley Davidson
| Part Number | Description | Racer Price | |
| --- | --- | --- | --- |
| 35-15-011 | Dynojet Pc5 Harley Touring Model 08-13 | $399.95 | |
| 35-15-006 | DynoJet PC5 Harley V-Rod 08-11 | $399.95 | |
| 35-15-023 | DynoJet PC5 Harley V-Rod 2012+ | $399.95 | |
| 35-15-016 | Dynojet Pc5 Buell 1125 2009 | $399.00 | |
| 35-15-002 | Dynojet Pc5 Harley Sportster 1200 07-09 | $399.95 | |
Honda
| Part Number | Description | Racer Price | |
| --- | --- | --- | --- |
| 35-PC3USB-108-411 | Dynojet PC3USB CBR600 F4i 01-06 | $369.00 | |
| 35-16-023 | Dynojet PC5 CBR600RR 03-06 | $399.99 | |
| 35-16-001 | Dynojet PC5 CBR600RR 07-12 | $399.99 | |
| 35-16-041 | Dynojet PC5 CBR600RR 2013+ | $399.99 | |
| 35-16-022 | Dynojet PC5 CBR1000RR 04-07 | $399.99 | |
| 35-16-002 | Dynojet PC5 CBR1000RR 08-11 | $399.99 | |
| 35-16-034 | Dynojet PC5 CBR1000RR 12-13 | $399.99 | |
| 35-PC3USB-102-411 | Dynojet PC3USB CBR1100XX 99-01 | $369.00 | |
| 35-PC3USB-113-411 | Dynojet PC3USB CBR1100XX 02-03 | $369.00 | |
Kawasaki
| Part Number | Description | Racer Price | |
| --- | --- | --- | --- |
| 35-PC3USB-218-411 | Dynojet PC3USB ZX6R 05-06 | $369.00 | |
| 35-17-026 | Dynojet PC5 ZX6R 07-08 | $399.99 | |
| 35-17-003 | Dynojet PC5 ZX6R 09-12 | $399.99 | |
| 35-17-047 | Dynojet PC5 ZX6R 2013+ | $399.99 | |
| 35-17-051 | Dynojet PC5 ZX10 04-05 | $399.99 | |
| 35-17-027 | Dynojet PC5 ZX10 06-07 | $399.99 | |
| 35-17-004 | Dynojet PC5 ZX10 08-10 | $399.99 | |
| 35-17-028 | Dynojet PC5 ZX10 2011+ | $399.99 | |
| 35-17-052 | Dynojet PC5 ZX12 00-03 | $399.99 | |
| 35-17-053 | Dynojet PC5 ZX12 04-05 | $399.99 | |
| 35-17-012 | Dynojet PC5 ZX14 06-11 | $399.99 | |
| 35-17-012-PTI | Dynojet PC5 ZX14 06-11 (Pressure-Temp Input) | $469.99 | |
| 35-17-005 | Dynojet PC5 ZX14 2012+ | $399.99 | |
| 35-17-005-PTI | Dynojet PC5 ZX14 2012+ (Pressure-Temp Input) | $469.99 | |
| 35-PC3USB-234-411 | Dynojet PC3USB ZX14 2008 | $369.00 | |
Suzuki
| Part Number | Description | Racer Price | |
| --- | --- | --- | --- |
| 35-20-036 | Dynojet PC5 GSXR600 01-03 | $399.99 | |
| 35-20-005 | Dynojet PC5 GSXR600 06-10 | $399.99 | |
| 35-20-028 | Dynojet PC5 GSXR600 2011+ | $399.99 | |
| 35-20-038 | Dynojet PC5 GSXR750 02-03 | $399.99 | |
| 35-20-006 | Dynojet PC5 GSXR750 06-10 | $399.99 | |
| 35-20-029 | Dynojet PC5 GSXR750 2011+ | $399.99 | |
| 35-PC3USB-308-411 | Dynojet PC3USB GSXR1000 01-02 | $369.00 | |
| 35-20-039 | DynoJet PC5 GSXR1000 01-02 | $399.99 | |
| 35-20-040 | DynoJet PC5 GSXR1000 03-04 | $399.99 | |
| 35-20-025 | DynoJet PC5 GSXR1000 05-06 | $399.99 | |
| 35-20-024 | DynoJet PC5 GSXR1000 07-08 | $399.99 | |
| 35-20-007 | DynoJet PC5 GSXR1000 2009+ | $399.99 | |
| 35-20-007-PTI | DynoJet PC5 GSXR1000 2009+ (Pressure-Temp Input) | $469.99 | |
| 35-20-042 | Dynojet PC5 Hayabusa 99-00 | $399.99 | |
| 35-20-045 | Dynojet PC5 Hayabusa 2001 | $399.99 | |
| 35-20-023 | Dynojet PC5 Hayabusa 02-07 | $399.99 | |
| 35-20-023-PTI | Dynojet PC5 Hayabusa 02-07 (Pressure-Temp Input) | $469.99 | |
| 35-20-008 | DynoJet PC5 Hayabusa 2008+ | $399.99 | |
| 35-20-008-PTI | DynoJet PC5 Hayabusa 2008+ (Pressure-Temp Input) | $469.99 | |
Yamaha
| Part Number | Description | Racer Price | |
| --- | --- | --- | --- |
| 35-22-059 | Dynojet PC5 R1 02-03 | $399.99 | |
| 35-22-037 | Dynojet PC5 R1 04-06 | $399.99 | |
| 35-22-036 | Dynojet PC5 R1 07-08 | $399.99 | |
| 35-22-006 | Dynojet PC5 R1 09-11 | $399.99 | |
| 35-22-054 | Dynojet PC5 R1 2012+ | $399.99 | |
| 35-22-001 | Dynojet PC5 R6S 2009 | $399.99 | |
| 35-22-005 | Dynojet PC5 R6 08-09 | $399.99 | |
| 35-22-031 | Dynojet PC5 R6 2010+ | $399.99 | |
Complete Application Chart 2018