MPS Auto Shift Boxes


When you need the ultimate in consistency nothing beats the MPS Auto Shifts
Lifetime Warranty
Easily Adjusted Shift RPM
Uses Standard RPM Chips
Outside Access To Adjustments
Compact Sizes:

1-0299 & 1-0238: 4 3/4" x 3 1/8" x 2 1/4"
1-0010: 5" x 2 1/2" x 2 1/8"
1-0483: 3 1/4" x 2 1/4" x 1 1/2"
The original Auto Shift Control (1-0010) designed by MPS in 1986 has underwent another series of improvements. It is now solid state and 45% smaller than the previous unit. The new unit measures only 5" x 2 1/2" x 2 1/8". The MPS Auto Shift Control is still the best weapon for good consistent runs. Shift points are the biggest reason for inconsistent runs. It shifts at the same preprogrammed point, run after run. Watch the track and your opponent, not a shift light! The shift point is easily changed using standard MSD RPM chips.

The MPS Auto Shift with Kill (1-0238) and MPS Sport Bike Auto Shift with Kill (1-0299) combine two of our most popular pieces into one small box. Two coil bikes will use the MPS Auto Shift with Kill (1-0238). The Sport Bike Auto Shift (1-0299) was designed specifically for sequential firing 4 coil ignition systems like those found on most sport bikes today. If you already have one of our Sport Bike Electronic Engine Kills this should be a plug and play type installation with no additional wiring. The shift point is easily changed using standard MSD RPM chips. The kill time adjustment is set through the access hole in the top cover. Set time is from 50 milliseconds to 100 milliseconds. We invented the Auto Shift and the Electronic Engine Kill so we can offer our exclusive, no hassle, free repair or replacement lifetime warranty on them. Be sure to ask about that when buying copycat versions of our products. Custom wiring harnesses with a shifter/horn toggle switch are available as an option for some specific bikes to make wiring your MPS shifter a snap.
Notes:
Hayabusa owners using an old style Muzzy shifter must use an MPS Hayabusa Air Shifter Wire Harness (p/n 1-0285) otherwise it will not work.
Any bike with a waste spark ignition and needs 360° calibration (If you have carburators and 4 individual stick coils you are probably waste spark)
Auto Shift boxes with built in kills will not work with Dynojet Ignition Modules or Dyna ARC-2

**

As of 06/19/2015, all 360° calibrated boxes have been discontinued. If your application requires 360° calibration use a 180° calibrated box with a half RPM chip.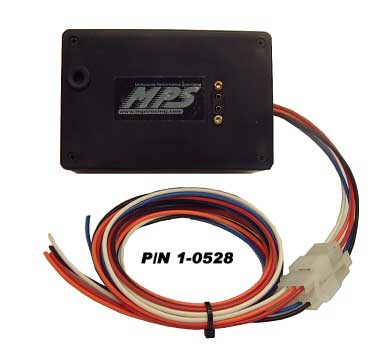 The MPS Autoshift with Fuel Kill (1-0528) activates your shifter and interrupts the fuel supply to your engine at a set rpm to allow full throttle air shifts without backfires or the FI light coming on. The MPS Autoshift with Fuel Kill is a universal product that can easily be installed on most EFI bikes. The MPS Autoshift with Fuel Kill is ideal for use when using a big dry nitrous kit. The kill time is adjustable from 50ms -100ms via the access port on the top of the box. The shift point is adjustable via MSD rpm modules available separately.
| Part Number | Description | Racer Price | |
| --- | --- | --- | --- |
| 1-0010 | MPS Auto Shift Control Box Only 180° Calibration | $249.00 | |
| 1-0010-720 | MPS Auto Shift Control Box Only 720° Calibration | $249.00 | |
| 1-0010-720-ecu | MPS Auto Shift Control Box 720° Calibration for ECU Kills | $249.00 | |
| 1-0483 | MPS SB6 Auto Shift Module | $179.00 | |
| 1-0238 | MPS Auto Shift With Engine Kill 180° Calibration | $349.00 | |
| 1-0528 | MPS Auto Shift with Fuel Kill* | $379.00 | |
| 1-0528-180 | MPS Auto Shift with Fuel Kill Box 180 Calibration | $379.00 | |
| 1-0299 | MPS Sport Bike Auto Shift With Engine Kill | $349.00 | |
| 1-0345 | MPS Sport Bike Engine Kill or Auto Shift Replacement Harness | $11.00 | |
| 1-0410 | MPS Air Valve Diode Kit | $5.50 | |