Get total control over your clutch
Install a delay box without hassles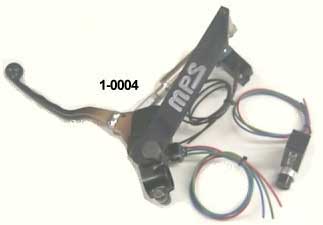 The MPS Air Clutch allows you to control your clutch lever with a push button. Pull in the clutch with your fingers like normal. When you depress the launch button the air cylinder locks the lever in place allowing you to let go of the lever and grip the handlebars. When you release the button the clutch will release. Air Clutches come complete with a Pro Push-button, clutch lever switch with leads, air line, air line tee fitting, and installation instructions.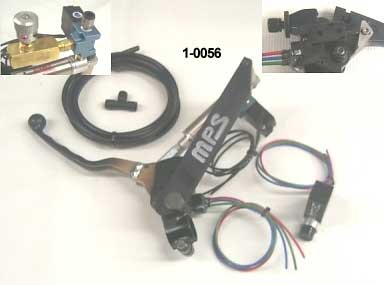 The MPS Deluxe Air Clutch comes with a needle valve and adjustable clutch switch. This lets you take total control of your clutch with adjustments for clutch lever release speed as well as adjustment for launch rev limiter release to clutch engagement. The Air Clutch is compatible with all types of stock or lock up style clutches as well as any brand of delay box.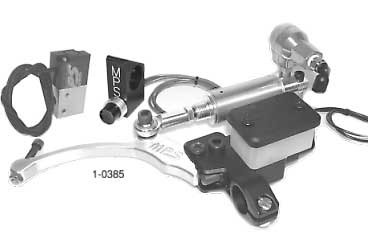 The MPS Air – Hydraulic Clutch allows the use of a delay box with your hydraulic clutch equipped sport bike. Some modifications may be necessary for clearance (fairing, triple clamp and switch pod). They feature a quick exhaust valve and an adjustable lever stop for better reaction times on a pro tree. The MPS Air – Hydraulic Clutch comes with everything needed for installation including: The master cylinder assembly itself, electric air valve, MPS Pro Pushbutton, clutch switch, air line tee, air line, and complete installation instructions.
Note: Stock banjo bolt will not work. Master cylinder thread is 10mm x 1. Use Earl's p/n 40-997517erl
| Part Number | Description | Racer Price | |
| --- | --- | --- | --- |
| 1-0004 | MPS Air Clutch Assembly with Single Pro Button | $418.95 | |
| 1-0143 | MPS Air Clutch Assembly with Dual Pro Button | $471.45 | |
| 1-0081 | MPS Air Clutch Assembly Minus Pro Button | $376.95 | |
| 1-0056 | MPS Air Clutch Assembly Deluxe | $540.75 | |
| 1-0144 | MPS Air Clutch Assembly Deluxe with Dual Pro Button | $576.45 | |
| 1-0258 | MPS Air Clutch Assembly Deluxe Minus Pro Button | $481.95 | |
| 1-0385 | MPS Air - Hydraulic Clutch Assembly | $463.50 | |
| 1-0386 | MPS Air - Hydraulic Clutch Assembly - No Button | $408.45 | |
| 1-0003 | MPS Air Clutch Adjustable Lever Blade | $156.45 | |
| 1-0103 | MPS Air Clutch Lever Blade Replacement | $103.95 | |
| 1-0055 | MPS Air Clutch Needle Valve | $104.95 | |
| 1-0281 | Air Clutch Replacement Big Air Cylinder Only | $135.45 | |
| 1-0380 | MPS Quick Exhaust Valve 1/8 NPT | $33.49 | |
| 1-0037 | MPS Electric Air Valve 1/8'' NPT | $56.59 | |
| 1-0059 | MPS Pro Pushbutton | $73.92 | |
| 40-997517ERL | EARLS 10MM -F BANJO BOLT -8MM THICK | $7.15 | |