Our Scammer du jour is:
Dan Stoll of Stoll Racing in IL bounced a check

Scammer Page last updated 01/22/2014



























Welcome to Motorcycle Performance Specialties online! We have been a manufacturer and distributor of motorcycle performance products since 1980. We take great pride in all products that we manufacture or distribute. This web site is constantly being updated to give you the latest information about all the products we sell. The buttons on the top of the page and the catalog navigation bar will help you navigate quickly to the parts in which you are interested. Passing your mouse over the catalog navigation bar buttons will drop down the included categories.
MPS Holley EZ Race Harness is now available
for only $999. Please call for details.



MPS/JDRF "Racing For A Cure" T-shirts
On Sale $15 (
ALL

proceeds go to JDRF)

These racing T-shirts were made in collaboration with "Tommy's Troopers" (a walking team for the annual JDRF fund raiser), MPS racing and Thyen Racing. Dan and Beth (of MPS) and Mike Thyen (owner of the MPS/JDRF sponsored Pro Mod Suzuki Hayabusa) all have family members or children with Type 1 juvenile diabetes! Click here for more details and to order a T-shirt to support this great cause.
PRODUCTS NOW available at MPS

•Includes Clutch Drive Plates (Fibers), Clutch Driven Plates (Steels), Clutch Springs, and Clutch Cover Gasket
•Suzuki Genuine Parts
•Only $139 - $149 Do the Math - Financially this is a no brainer!
• Factory Tested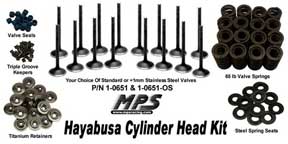 These high quality kits come with all parts needed to refresh your Hayabusa cylinder head. These new kits include the new triple groove Kibblewhite Black Diamond Stainless steel valves in either stock or +1mm oversize. This new stem and keeper design helps reduce the chance of a dropped valve by increasing the surface contact area of the keeper and the valve. The Hayabusa Cylinder Head Kits contain: stainless steel valves in either stock or 1mm oversize, triple groove keepers, titanium retainers, 65 pound valve springs, special spring bases, and valve seals. $1247.50 worth of parts for only $750.


Whether you're racing a 50cc Pocket bike or a 550hp Turbo Street bike WWB has all the bearings to suit your needs: Front and rear wheel bearings and seals, transmission bearings, crank bearings, swingarm needle bearings. They also specialize in their hand made Ceramic Hybrid bearings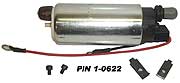 The MPS In Tank Fuel Pumps flow enough to support 650 horsepower and are a direct replacement to the factory fuel pump. The kit comes with all necessary hardware and instructions for an easy installation. Made in USA for long reliable service.