Welcome to Motorcycle Performance Specialties online! We have been a manufacturer and distributor of motorcycle performance products since 1980. We take great pride in all products that we manufacture or distribute. This web site is constantly being updated to give you the latest information about all the products we sell. The buttons on the top of the page and the catalog navigation bar will help you navigate quickly to the parts in which you are interested. Passing your mouse over the catalog navigation bar buttons will drop down the included categories.



PRODUCTS NOW available at MPS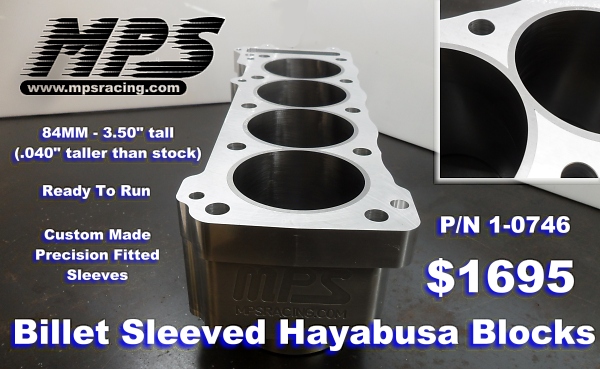 We are excited to announce the immediate availability of our new Street Lite Switch Line. This lightweight, low cost line of switches solves the space problem when adding accessories on sport bikes. The Street Lite Switch housings are constructed of durable ABS plastic for dramatic weight savings over typical aluminum products. The most common uses are for air shifters and nitrous oxide applications, but can be used for any electric device that needs a switch. The MPS Street Lite Tether Kill Switch addresses safety concerns when racing at sanctioned events.


The new MPS Featherweight Battery Box is made from lightweight ABS plastic and are custom made to fit the WPS Featherweight Batteries (6"x 3 7/16"x 4 1/8") perfectly. The MPS Featherweight Battery Box has 6 mounting holes for ¼" socket head cap screws. It can be mounted in any direction, even upside down. They weigh only 160 grams!
Our new Featherweight Series Switch Assemblies are made from lightweight ABS plastic and come in a variety of configurations. All Featherweight Series Switch Assemblies feature two piece construction so there is no need to remove grips, levers, or throttles to install. All housings are 3/4" wide so they won't take up much real estate on your handlebars. The Triple Switch comes complete with a top toggle switch and 2 momentary push button switches. The Double Switch comes with 2 momentary push button switches. The Single Switch comes with a momentary push button switch. The momentary switches are a single pole double throw type rated at 6A 250 VAC. The toggle switches are a single pole double throw type rated at 4A 250 VAC. All assemblies are also available in green, blue, red, white, yellow and orange when special ordered. The cost is the same but delivery may be delayed by one day.